NASCAR driver stuns racing world with a move learned from Nintendo GameCube
This article from arstechnica may be of interest to subscribers. Here is a section:
To understand the advantage of Chastain's move, a little knowledge of racing physics comes in handy. Typically, when taking a tight turn on a racetrack, drivers brake to counteract forces that push their cars toward the outside of the track. This braking action dramatically slows them down on the turn. This time, instead of slowing down for the turn, Chastain kept his car in fifth gear, hugged the wall, let go of the wheel, and allowed the wall to hold his car in place—no brakes necessary. That's how he passed five cars and set a 75-year lap record.
I have all kinds of admiration for a guy who knew of a winning strategy from a computer game as a child and was willing to test the theory in real life at the potential cost of his own life.
Rapid prototyping follows the same rationale. True to life computer simulations offer the opportunity to push machines to their limits in the pursuit of better designs. NASA is due to test the X-59 supersonic plane next year with the hope that the much reduced sonic boom will promote further innovation in faster aircraft.
I can't but think this all part of an evolving arms race and war in Ukraine is primarily being prosecuted with the aim of clearing out old inventory so it can be replaced with upgraded versions of everything.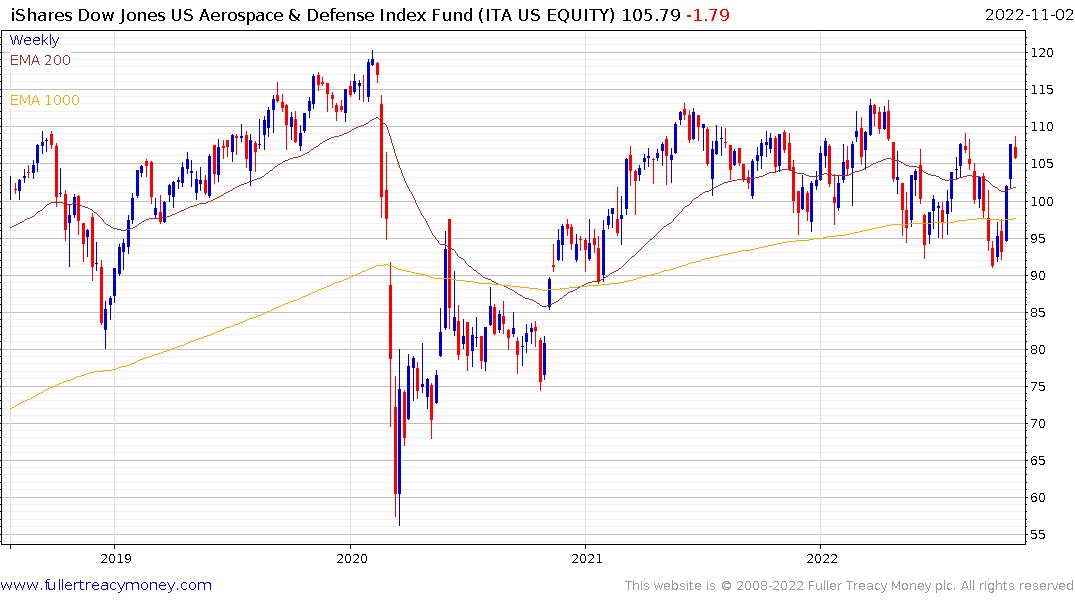 The iShares US Aerospace & Defense ETF is rallying back towards the upper side of a yearlong range.
Back to top