More upside amid stronger easing; UG property & banks, DG healthcare
Thanks to a subscriber for this report from Deutsche Bank focusing on China's H-Share market. Here is a section:
We have been positive on Chinese equities for 2015 but caution readers of a weak start to the year (see 2015 China Outlook). After H-shares' underperformance vs. DM, AsiaPac ex Japan and A-shares YTD, we now see more upside risks than downside ones and turn more positive on the market, in view of the following:

We expect Chinese policy-easing efforts to intensify in 2Q15 (see policy easing cycle may start soon), including monetary, fiscal and property relaxation, given the below-target 1Q15 growth and the "bottom-line"- focused reaction function reiterated by Premier Li during the NPC. We see lower market rates and resumed credit growth ahead, and our economist forecasts GDP to bottom in 1Q15 and edge up to 7.2% in 4Q15. ? We believe the earnings cut cycle will come to an end by April, as the disappointing FY14 results season wraps up and consensus estimates get closer to our top-down forecasts. For FY15, we look for more evidence of cost reduction among mid-stream sectors to reinforce our expectation of a margin-driven non-financial earnings recovery.

We see loosening global liquidity conditions and funds inflow as catalyzing catch-up with A-shares, considering 1) the Fed finally joined forces with other major central banks on the dovish side and suggested "lower for longer" rates over the coming quarters; 2) still deeply discounted H-share valuations suggest light investor positions; and 3) improving cyclical outlook and expediting reform in China.
Here is a link to the full report.

Liquidity is abundant. Any prospect of the Fed aggressively raising interest rates, however remote, was dismissed at last week's meeting. If the Bank of England is any guide, the Fed's balance sheet can remain at its current level for a prolonged period after the end of QE. With the ECB and BoJ engaged in QE and a host of other central banks cutting interest rates it is safe to conclude that there is no shortage of cheap abundant capital for investment.

There has been a great deal of commentary in financial circles about how elevated cyclically adjusted P/E ratios are, with some concluding that stock markets are fully valued. On one hand we could consider how likely valuations are to become overvalued, but the other way of looking at it is to ask what is still cheap.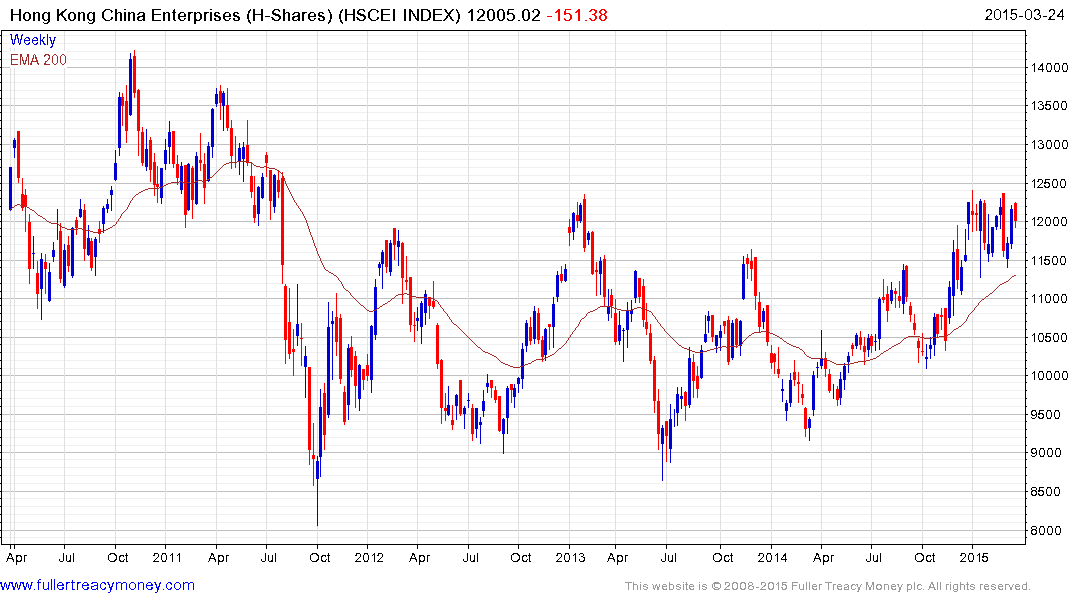 With a P/E of between 8 and 9 and a yield of 3.59%, the H-Share Index is cheap. Last year the mainland indices were trading at slightly higher valuations and have since rallied. It would appear to be only a matter of time before the H-Share market experiences a catalyst to ignite bargain hunting.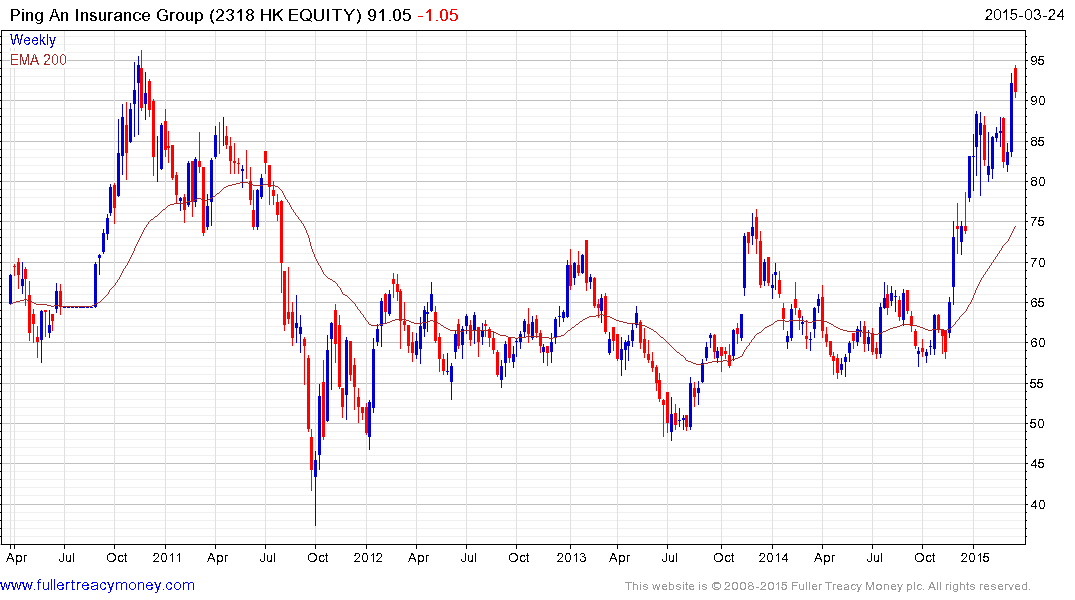 Among better performing stocks, the insurance sector shares positive commonality with the global sector. Ping An (Est P/E 13.63, DY 1.03%) has outperformed and is now testing its 2011 peak where a pause and consolidation is possible.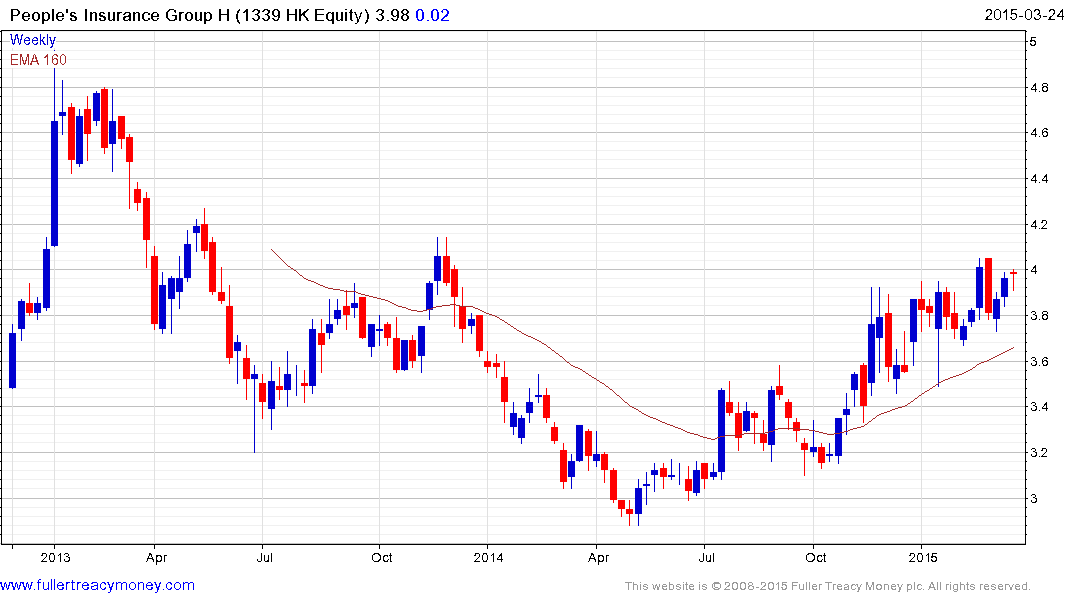 Elsewhere, People's Insurance Group (Est P/E 12.20, DY 0.26%) has held a progression of higher reaction lows since April 2014 and is now testing the region of the December 2013 peak near HK$4. A sustained move below the 200-day MA would be required to question medium-term scope for additional upside.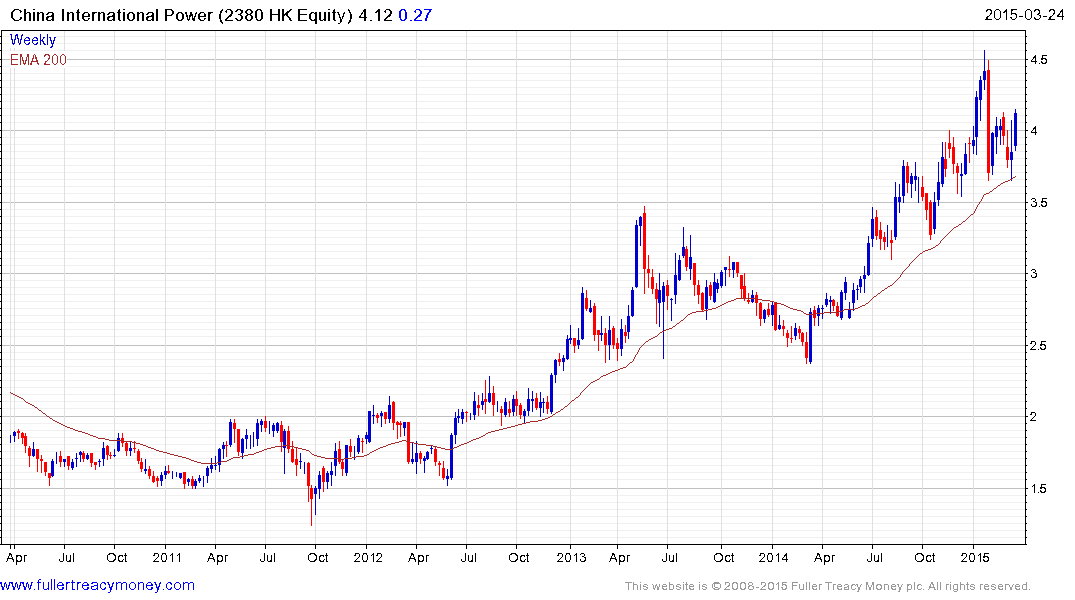 China International Power Group (Est P/E 7.74, DY 5.11%) has bounced from the region of the 200-day MA and a sustained move below HK$3.65 would be required to question medium-term scope for the additional upside.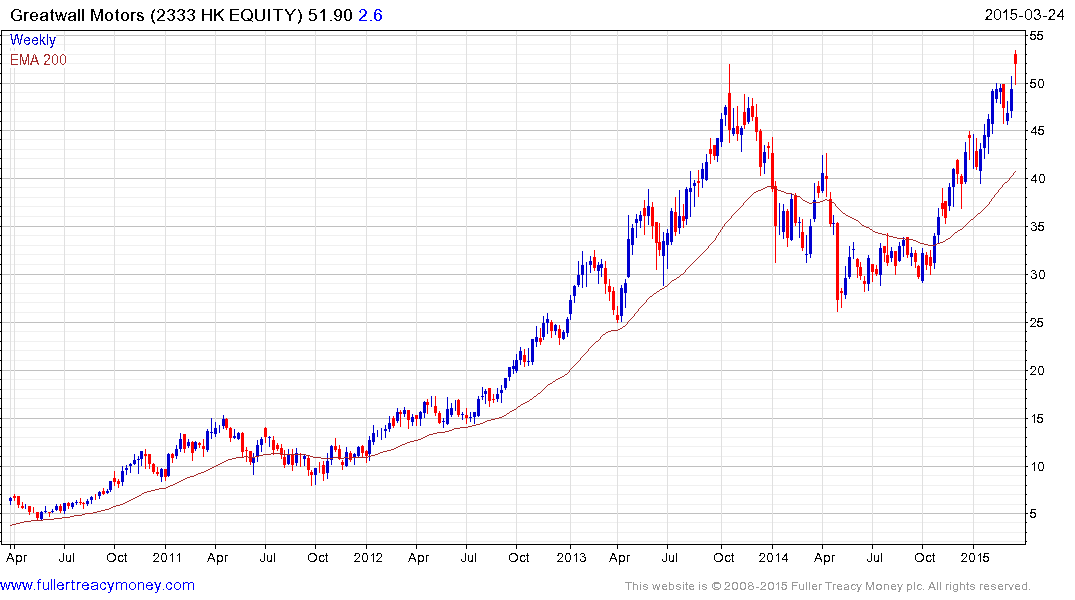 Greatwall Motors (Est P/E 11.25, DY 1.92%) hit a new all-time high today The share had accelerated to a medium-term peak in 2013 and promptly halved. It found support a year ago and has held a progression of higher reaction lows since. While increasingly overbought relative to the 200-day MA, a sustained move below the HK$45 would be required to question the consistency of the overall advance.
Back to top