Making sense of Samsung Group reshuffling
Thanks to a subscriber for this informative report from Deutsche Bank. Here is a section:
Since Samsung Group's Chairman Lee began experiencing health issues in May of this year (based on press reports from Chosun Ilbo, etc.), the group has announced a series of internal business transactions including IPOs and reorganizations of its subsidiaries. Although Samsung Group has not formally indicated that transition in management control is in process, we believe the market regards this as the primary motivation for the recent developments. Based on our extended analysis of these events and the evolving regulatory backdrop, we see Samsung Life (Buy) and Samsung C&T (Buy) as key beneficiaries that also offer upside to target prices.

Recap of key events since May 2014
Over the last five months, Samsung Group has announced a number of transactions to recalibrate its businesses, which many investors appear to believe are likely also designed to strengthen management control for the next generation. Key announcements include IPOs of Samsung SDS and Cheil Industries (aka Samsung Everland), a merger between Samsung Heavy and Samsung Engineering, and removal of cross-holdings.

Samsung Life a likely beneficiary of further restructuring
Given potential revisions to the Insurance Act, we believe that a likely additional transaction is for Samsung Life to spin off a separate non-financial entity that holds shares in Samsung Electronics. We would view this as a positive for Samsung Life's shares, as it should lead to improvement in ROE on the back of a lighter capital base. We estimate that the Samsung Life operating entity's ROE ratio should double to 10% from 5% as a result of a spin-off. Although the Samsung Life operating company's RBC (risk-based capital) ratio could decline to about 250% from the previous 379%, this would still be one of the highest RBC ratios in the Korean insurance sector.

?SEMCO and Samsung C&T to recognize gains from IPOs
Samsung Group has announced its intent to IPO Samsung SDS and Cheil Industries, which may consist mainly of shares owned by affiliate companies. The Lee family has a majority stake in both companies and, while it is apparently not planning to sell its shares during the IPO, the family could utilize the shares at a later point to help fund potential inheritance or strengthen control in key affiliates. Our analysis shows that SEMCO and Samsung C&T should recognize valuation gains worth 21% and 14% of market capitalization, respectively, upon IPO. According to regulatory filings, SEMCO will be the only major shareholder to sell its SDS shares through the IPO, and we expect SEMCO to use the proceeds to strengthen its balance sheet.
Some of Asia's largest companies have been built up on a patriarchal structure so the aging of these important figures represents a challenge for boards as successors are chosen and corporate structures are massaged. Samsung is one example, 86 year old Li Ka-Shing's eventual retirement will be another major event while 84 year old Warren Buffet has been planning for his eventual demise for quite some time.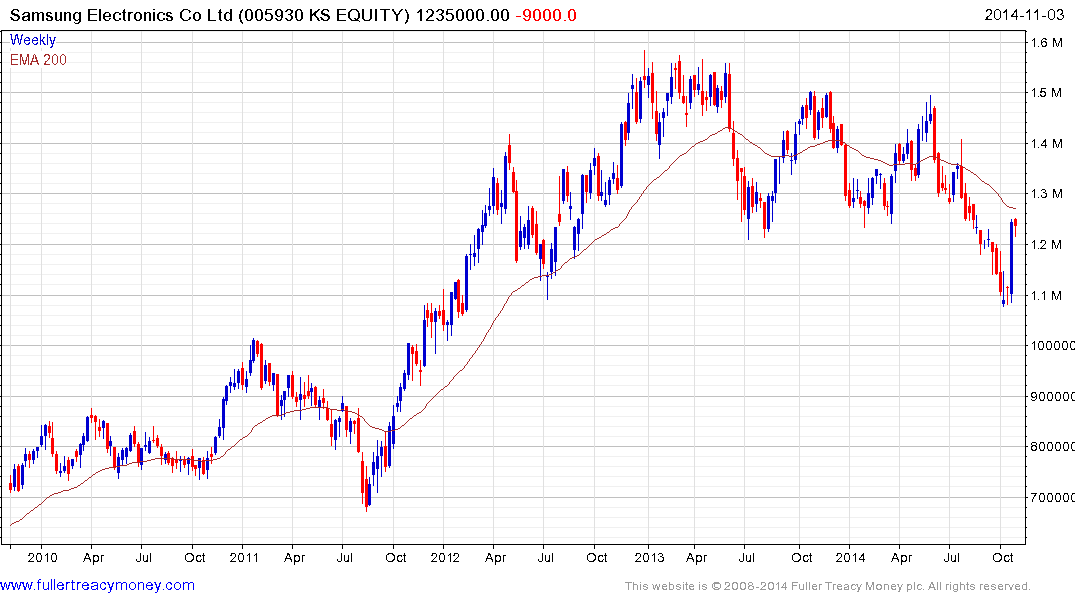 Samsung Electronics (Est P/E 8.77 DY1.16%) rallied impressively on Friday to check the short-term decline and may be in the process of posting a failed downside break from the overhead top formation. A sustained move below KRW1.1 million would be required to question potential for some additional higher to lateral ranging.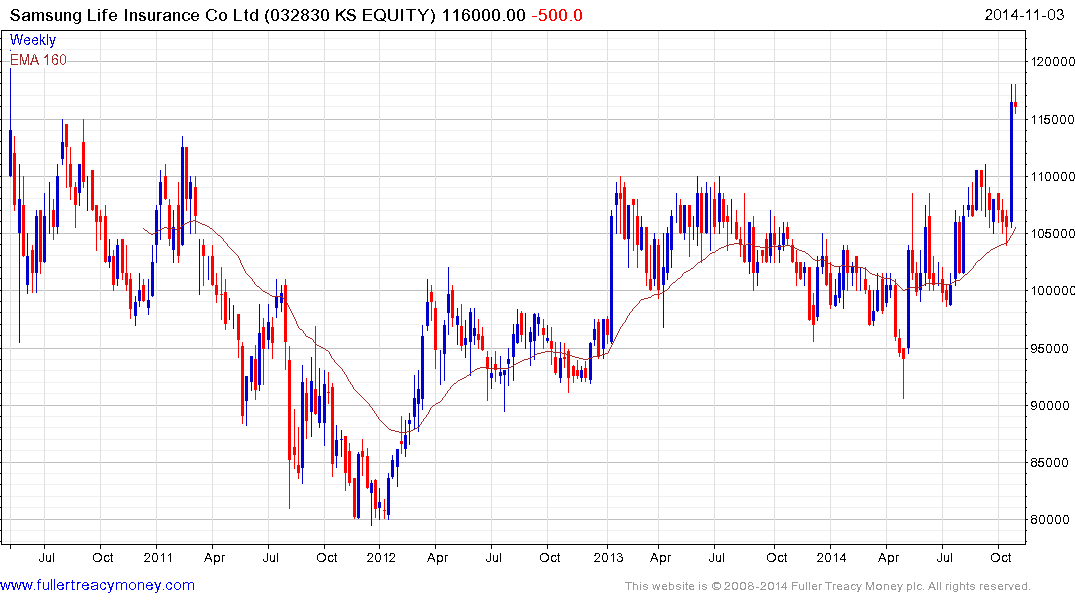 Samsung Life Insurance (Est P/E 16.8, DY 0.73%) broke out to a new all-time high on Friday and a sustained move below the 200-day MA would be required to question medium-term scope for additional upside.
Back to top