Luxury goods From growth to brand productivity
Thanks to a subscriber for this report for Deutsche Bank which may be of interest. Here is a section:
The track record suggests that brands that have focused on productivity already in past years – such as Hermes, LV, and Cartier – are already reporting sustainable outperformance in sales and profitability. Higher levels of productivity give room to invest in the brand equity for the long term and finally create unprecedented levels of cash flow. In this volatile environment, these qualities are even more valuable than catch-up opportunities, in our view. At the opposite side of the spectrum, brands that have lower-than-average productivity are likely to face increasing margin pressure: the risk is a short-term reaction, at the expense of the brand equity, with a potentially higher toll to be paid in the longer term.

We have therefore summarized into a unique Brand Power Index the weighted average combination of the quartile ranking across seven dimensions for each brand. Three quantitative measures have received a 20% weight each: retail productivity, brand productivity, and Return on Capital. Four more qualitative and therefore discretionary variables have received a 10% weight each: pricing discipline, exclusivity, brand momentum, and organic opportunity to improve margins. Based on the relative positioning across several variables, we have identified, as shown in Figure 5, the brands that rank in top quartiles. This provides a framework, as objective as possible, to evaluate brand productivity, margin sustainability, and opportunities to improve. An interesting fact about this index is that successful implementation of appropriate strategies can help companies improve their scores.
Here is a link to the full report.

Before Xi Jinping cracked down on extravagant displays of personal wealth among the Communist Party's elite, there was high demand for just about all luxury brands and strong commonality was evident right across the sector. The more recent slowdown in the Chinese economy has exacerbated the issues facing luxury goods with the result that there are some clear winners and losers.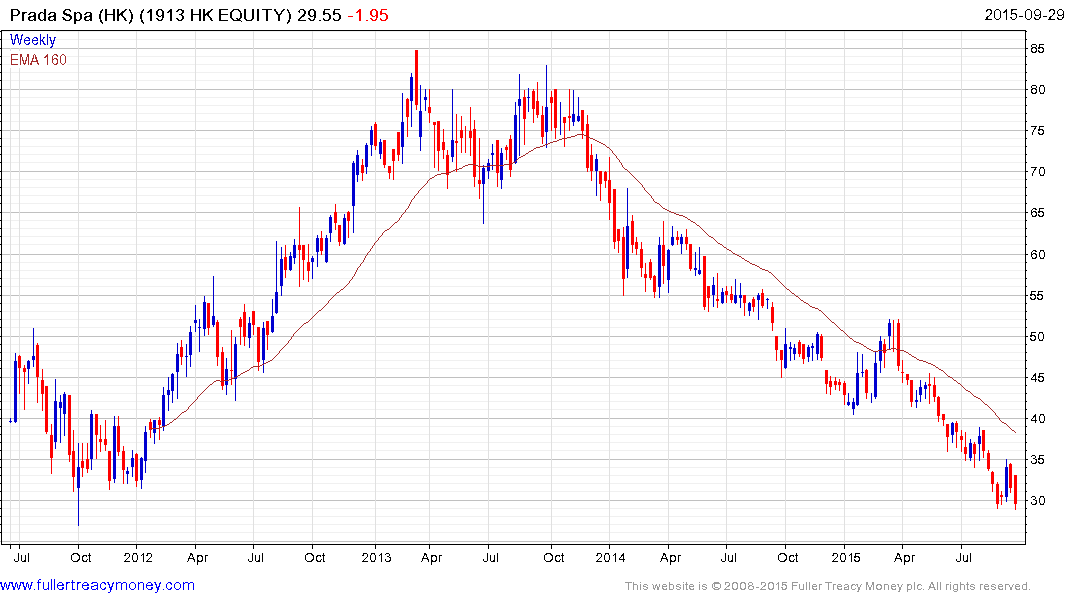 For example Hong Kong listed Prada (Est P/E 20.04, DY 3.17%) has been trending lower for more than two years and a break in the progression of lower rally highs will be required to begin to signal a return to demand dominance.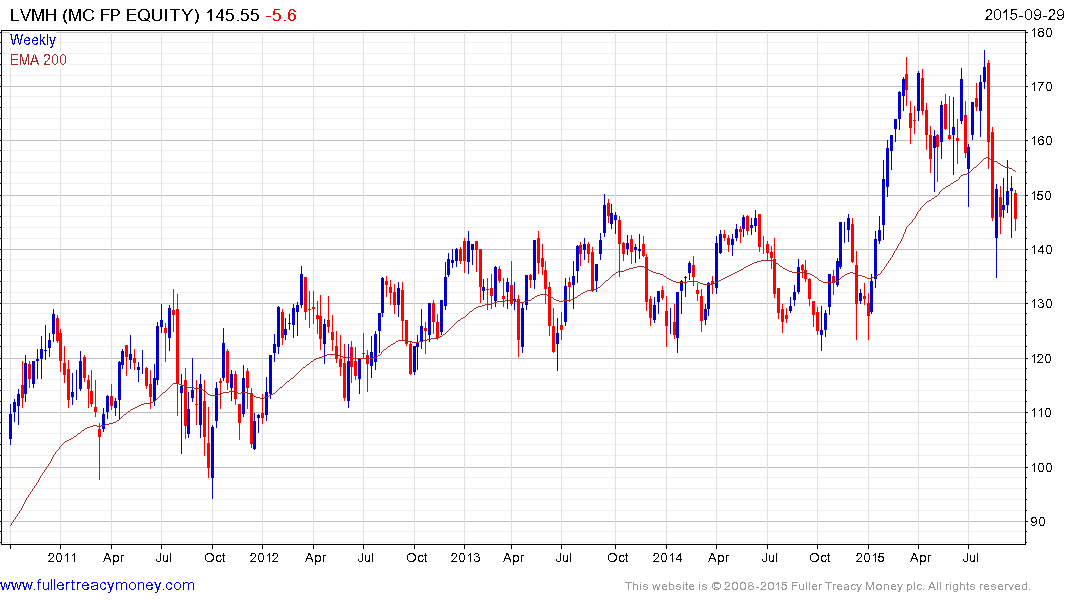 France listed LVMH (Est P/E 19.16, 2.27%) & Christian Dior (Est P/E 15.84, DY 1.98%) have held up reasonably well and have returned to test the upper side of their respective underlying ranges.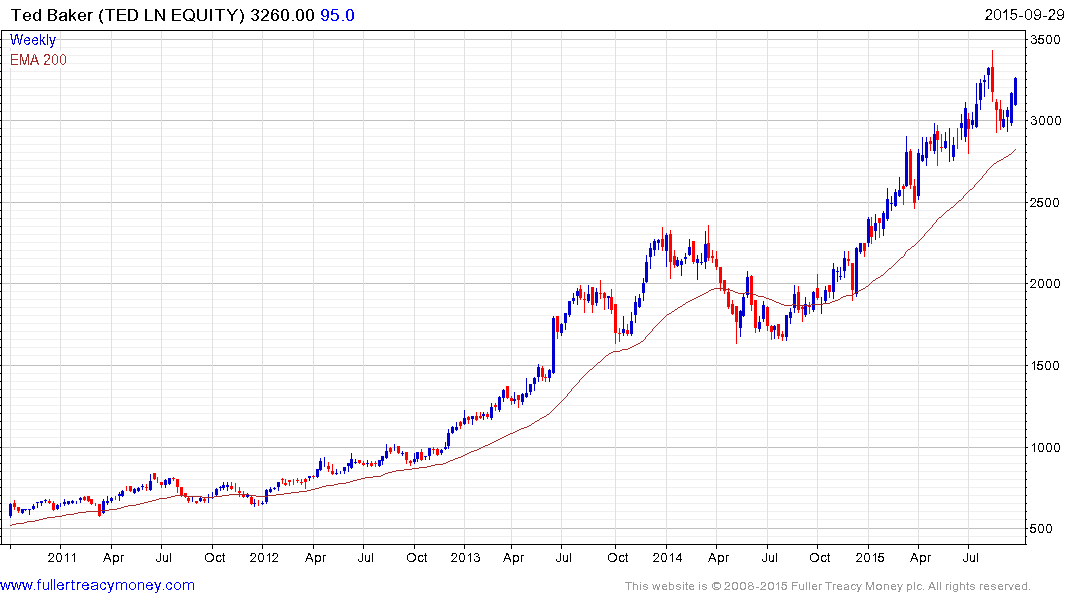 London listed Ted Baker (Est P/E 33.57, DY 1.37%) is a minnow compared to these companies but remains in a consistent medium-term uptrend.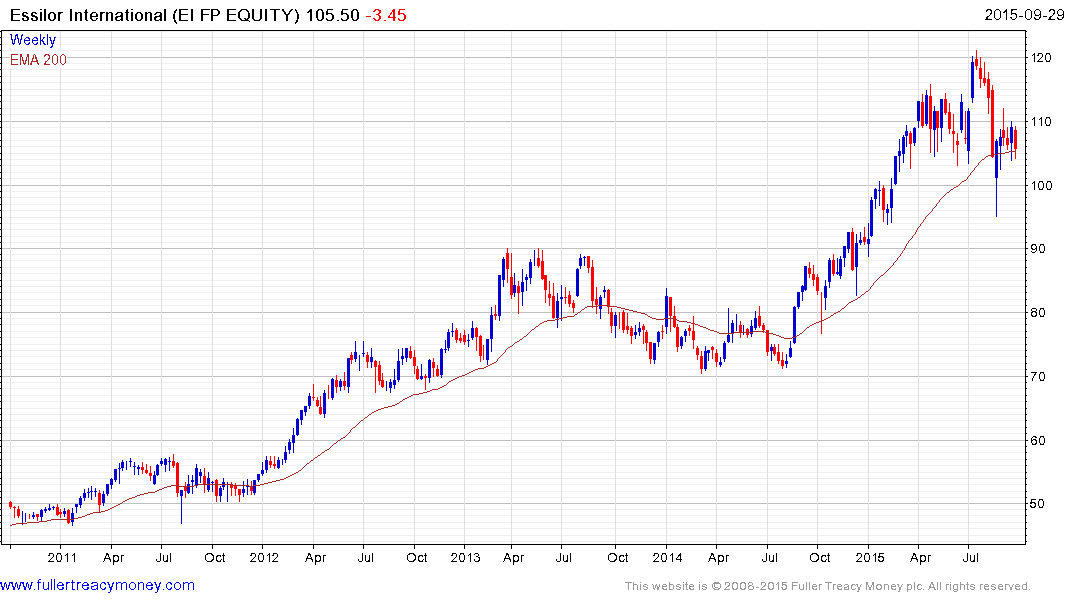 France listed Essilor International (Est P/E, DY) hit a medium-term peak in July and has now returned to test the region of the 200-day MA. It will need to hold the area of the late August low if medium-term scope for continued higher to lateral ranging is to be given the benefit of the doubt.
Back to top