Kazakhmys to Shrink by Two-Thirds as It Casts Off Weak Mines
This article by Firat Kayakiran for Bloomberg may be of interest to subscribers. Here is a section:
In comparison, the "game-changing restructuring proposal "suggests a net present value of 587 pence a share if successful, Fraser Jamieson, a JPMorgan Securities Plc analyst, wrote in a note to investors today as he raised Kazakhmys to overweight.

Copper grades mined by the reorganized Kazakhmys would rise to about 2.4 percent from 0.99 percent last year and costs per pound of output would drop to 130 to 150 cents from 328 cents in 2013, Novachuk said. Production would be 80,000 to 90,000 tons a year, from 294,000 tons, and staff would be 12,000, from 56,000, under plans that will go to shareholders after board approval.

The company will keep the Bozshakol and Aktogay sites that will each bring in about 100,000 tons of copper annually by 2017, Novachuk said. Bozshakol will start up next year, he said.

It also agreed to buy Kazakhstan's Koksay copper project with an estimated 80,000 tons of output a year for $260 million, Novachuk said. Kazakhmys plans to be a "highly-efficient" producer of 350,000 tons of copper a year after its expansions.

?For last year, it reported earnings before interest, taxes, depreciation and amortization fell to $1.15 billion from $1.36 billion. It targets output of 285,000 to 295,000 tons this year.
There has been a great deal of attention paid to the plight of gold miners and the measures they have taken to improve their situation which are now beginning to pay off. The industrial metal mining sector has been faced with similar issues. Companies such as BHP Billiton and Rio Tinto have cancelled a number of projects but the adjustment announced by Kazakhyms represents a more extreme development which, if successful, could prove beneficial for investors.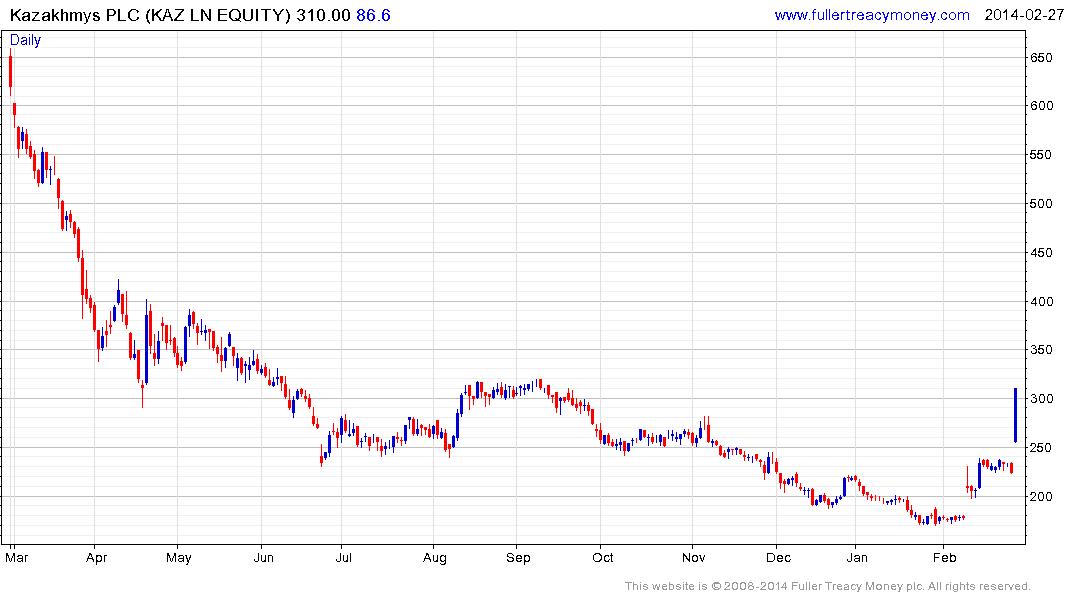 Kazakhmys lost approximately 90% of its value during a three-year downtrend which saw it return to test the 2008 lows. The share posted its first upward dynamic in almost a year earlier this month and today's announcement has acted as a bullish catalyst. A sustained move below 250p would be required to question potential for an additional rerating. (Also see an review of other miners posted in Comment of the Day on February 18th)
Back to top