Joko Widodo PDI-P Partners Officially Announced, Golkar Still Playing the Field
This article by Markus Junianto Sihaloh for The Jakarta Globe may be of interest to subscribers. Here is a section:
Two political parties joined the Indonesian Democratic Party of Struggle (PDI-P) on Wednesday to announce their official support for Joko Widodo's presidential campaign, but the Golkar Party held back on declaring itself part of the coalition pending a party meeting.

"Megawati [Soekarnoputri] has given a mandate to [Joko] to lead the nation, and Jokowi is the right, patient and tough person," Tjahjo Kumolo, PDI-P secretary general, said on Wednesday.

The PDI-P already knew it had secured the support of the the National Awakening Party (PKB) and National Democratic Party (NasDem), but the official announcement was not made until Wednesday.

In a speech at the PDI-P headquarters, party chairwoman Megawati said that the support from PKB was analogous to "the return of the missing child," recounting that former president Abdurrahman "Gus Dur" Wahid had told her years ago to take care of PKB veterans, Syaifullah Yusuf, (currently the deputy governor of East Java) and PKB chairman Muhaimin Iskandar.

"I do this for the sake of our nation that we love," she said.

Muhaimin said that Jokowi was the perfect presidential candidate to lead Indonesia.
The result of India's election can only be described as a best case scenario for the financial markets considering the BJP and Mr. Modi's records in fostering economic growth. The interregnum period between when the election victory is celebrated and when the new government's policies are announced will allow the market to digest the impact of this momentous event and some consolidation of the last week's impressive advances looks likely.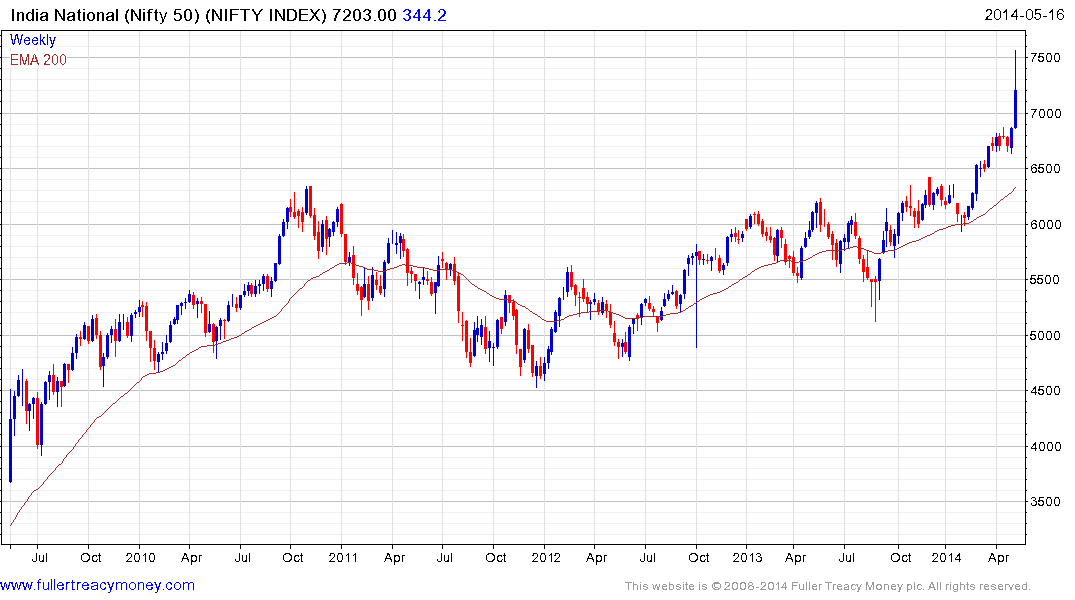 India offers a good example of how perceptions of improving governance can have a transformative impact on financial markets. Joko Widodo, as a popular mayor of Jakarata does not have quite the same gravitas of India's Mr.Modi, but his candidacy has ignited similar enthusiasm for change and reform in Indonesia that Mr.Modi did in India. (Also see Comment of the Day on March 14th).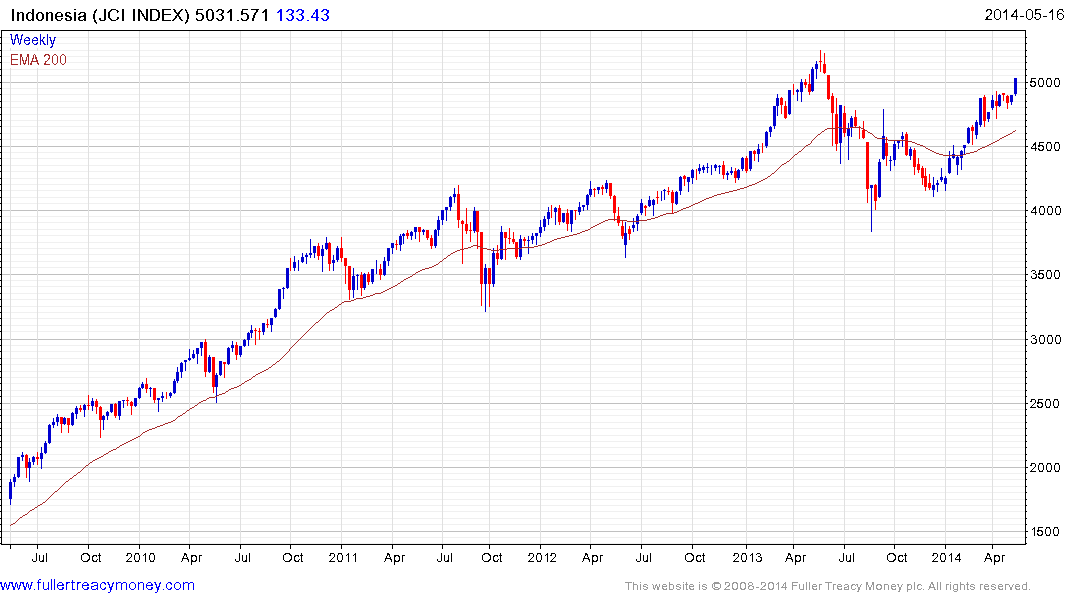 The Jakarata Composite Index has rebounded from last year's low to test the psychological 5000 level and while the June peak may offer some resistance, a break in the progression of higher reaction lows would be required to suggest more than a temporary pause.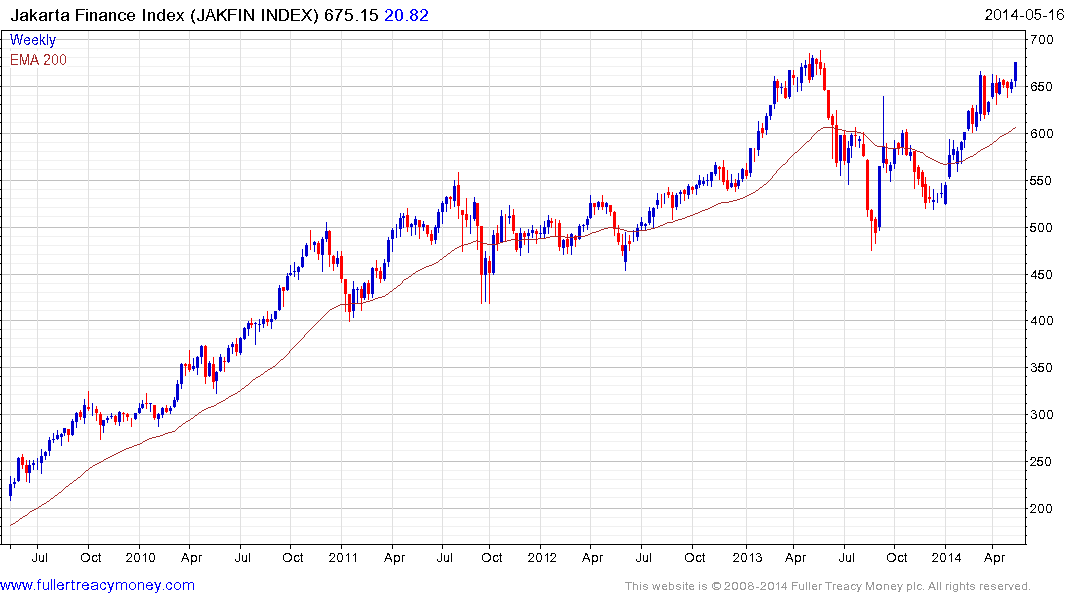 The Jakarta Financials Index has a broadly similar pattern while the Rupiah continues to steady following last year's more than 20% decline.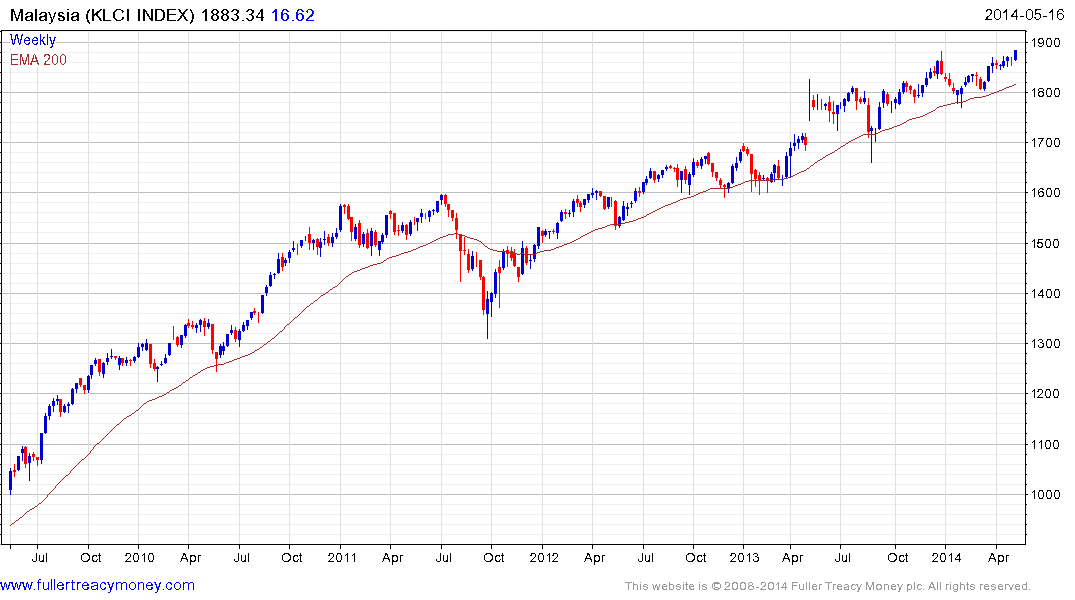 A contributory factor in Malaysia's relative strength has also been the election of Najib Razak last year. Although a controversial figure, the market has concluded he represents a "safe pair of hands". The Kuala Lumpur Composite Index continues to hold a progression of higher reaction lows and hit a new closing high today. A sustained move below 1800 would be required to question medium-term scope for additional upside.
Back to top