Indonesian Stocks Enter Bull Market on Jokowi Presidential Bid
This article by Matthew Oakley, Yudith Ho and Harry Suhartono for Bloomberg may be of interest to subscribers. Here is a section:
Financial stocks led the gain in the Jakarta index as PT Bank Mandiri, the country's largest lender by assets, rose 9.1 percent and PT Bank Rakyat Indonesia jumped 11 percent. A Jokowi administration would probably boost spending on infrastructure and public welfare, according to a report last month from CIMB Group Holdings Bhd.

"This is certainly the most market-friendly scenario in the run-up to the election," said Mark Capstick, a London-based portfolio manager at BNP Paribas Investment Partners. "In the short term this will be positive for Indonesian assets, although gains may be limited as this was expected by many market participants."

Indonesian shares have rallied this year after economic growth picked up in the fourth quarter from the previous period and corporate earnings improved on the prospect of increased spending before the elections. Foreign funds pumped $659 million into the nation's stocks today, the most since May, taking inflows this year to $1.7 billion.

?Indonesia will hold legislative polls in April before the presidential vote. President Susilo Bambang Yudhoyono is prohibited from running for a third five-year term.
"Governance is Everything" has been a mantra at this service for decades. The upcoming election in India, where a politician with a solid record of delivering on reform is expected to become the next prime minister, offers a good example of how changing perceptions of standards of governance can contribute to positive stock market returns.

Indonesia's basic resources, expanding middle class and developing manufacturing sector are all positive attributes. A continued trend of improving governance is required for investors to be convinced that these characteristics will be translated into positive stock market returns. The announcement that a market friendly candidate will be running is to be welcomed and the Jakarta Composite responded favourably today.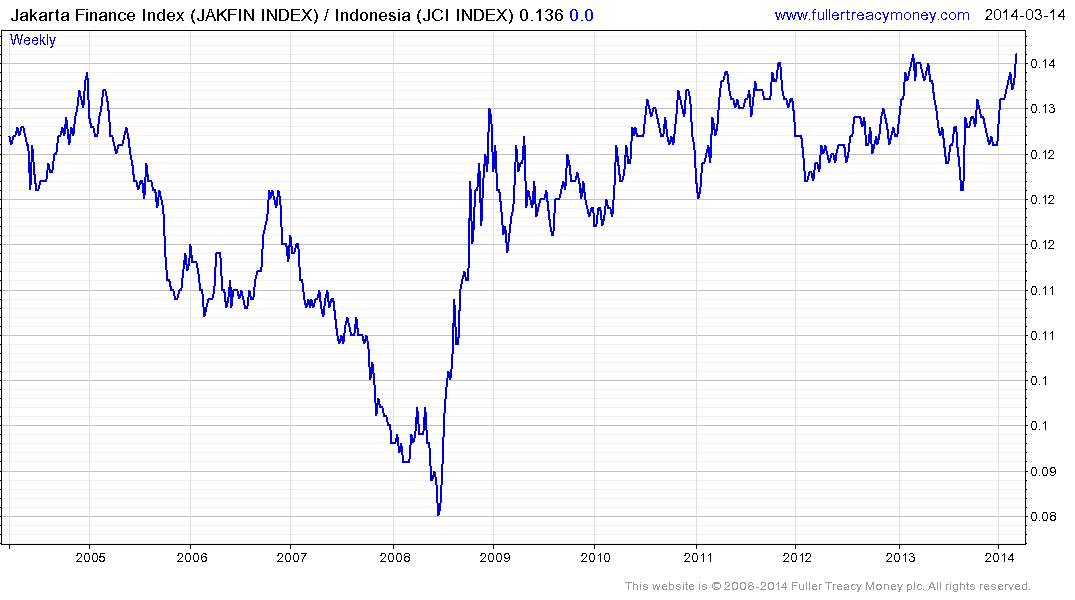 The Jakarta Financials Index outperformed the wider market in impressive fashion as it rebounded from the 2008 lows. However, the ratio has been largely rangebound since as the focus of attention moved to Indonesia's growing middle classes. Today's surge in the banks suggests the sector may once again be signalling a return to outperformance.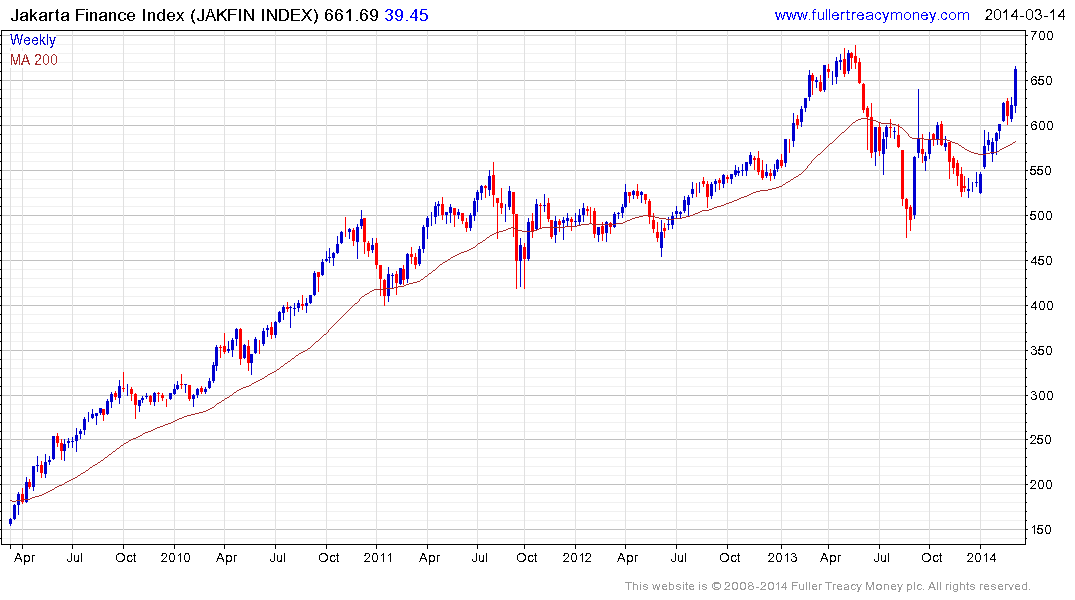 In absolute terms the wider market has broken its progression of lower rally highs and a sustained move below 4500 would be required to question medium-term upside potential.
Back to top