Japan GDP Grows 2.2%, Longest Growth Streak in 11 Years; Asian Stocks Slide
This article by Robert Guy for Barron's may be of interest to subscribers. Here is a section quoting Barclays:
The 0.5% q/q growth in Q1 reflected positive contributions from both net exports (0.1pp) and domestic demand (0.4pp). Notably, the heavily weighted private consumption component increased 0.4% q/q, resulting in the large contribution for domestic demand. This reflected an upturn in spending on semi-durables, together with the recovery in durables since last year. Private consumption was also up for services, but down for non-durables. That said, the strength of consumption in the Q1 GDP data may largely reflect an upswing in demand-side data and slightly overstate the underlying trend, setting the stage for a slowdown in Q2.

In other areas of domestic demand, private capex increased 0.2% q/q (Q4: 1.9%), a second consecutive gain. Also, housing investment rose 0.7% q/q, sustaining positive growth. Meanwhile, public fixed capital formation (public investment) fell 0.1% q/q in Q1 (Q4: -3.0%), a third consecutive decline. However, we expect such investment to turn positive in Q2 as the effects of the FY16 second supplementary budget materialize. At the same time, real exports increased 2.1% q/q and real imports rose 1.4% q/q. For real exports, this marked a third consecutive quarter of growth (Q3 16: 1.9%; Q4 16: 3.4%). This reflects the ongoing recovery in demand from overseas, especially Asia.
European and US politics as well as the meltdown in confidence in Brazil's administration are making headlines. In fact they are obscuring the more important news that global growth is generally on an upward trajectory and this has been the case for at least 12 months already. The Japanese economy has been in and out of recession on a number of occasions over the last few years but the uptick in activity in Asia is having a positive influence in conjunction with efforts to stoke domestic demand.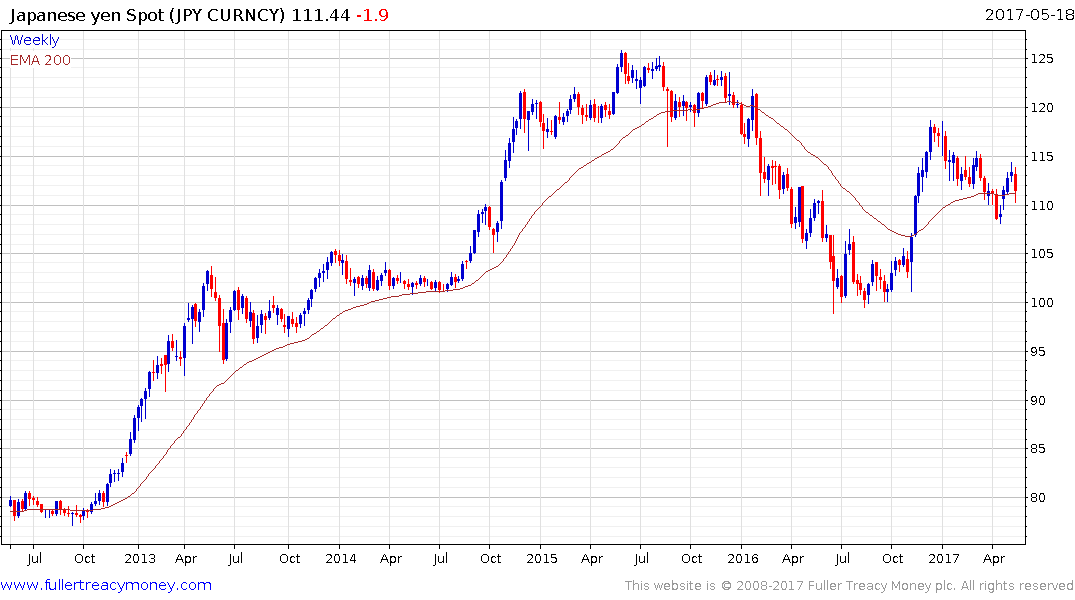 The Dollar encountered resistance near ¥115 last week and pulled back sharply to retest the region of the trend mean where it stabilised today. This may represent a higher reaction low for the Dollar provided the ¥110 level holds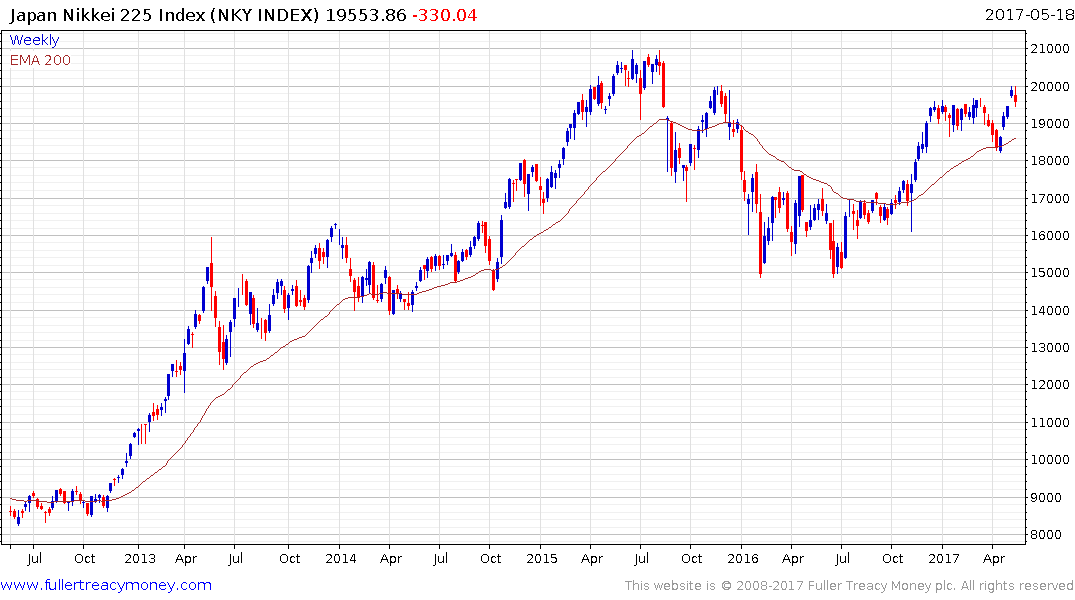 Considering how important to the stock market the inverse relationship with the Yen is there is potential that this pullback in the Nikkei 225 will be limited to mean reversion. That is of course assuming the Yen continues to weaken. The Index pulled back sharply today from the psychological 20,000 level in sympathy with Wall Street's decline yesterday and there is scope for a further unwinding of the short-term overbought condition, however a sustained move below the trend mean would be required to question medium-term scope for additional upside.
Back to top