Italy set to formally endorse China's Belt and Road Initiative
This article from the Financial Times may be of interest to subscribers. Here is a section:
Chinese investments have become increasingly contentious in the EU. Diplomats in Brussels and influential western European capitals have long worried the 16+1 grouping of China and central and eastern European states, including 11 EU members, is a Trojan horse to divide the bloc. Beijing has denied this suggestion. EU member states such as Germany and France have pushed for tougher screening criteria for Chinese investments. They want the bloc to develop a more unified strategy amid rising tensions over the security implications of using Chinese technology from companies such as Huawei, the telecoms group. Other countries including Greece and Portugal, where Chinese groups have invested billions of euros since the financial crisis, have adopted a more lenient approach.
I can't help but think of the adage "a drowning man will clutch at a straw". Italy's populist administration has need of both funds for investing in public works and also a desire to snub the federalist ambitions of Northern European creditors. Meanwhile, China has a clear ambition to draw European countries within its sphere of influence in an effort to cement export markets and to weaken the chances of a concerted effort to blunt its expansionism.
Europe remains on a long-term trajectory towards federalism. The entire austerity regime was based on harmonising debt to GDP ratios with a view to setting up a federal deposit insurance program, followed by a transfer mechanism. The rise of populism is a symptom of the impatience individuals feel with the concessions required to achieve that goal, particularly when they did not want it in the first place.
If Europe is to avoid allowing China considerable sway over much of the Mediterranean then it will need to ease up on the fiscal tightening. That realisation had better occur sooner rather than later. China already owns Greece's largest port, is highly active in Portugal but Italy would be a very attractive prize considering its strategic location.
Meanwhile the decision yesterday to treat Italy support for Banca Tercas as part of a deposit insurance program rather than as an antitrust suitable support program is good news for the banking sector because it reduces the potential for depositor bail-ins and increases scope for state support.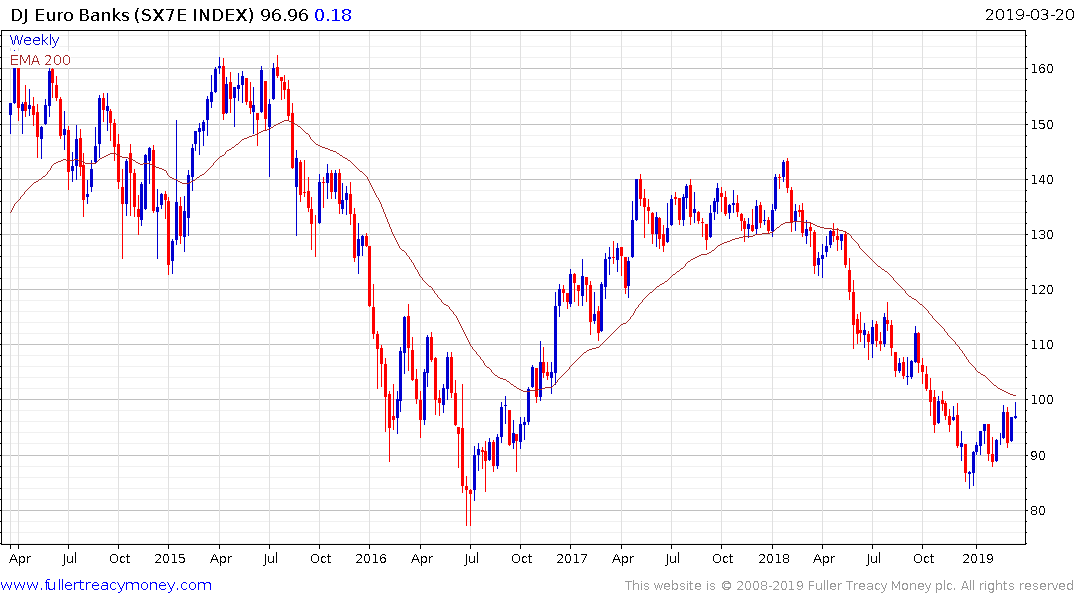 The Euro STOXX Banks Index has returned to test the region of the trend mean and the psychological 100 level. It will need to sustain a move above that level to signal a return to medium-term demand dominance.
Back to top