Italian Assets Resume Slide After Euroskeptic Appointments
This article by James Hirai and Anooja Debnath for Bloomberg may be of interest to subscribers. Here is a section:
The Italian Senate picked euroskeptic economist Alberto Bagnai, author of two books advocating the dismantling of the European monetary union, as head of the finance committee.

Claudio Borghi, an adviser for the League party on the economy and on issues such as the mini-bots short-dated notes, was named the head of the budget committee in the lower house. The populist government program doesn't include any reference to a possible option for a euro exit.
​
"There are a couple of high caliber League euroskeptics getting appointed to important parliamentary jobs in Italy this morning: Borghi and Bagnai," said Antoine Bouvet, an interest- rate strategist at Mizuho International Plc. "The fact that they get roles that have to do with finance and budget has been understood by the market as a sign that the League intends on pushing its anti-euro ideas."
There is one simple fact that overrides all of the political machinations going on in Italy right now. Italy has almost as much debt as the USA does which needs to be rolled over this year. As recently as May Italian debt out to almost 3-year maturities was trading at negative rates. Today those refinancing costs are a lot more expensive. That represents a major obstacle for Italy's populist eurosceptics.
So far, the EU appears willing to appease Italy on the issue of immigration management, enforcement and funding. However, the primary issue of fiscal restraint remains an open sore. There is every possibility that rather than attempt to take Italy out of the Euro, its new populist government is going to follow through on a macro equivalent of civil disobedience and spend well beyond the limits of what the fiscal compact indicates.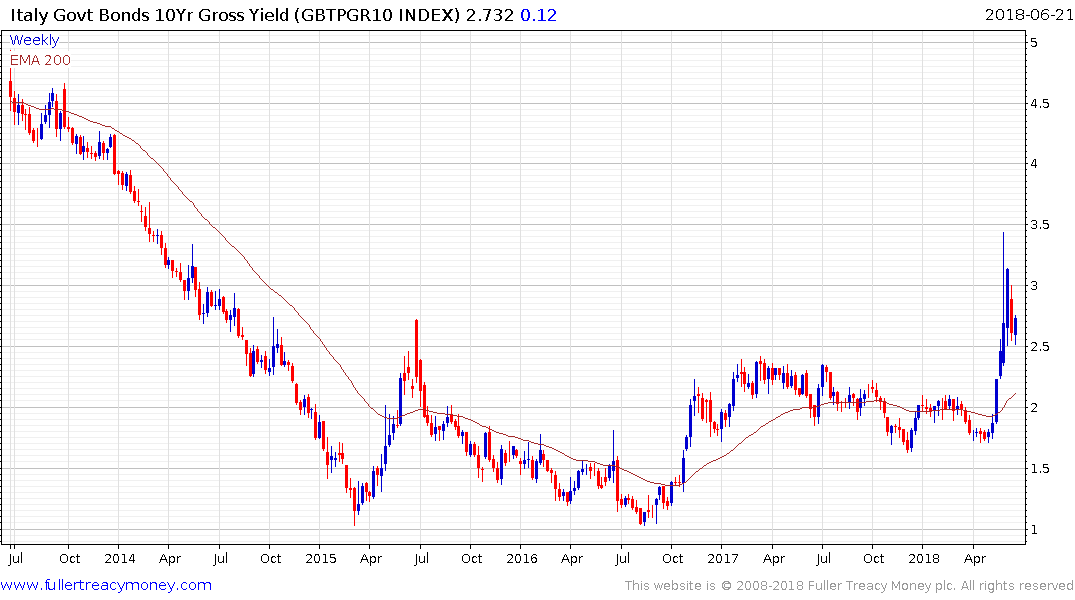 Italian 10-year BTP yields are firming from the 2.5% level and it is hard to imagine they are going to trade back below 2% while a populist administration is threatening to spend its way out of trouble with money it does not have.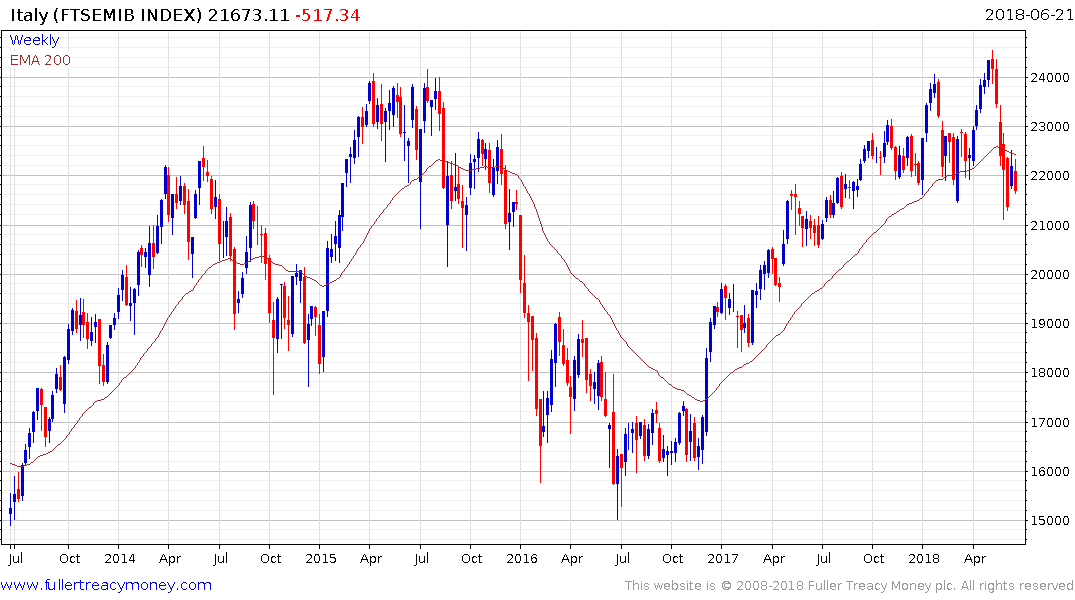 The FTSE MIB Index encountered resistance in the region of the trend mean this week and a sustained move above 22500 would be required to question medium-term scope for continued downside.
Back to top