Illumina Names Thaysen CEO After deSouza's Abrupt Departure
This article from Bloomberg may be of interest. Here is a section:
Thaysen will need to decide how to proceed with Grail, a company Illumina acquired in 2021 that sells a blood test to identify dozens of types of cancer at earlier stages than typically diagnosed. Antitrust regulators in the US and Europe are trying to unwind the deal, which Illumina has vowed to defend despite steep costs, including a nearly $500 million fine in Europe.

Meanwhile, Illumina's DNA-sequencing business faces more competition than ever. The company started shipping its latest machine earlier this year to help maintain its hold on the market. That investment has in part crimped profitability, something Illumina pledged to fix during its proxy fight with Icahn.
Grail is turning into a poisoned chalice for Illumina. The decision to ignore the EU's antitrust concerns not only means Illumina is accepting a fine and foregoing access to the market, but it sullies the company's reputation with regulators.
Illumina is a highly cyclical company. Every time they have released a new machine in the past, sales have boomed and the share took a leap higher. It has then tended to range in a volatile manner until their next new machine is released. Illumina's machines have been instrumental in compressing the cost of genetic sequencing from thousands to hundreds of dollars.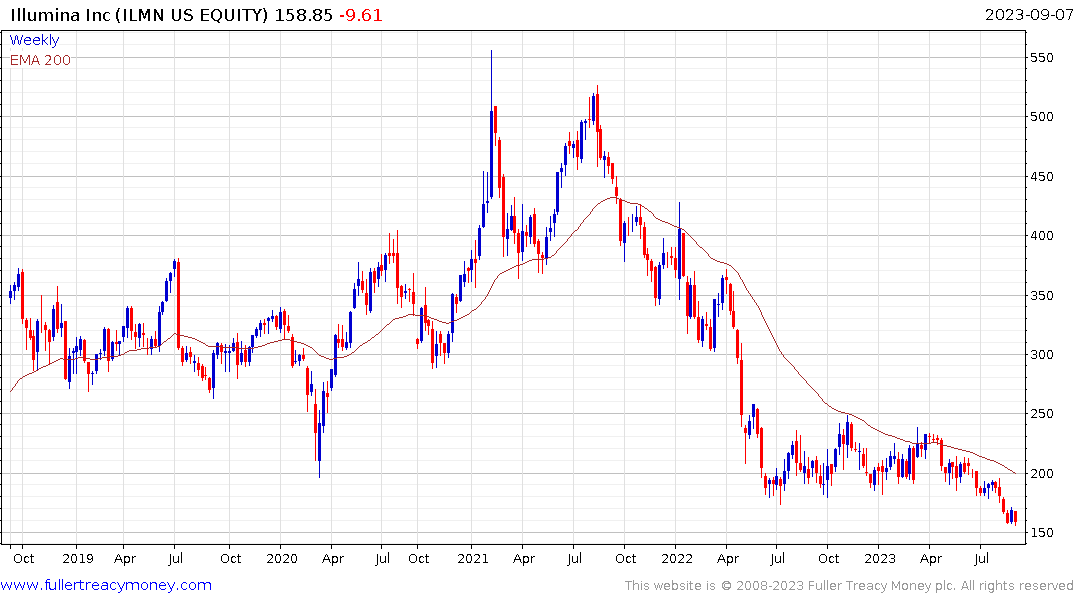 The fact the share is trending lower suggests the marketing strategy is not working and the company may have picked a fight it cannot win. The allure of Grail is obvious. It is a blood biopsy company that will twin wonderfully with widescale use of genetic sequencers. It would also provide Illumina with a captive market for its machines. If the company is eventually spun off from Illumina it would be a candidate for high growth as rapid cancer diagnostic equipment goes mainstream.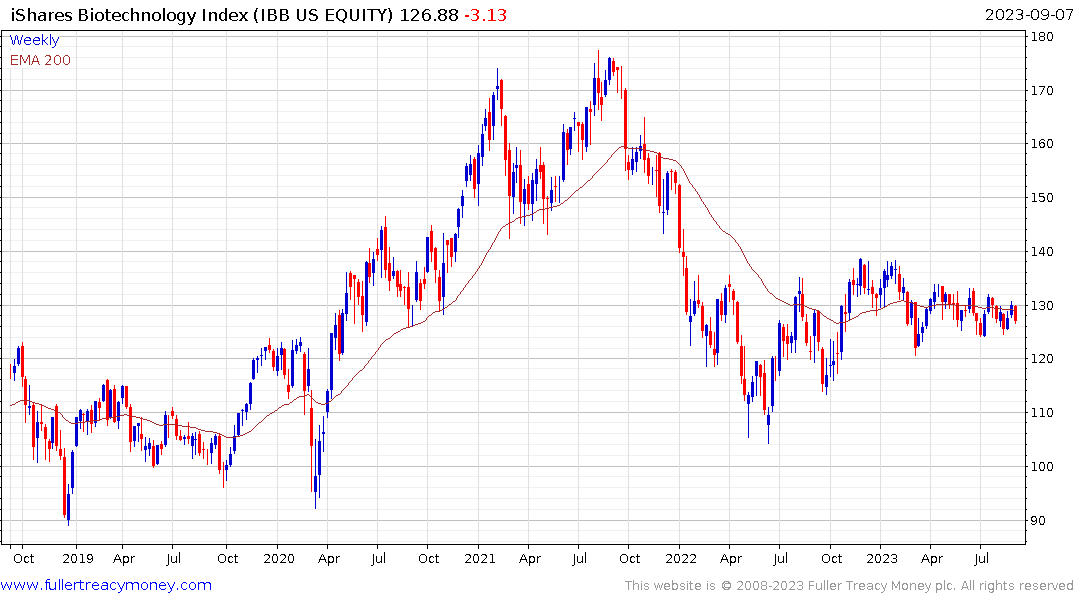 The Nasdaq Biotech Index continues to range with a mild downward bias. Interest rates are taking a toll on pre-revenue companies and the decline of pandemic spending reflects a return to normal for revenue which is weighing on the sector for now.
Back to top