Hochschild says key mines to continue operations as Peru eases stance
This article from Bloomberg may be of interest to subscribers. Here is a section:
Hochschild Mining Plc jumped as much as 26% after Peru's government appeared to back away from a plan to withhold further permitting extensions at its two most important mines

"We are pleased that our Inmaculada and Pallancata mines can continue to operate without further uncertainty and, furthermore, we reaffirm our goal to increasing our resources and extending our mine lives, in accordance with current legislation," Hochschild Chief Executive Officer Ignacio Bustamante said Thursday in a statement.

The company's London listed stock rose as high as 153.4 pence, before trading 15% higher as of 8:16 a.m. local time.

Hochschild lost a third of its value on Monday as investors reacted to news that the company may be forced by the government to close two silver mines in the country. That followed an announcement by Prime Minister Mirtha Vasquez on Friday that four mines in the Andean region of Ayacucho wouldn't be allowed extensions. Vasquez's comments sent shock waves through the local mining industry.

Those concerns now seem to easing. Vasquez said yesterday that there will be no "unilateral shutdowns."

Investors have been nervous about Peru's mining sector since the April elections were won by Pedro Castillo, a former rural union activist from a Marxist party who had vowed to nationalize assets, block projects and take a bigger share of the mineral windfall to fight poverty.

Peru is one of the world's biggest copper producers, with operators including BHP Group, Anglo American Plc and Freeport-McMoRan Inc.
Political uncertainty is a significant hazard for resources investors. In developed countries, it is increasingly difficult to get permitting for new operations. That's true even in "mining friendly" jurisdictions. In emerging markets, the risk is that a new government will tear up royalty agreements or appropriate assets with little notice. That risk increases the higher prices go because profits are a powerful siren call for cash-hungry governments. The parlous state of government finances may well have aided in the Peruvian government's decision not to rock the boat with mining groups. They need the inward investment.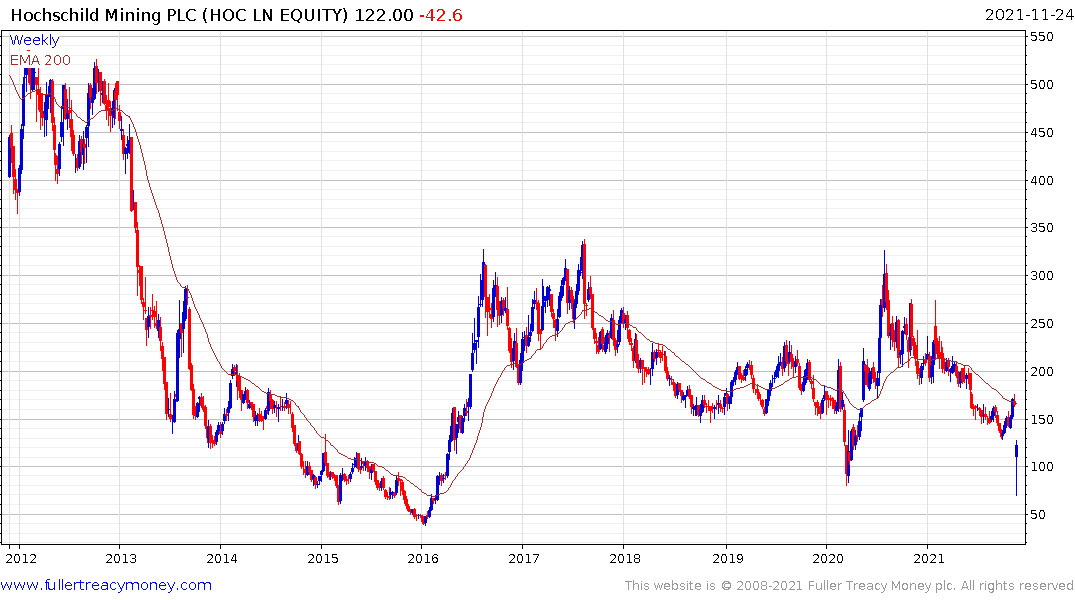 Hochschild Mining is a major silver producer. The share dropped back to test the pre-2016 lows this week before rebounding. Investors have been pricing in political volatility for more than a year so with this worry dissipating there is scope for recovery. That potential would be greatly enhanced by a silver sustained a move above $25.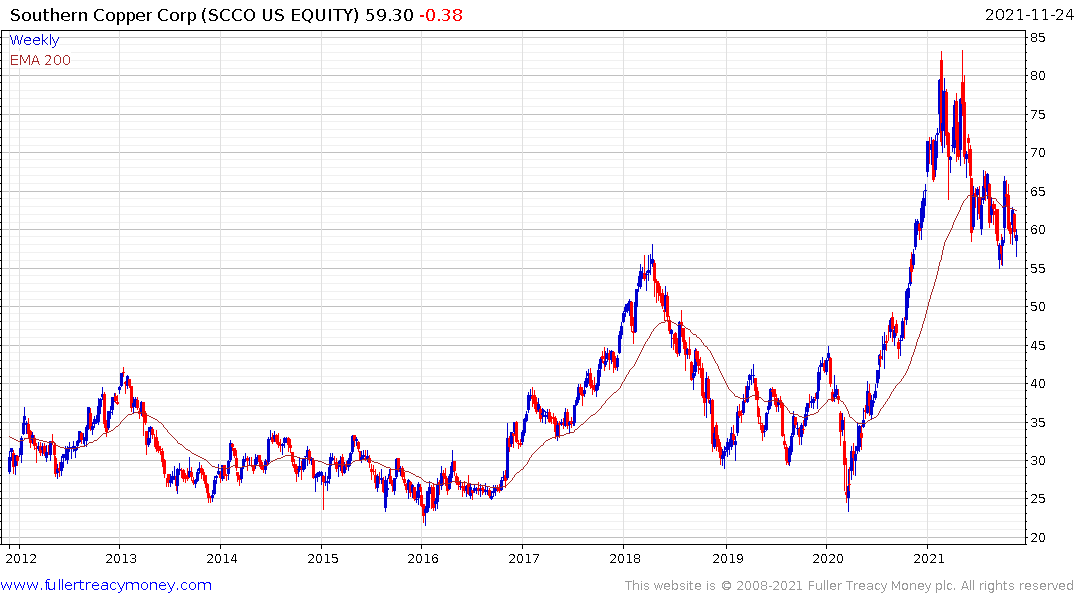 Southern Copper's mines are primarily focused on Peru so this is also good news for them. The share continues to firm from the region of the September lows.
Back to top