Hammond Warns U.K. Must Prepare For "Bad-Tempered Brexit"
This article by Robert Hutton and Thomas Penny for Bloomberg may be of interest to subscribers. Here is a section:
"There will be some areas where we need to start spending money in the new year if we can't tell ourselves we're moving steadily and pretty assuredly towards a transition agreement," Hammond told parliament's Treasury committee on Wednesday.

Earlier, he pushed back at the suggestion that he should release cash now.

"I don't believe we should be in the business of making potentially nugatory expenditure until the very last moment where we need to do so," he said. "We will be ready, we will not spend it earlier than necessary just to make some demonstration point."
He added, in a sign of defiance to EU negotiators: "Some are urging me to spend money to show the EU we mean business. I think the EU know we mean business."
Rather than state categorically there will not be another referendum Theresa May refused to say how she would vote in one. That's created a messy situation which has thrown the onus for talking up Brexit onto her cabinet colleagues. The Chancellor was castigated in some sections of the media today for his ambiguous support for Brexit because of his refusal to begin instituting plans for separation. Meanwhile Michel Barnier reportedly agreed to the idea of a transition today suggesting perhaps Mr. Hammond knows more about the negotiations than commentators baying for his ouster.

In London, last Friday I shared a platform with MEP Daniel Hannan who is an optimistic Brexit supporter. He believes an agreement will be found and a transition will ensue. He made the sensible point that one of the reasons a transition agreement is required is because the UK needs to build up the regulatory infrastructure required to self-govern in all the areas it previously ceded control to the EU. That means setting up agencies, hiring people and defining roles. These are far from insurmountable challenges but they do require time.

My fear is that any transition agreement may run longer than anyone envisages today. For example, if the EU decides not enough progress has been made on leaving negotiations, then trade negotiations will be under even more time pressure which will push the term of the transition even longer. Assuming this administration runs its defined term, the next general election will be close to the anticipated end of the transition. It might not be defined as a referendum but it is likely to hinge on that question nonetheless.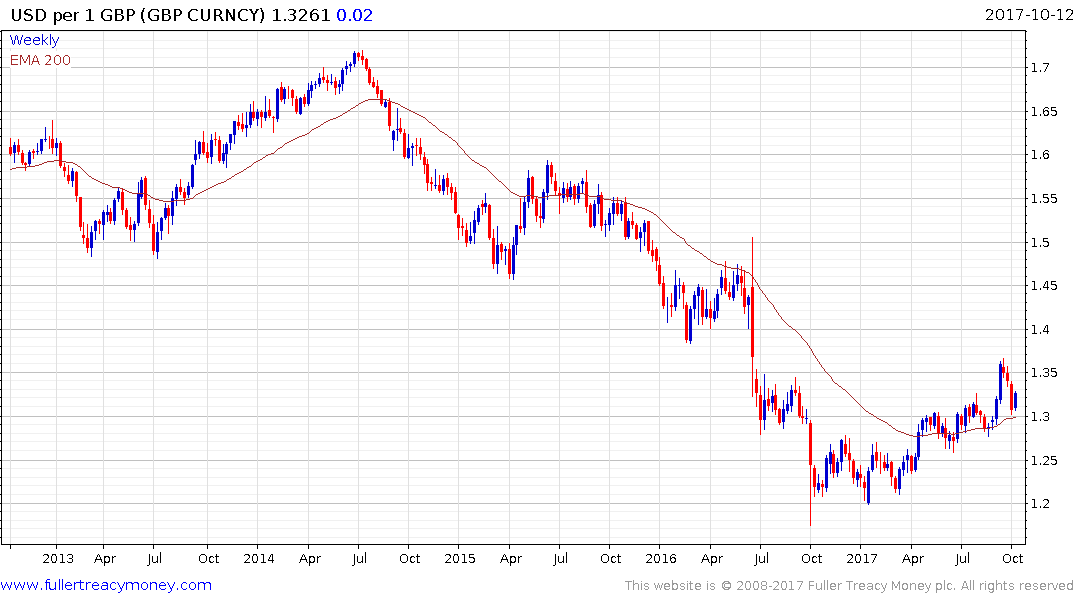 The Pound has steadied in the region of the trend mean versus the Dollar and a sustained move below $1.30 would be required to question medium-term scope for continued higher to lateral ranging. It is reasonable to believe that the currency is the ultimate voting machine and that if it continues to trend higher we can conclude the market believes the UK's situation is improving.
Back to top