Global Energy Upheaval Threatens Years of Natural Gas Shortages
This article from Bloomberg may be of interest to subscribers. Here is a section:
Already, natural gas spot prices are so high that the world's top buyers in North Asia are choosing not to refill inventories with additional overseas purchases. They're instead gambling that this summer will be mild, or a peace deal between Russia and Ukraine will result in a price drop, said traders, who requested anonymity to discuss private details.

LNG importers in China and India have drastically cut back spot purchases, and are instead maximizing domestic supply and consuming gas in storage, traders said. This strategy will help to save money, but comes with an enormous risk that allows little room for surprises -- a bet that hasn't paid off recently.

If there is a sudden spike in demand for gas, or if a contracted shipment isn't able to be delivered due to a production issue, some of Asia's top consumers may be short of gas this summer or next winter. They will be forced to go back into the spot market and buy very expensive shipments of the fuel, or curtail gas deliveries to customers at home.
Telling your rival what you are going to do before you do it is not good strategy. Europe has been telling the world it wants to be greener for years. They closed coal fired power stations and nuclear plants while intensifying reliance on imported gas. Russia could decide to curtail shipments to Europe at any time.

The fact they have not done so already is likely a tool to ensure Europe does supply offensive arms to Ukraine and refuses overtures to impose a no-fly zone over the country. The threat of cutting off gas supplies supports the view it will get its way.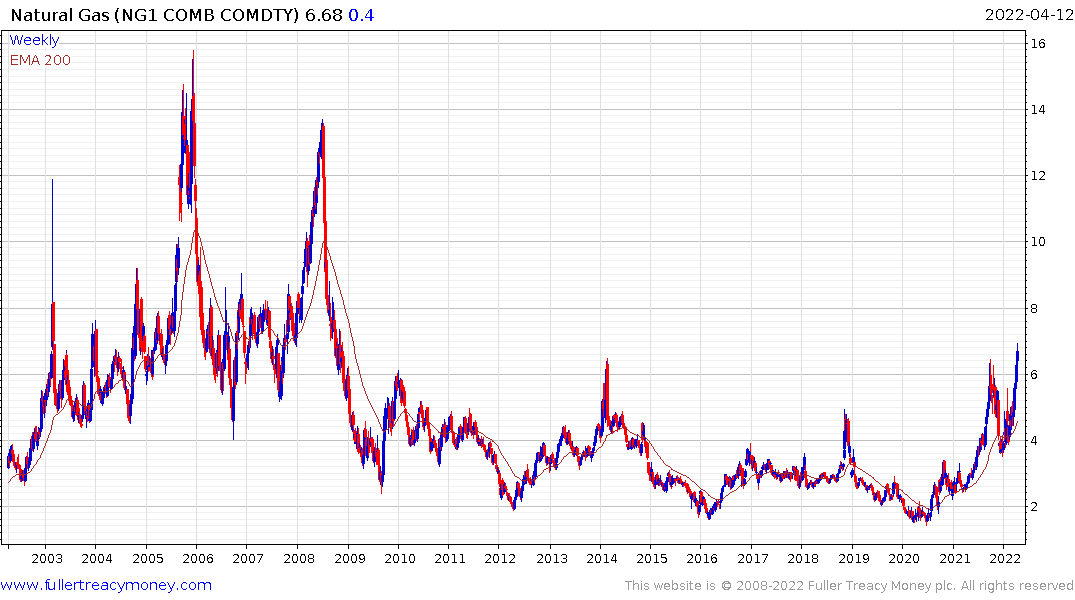 US natural gas prices continue to extend the break above $6. This is a major new development for 12 years every time prices got to $6, the rally failed. The price is now at $7 with no sign of failure.

This is the not the first time that low priced commodities gave people the false sense that the condition would persist indefinitely. The green lobby's success in attacking the fossil fuel sector, investor demands for sustainable profits, cold weather, and a booming export market are all conspiring to support prices. That supports the view that $6 may become a future floor for prices.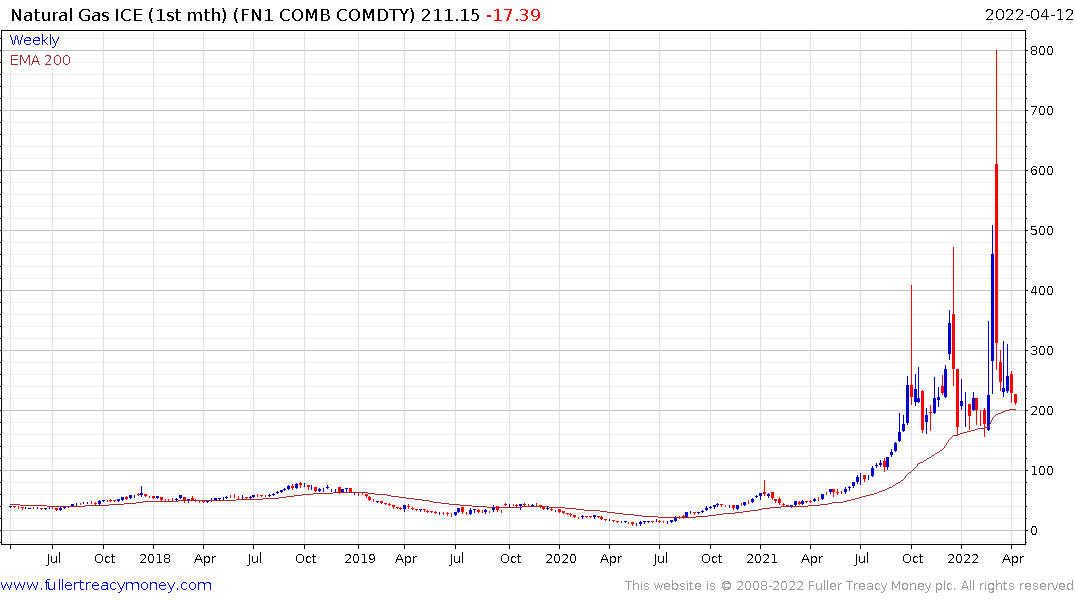 UK natural gas have been subject to quite incredible volatility over the last six months. The price has returned to test the region of the 200-day MA but regardless of what else happens the break above 100 is likely to be sustained.
Back to top