G-20 Gives Markets a Short-Term Respite
This article by Mohamed A. El-Erian for Bloomberg may be of interest to subscribers. Here is a section:
For the economic reasons discussed here, the most likely outcome was in the middle of that range: a cease-fire with a pathway to a more decisive de-escalation of tensions – or, to use a recent historical parallel, an agreement similar to the one that followed the White House visit of EU President Jean-Claude Juncker in July. And that is what materialized, with the important addition of a three-month deadline for progress.

​At the end of almost three hours of what the White House called "highly successful" discussions, the U.S. agreed to refrain for 90 days from implementing additional tariffs on $200 billion of imports from China. In return, China promised to use the time to make progress in three areas of concern to the U.S. and other countries: relaxing an array of nontariff barriers, including joint-venture requirements, that result in forced transfers of technology, operational models and other proprietary information and business practices; combatting intellectual property theft and other cyber interferences; and reducing the bilateral trade surplus by importing "very substantial" quantities of certain goods from the U.S.
The G-20 ended as expected with smiles all round but with not a great deal to report other than a hiatus in the trade war and commitment to go back to talks. There is a little chance of China making anywhere close to the concessions demanded of the USA so it is quite likely the market will be back on tenterhooks by the time late January comes around.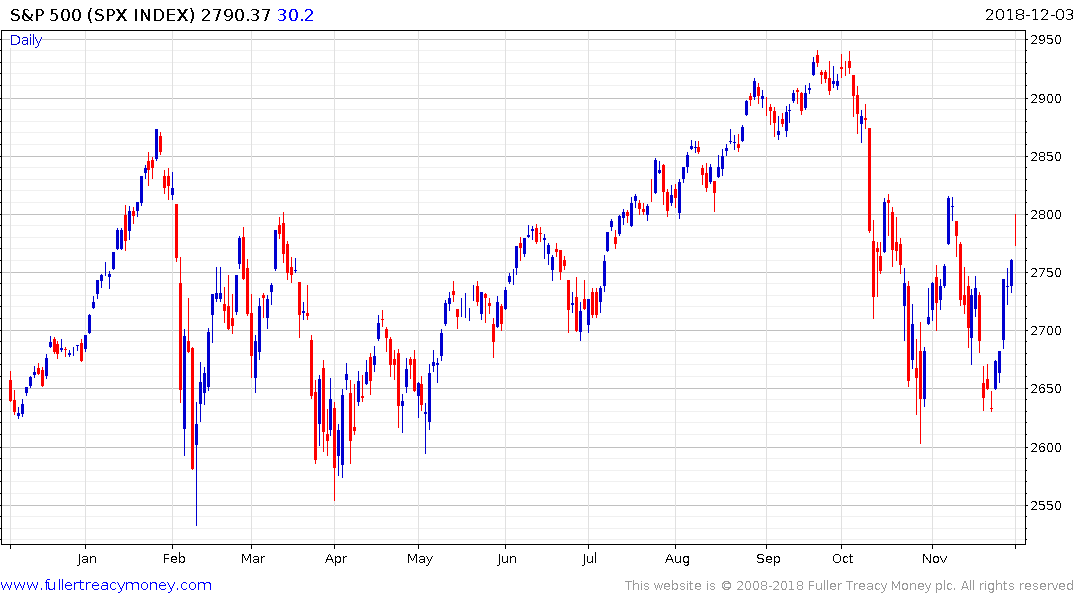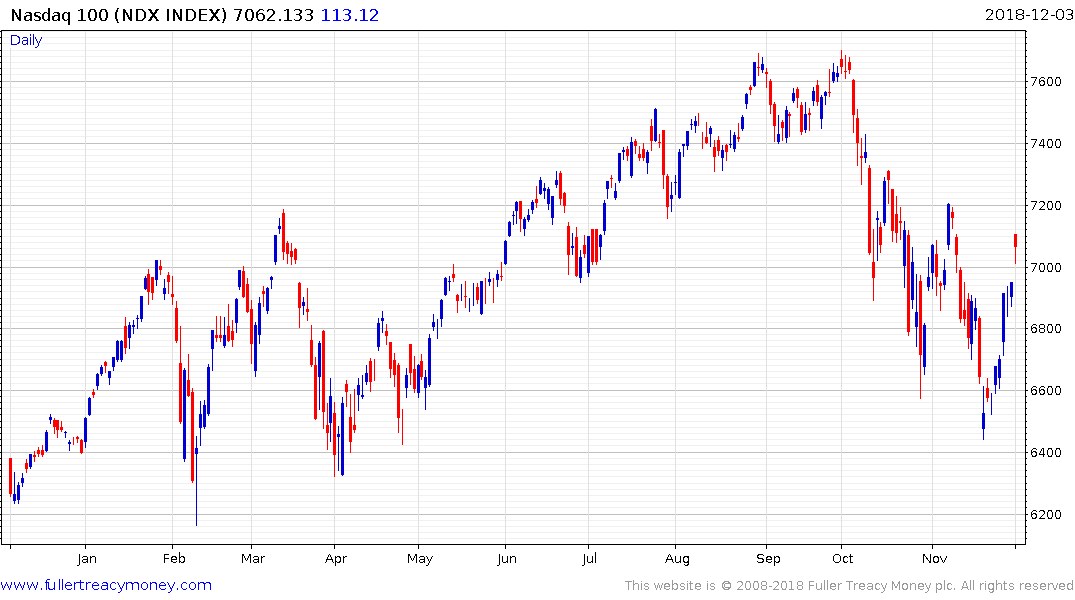 In the meantime, stock markets responded positively initially but most indices had already priced in good news from the lows posted last week. The S&P500 and the Nasdaq-100 are now testing the region of their respective lower rally highs amid short-term overbought conditions. The big question over the balance of tis week is the extent to which they will be able to hold those rallies let alone improve upon them.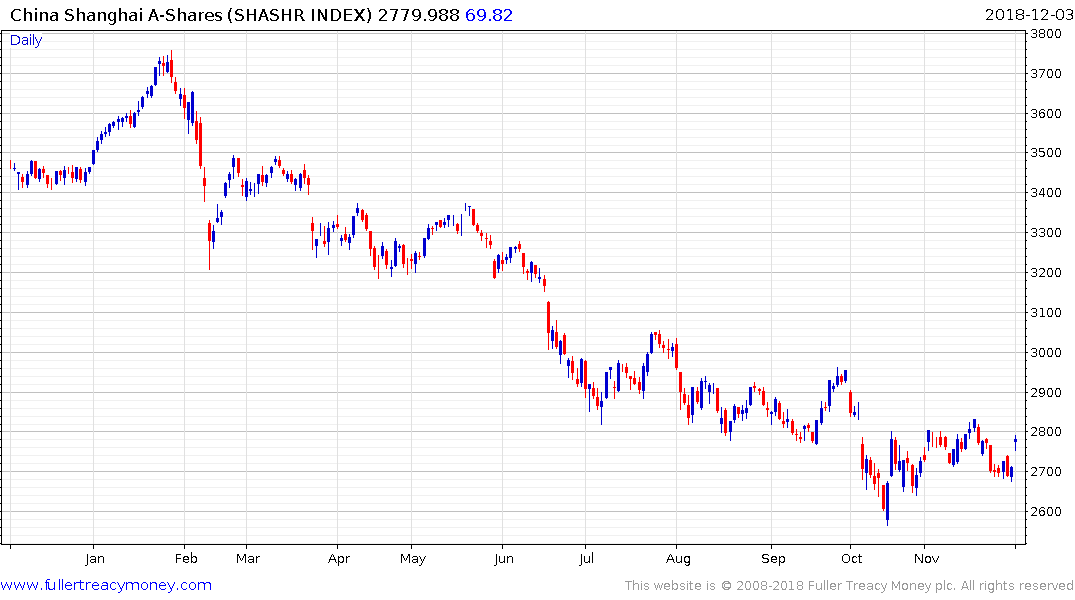 The Shanghai A-Shares Index bounced following the thawing of tensions but needs to sustain a move back above 2800 to question the consistency of the almost yearlong decline.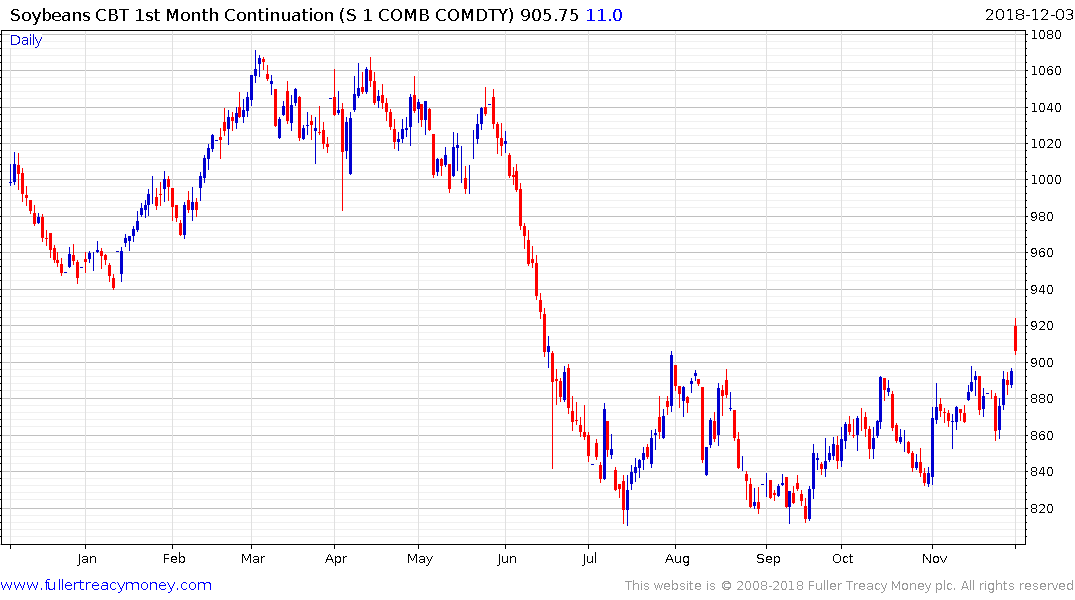 Soybeans initially gapped higher but gave up much of the advance by the end of the session suggesting traders want to see clear evidence of a return to Chinese buying before committing to longs.
Back to top