First Solar Quits TetraSun in Shift to All Thin-Film Panels
This article by Christopher Martin for Bloomberg may be of interest to subscribers. Here is a section:
When First Solar acquired TetraSun, it was producing cadmium-telluride panels with maximum efficiency rates of 13.3 percent, the amount of energy in sunlight that's converted to electricity. TetraSun had 21 percent efficiency at the time and the potential for improvement.

?The company's latest cadmium-telluride cell reached a record 22.1 percent efficiency in a laboratory. That's higher than the best multicrystalline polysilicon cell at 21.3 percent, according to data from the National Renewable Energy Laboratory.

SunPower Corp., which uses a purer form of silicon, has the most efficient panels, with 24.1 percent.

"First Solar has achieved surprisingly good results for its thin-film technology," Jenny Chase, an analyst at Bloomberg New Energy Finance, said in an e-mail. "First Solar may have felt there was little point in competing in an area where they have no unique advantage over other silicon manufacturers."
The above story highlights how solar panel companies can become the victims of their own success. By purchasing Tetrasun, First Solar was hedging its development of a new product but it is arguable whether that would have worked since there are other cost effective manufacturers of those panels, not least in China. In such a highly competitive market, where the risk of new technologies evolving outside a company's internal ecosystem is nontrivial, companies might be better off having conviction in their own products than competing on legacy technology.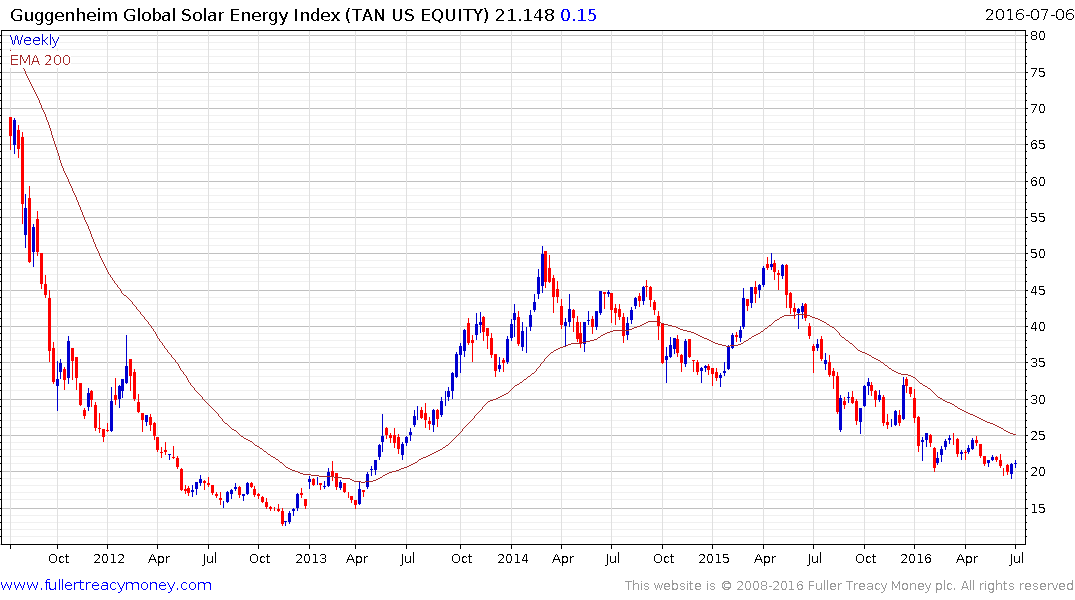 The Guggenheim Solar ETF remains in a medium-term downtrend and will need to sustain a move above the trend mean to confirm a return to demand dominance beyond short-term steadying.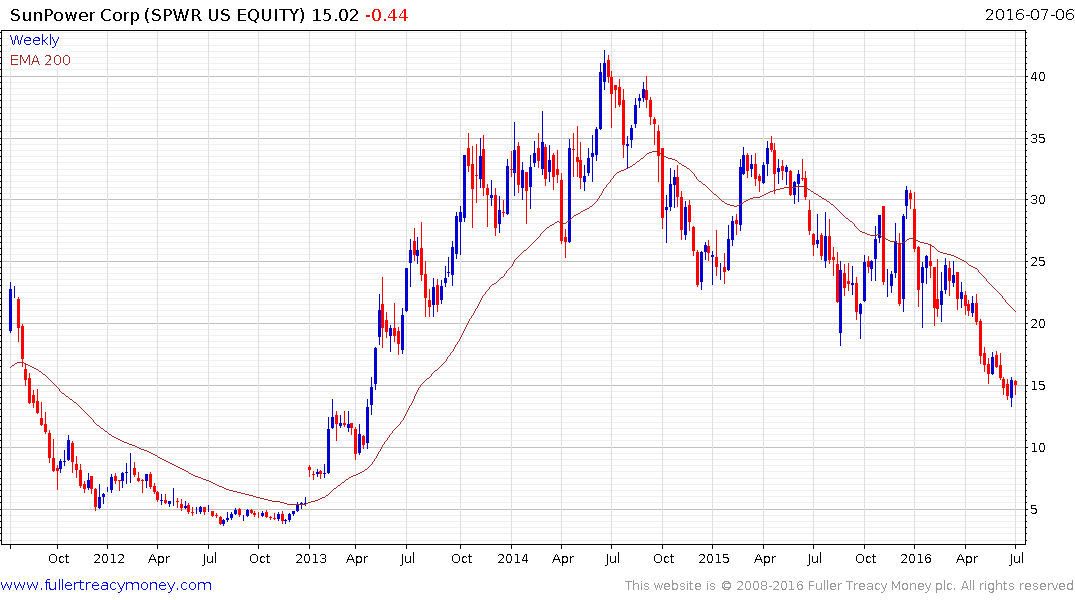 Sunpower has underperformed the sector and posted an upside weekly key reversal last week. Potential for a reversionary rally has improved but a period of support building is probably required before a return to medium-term demand dominance can be achieved.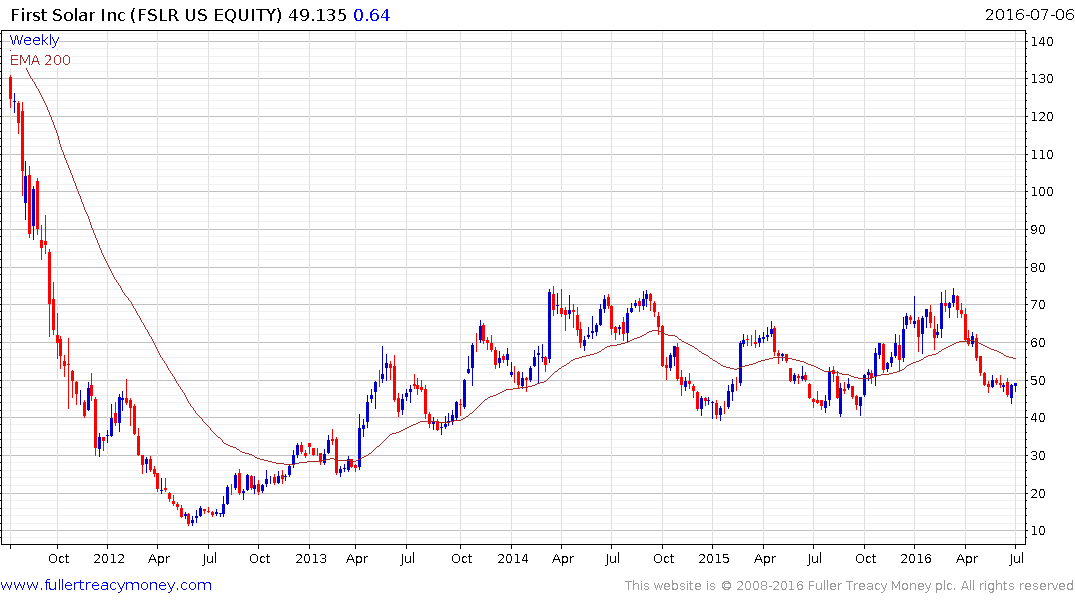 First Solar is back testing the lower side of a two-year range and while it firmed last week, some upside follow through will be needed to signal more than temporary support in this area.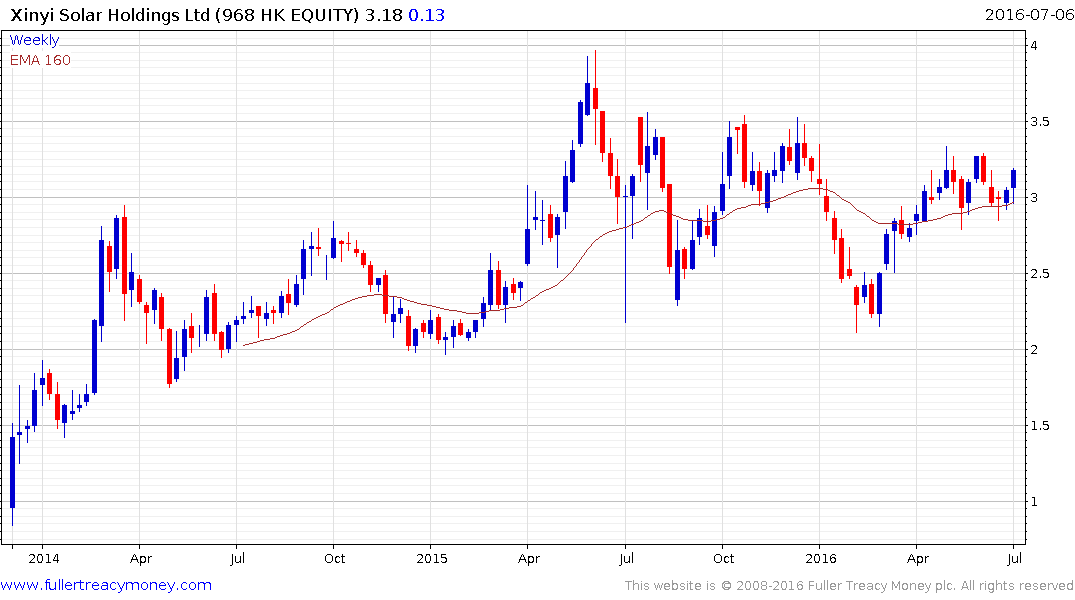 In an example of the idiom that "in a gold rush sell shovels", some of the best performers in solar are suppliers of parts to the sector. For example Xinyi Solar is the largest manufacturer of glass for the solar sector and continues to firm from the region of the 200-day MA.
Back to top