Federal Sports-Wagering Ban Overturned by U.S. Supreme Court
This article by Greg Stohr for Bloomberg may be of interest to subscribers. Here it is in full:
The U.S. Supreme Court struck down the federal law that bars gambling on individual sporting events in most of the country, in a ruling likely to unleash a race among the states to attract billions of dollars in legal wagers.

Ruling in a New Jersey case, the court said the 1992 law unconstitutionally forced states to maintain laws that outlaw gambling. Nevada is the only state where single-game wagering is now legal.

Sports gambling could begin in a matter of weeks in casinos and racetracks in New Jersey, which instigated the legal fight by repealing its gambling prohibition. Mississippi, Pennsylvania, New York, Delaware and West Virginia could follow soon, and the number of states might reach double digits by the end of the year.

The vote was 6-3 to strike down the entirety of the federal prohibition. Americans place $150 billion a year in illegal sports bets, according to the casino-backed American Gaming Association. The research firm Eilers & Krejcik Gaming puts the number at $50 billion to $60 billion, not counting bets among friends.

The ruling starts a new era for the largest sports leagues, which fought New Jersey in court even while moving toward embracing legalized sports wagering. In January, a National Basketball Association executive told New York lawmakers the leagues should get 1 percent of all bets. The NBA says it would prefer a new federal law to set nationwide standards.
However one feels about investing in vice, there is no doubt that people like to gamble and the removal of the Federal prohibition will be a major benefit to casino. Since there was never a prohibition on online gambling this news is unlikely to be of particular interest to that segment while the biggest losers are likely to be Indian casinos which have been able to skirt the law for the last few decades.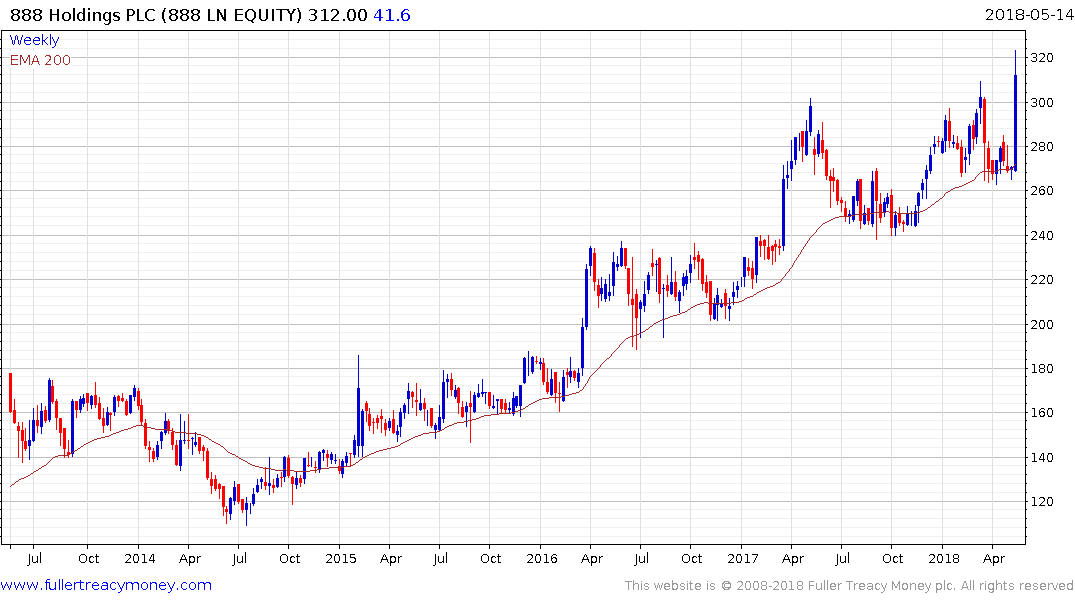 Just about all casino shares, everywhere rallied on the back of this news. 888 Holdings which is an entirely online operation bounced emphatically from the region of the trend mean.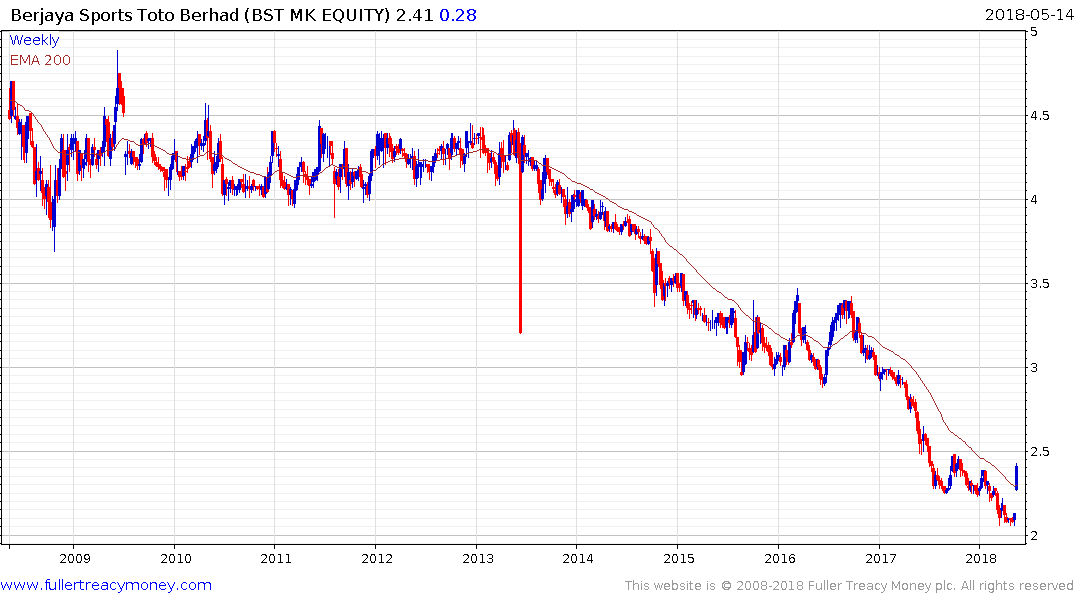 Berjaya Sports Toto Berhad in Malaysia bounced to break a lengthy progression of lower rally highs.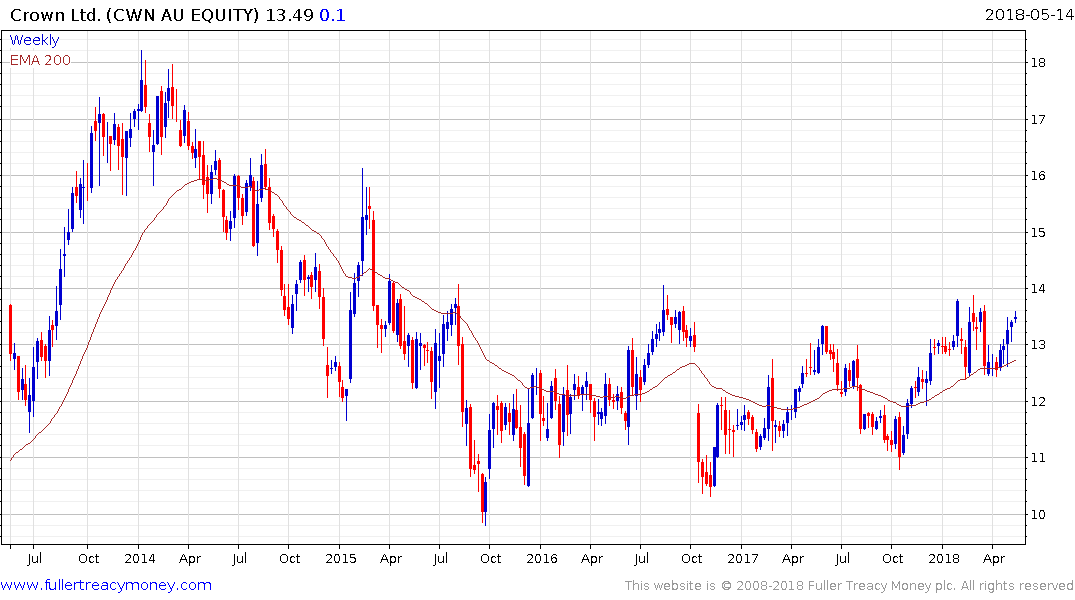 Crown Ltd in Australia is testing the upper side of an almost 3-year base formation.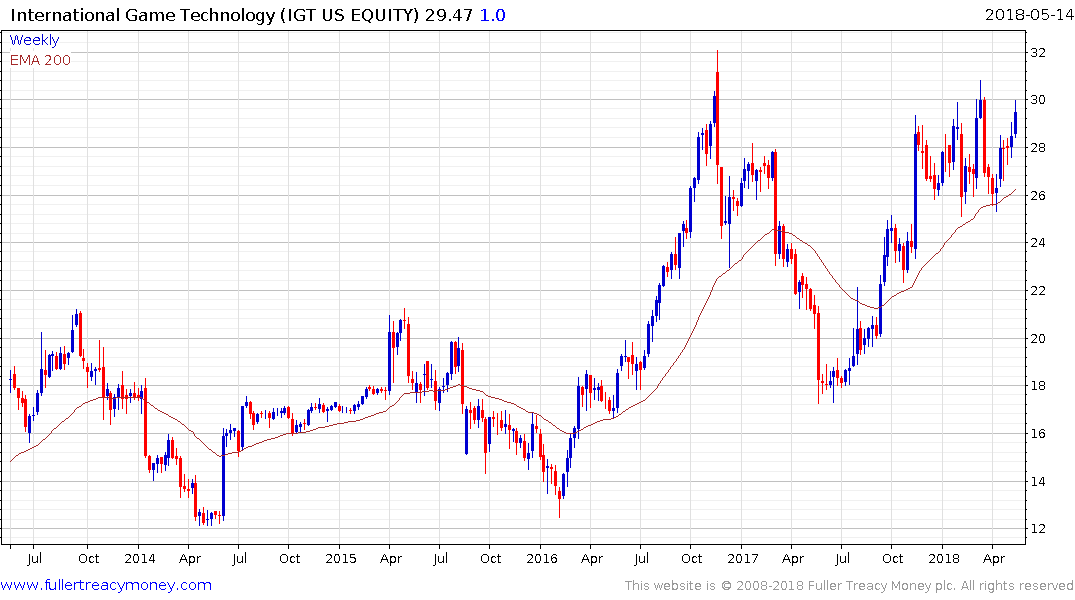 International Gaming Technology is testing the upper side of a six-month range and a sustained move above $30 would signal a return to medium-term demand dominance.
Back to top