Email of the day on what it is like living in Russia today
In Friday analysis, you mentioned situation on the Russian market. I would like to share with you some thoughts that can be interesting to the Collective.

The problem is, you view rouble as a market instrument. It used to be, but no longer. It was a convertible currency, but now it is not. There are several reasons for its impressive rebound and all of them have nothing to do with the market forces. First, all Russian markets were stopped in late February. Then, exporters were forced to sell 80% of foreign exchange revenues. To stop the bank run, the central bank did everything to kill demand for foreign currencies. I will not give all the measures but among them: almost all transfers abroad were banned. Foreign companies and residents could not withdraw money from Russia, Russian residents were allowed to transfer abroad only $5,000 a month. Banks were banned to sell currencies to individuals. 12% commission was introduced to buy dollars and euros on the Moscow exchange. Foreign investors were banned from transactions and withdrawing their money. Some of those restrictions were later withdrawn or reduced BUT: there is one more huge factor, and this is collapse of imports.

In April, US commerce secretary said that US exports to Russia fell 90% due to sanctions. German exports fell 60%. Even Chinese ones fell from $8 bn a month in January and February to $3.8 in March and April. Even if foreign companies are ready to sell something, it is impossible to transport products to Russia (The Wall Street Journal has a nice piece on this - https://www.wsj.com/articles/how-russian-businesses-are-skirting-sanctions-11652828497 ) At the same time, Russian exports are large due to high energy prices. So, Russia has a huge current account surplus, almost no outflow on capital account and no demand for forex on the local market. That is the reason for the rouble strength.

The Kremlin presents exchange rates as a victory over sanctions. But Robin Brooks, the Institute of International Finance chief economist, calls this an "illusion." The economy is going to have the worst recession since the early 1990s (after the crash of the Soviet economy), GDP can fall by 10% or more. Russian analysts also call rouble strength, paradoxically, the sign of the economy weakness.

The same is with the dollar denominated RTS stock index. It rose simply because rouble rose. If you look at the rouble denominated Moscow Exchange index (IMOEX), you'll see no growth at all. Today it is even lower than when trading resumed after a one-month pause. (I attach the IMOEX chart, the one in the Chart Library stopped renewing in 2018.)

Let me also say a couple of words on the state of the Russian economy. For example, car sales crashed 78% in April. Car sales and after sales sector employs about 2 mln people. What these people are going to do? Foreign car companies, not just western but also Korean (they were market leaders in Russia), and Japanese stopped sending spare parts. Parts prices have spiked but soon they will also come to an end.

Nothing illustrates the situation better than news headlines (Russian, not foreign ones). Here are just some from one day last week:

Government allowed to produce cars without airbags

Mercury discharge rate into Baikal lake to increase 13-fold

Russia will start importing used cellular communications equipment (By the way, Russian mobile communications are one of the best and cheapest in the world. In 2017, while in London, I bought a local SIM-card and found out that there was no mobile connection in the London tube, let alone Internet connection. Moscow metro had had free Wi-Fi for several years already. I paid $20, on the pre-war rate, a month for a family of four with unlimited calls, unlimited mobile internet, unlimited home internet, and digital TV. Mobile communications were built from scratch in the 1990s, and not by oligarchs but by genuine entrepreneurs. It was always an example, what Russian business can achieve without government interference.)

Russian airports warn of reverting to manual security screening (this is due to lack of spare parts for screening equipment)

Moscow will revive Moskvich car production (this is an awful Soviet car; Renault decided to leave Russia and the Moscow government took over its local plant; actually, the "new" car will be some Chinese)

Today's news:
Government purchases of vaccines are in jeopardy
Imports of button phones rose 43% (because Apple and Samsung stopped selling smartphones, and Chinese producers also reduced imports significantly)
New home sales in Russian regions ground to a halt
China will leave the largest LNG project in Russia without equipment, because of sanctions
Russian clinical labs are running out of chemical reagents for tests
Aeroflot will begin to take planes to pieces, because of sanctions
Putin's foundation will leave children with cystic fibrosis without life-saving medicine.

Hope, this helps to understand current situation in Russia.
Thank you for this generous account which I'm sure will be of value to the Collective. The pain being inflicted on regular Russian citizens is probably going to intensify. The OECD is attempting to squeeze Russia by withholding manufactured goods and technological widgets from the economy. In doing so they hope to drive living standards so low that Russia will be forced to relent.
For its part, the Putin regime is squeezing Europe by threatening to withhold energy and raw material exports. His bet is Europe's capacity to withstand economic pain is less than Russia's, but either way there will be pain. Unfortunately, Russia's citizens are being caught in the middle and for that you have my sympathies.
The question of the ruble hinges on the continued ability of Russia to export oil, natural gas etc. at bumper prices while mitigating the effect of sanctions on the domestic economy. That puts President Biden's repeated comments on providing assistance to Taiwan into context. China's response, to what they will consider sabre-rattling, will be to boost exports to Russia. That suggests it is reasonable to expect much closer ties between Russia and China. Chinese phones, computers and cars are all likely to become increasingly visible.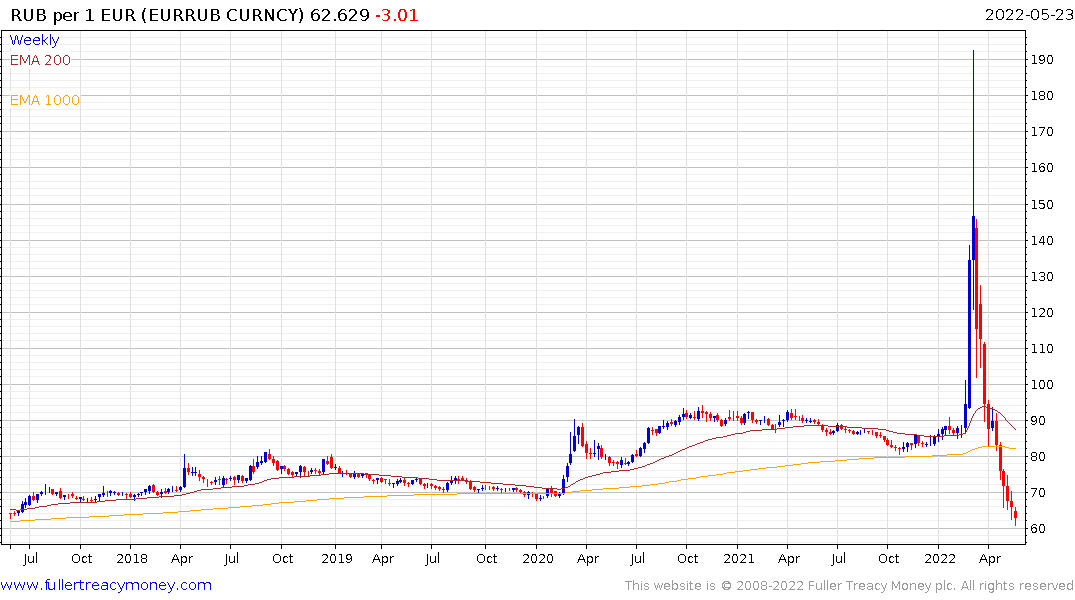 The ruble is rebounding because there is more demand than supply. Forcing customers to pay for oil and gas in rubles has helped support the currency and is also building substantial reserves because there are fewer places the cash can be spent. The currency's appreciation against the Euro is also effectively increasing the price to European buyers. Europe will do whatever it can to stop using Russian exports but that is a multi-year plan, it can't be done quickly.
Russia's valuations were low before the pandemic and invasion, they have cratered since then. International investors are looking closely at the market as they prepare for whenever sanctions are removed, or regime change happens.
The other side of that argument is global valuations are still high even after a substantial rerating over the last six months and debt loads continue to increase. Putin's regime may be betting, they can create much more trouble than is currently evident if they can hold out long enough to make a difference.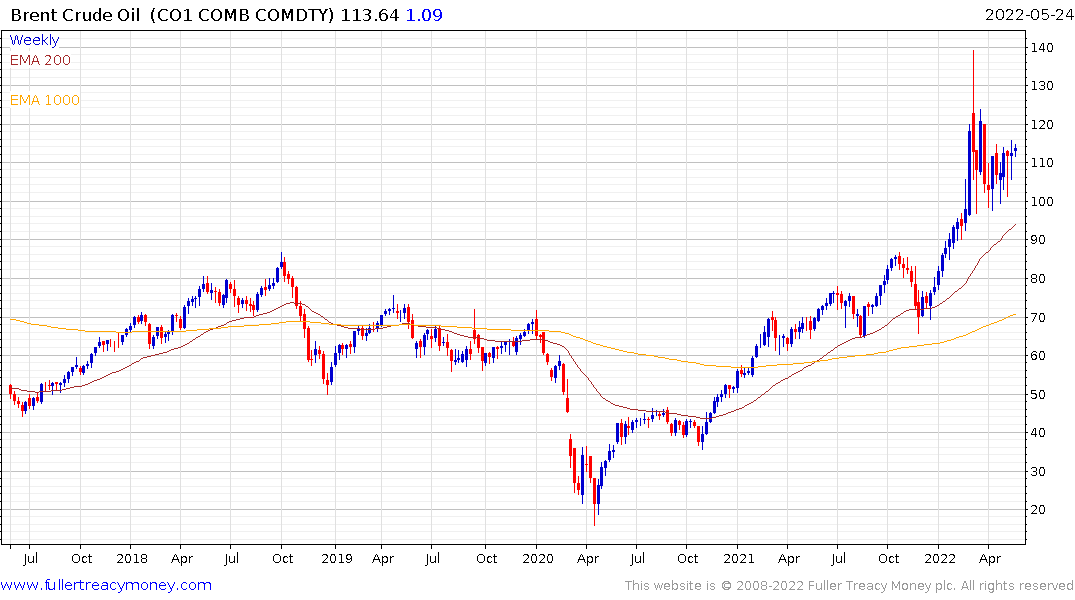 Brent crude continues to rebound and looks more likely than not to resolve this wedging pattern on the upside.
Back to top