Email of the day on Veolia Environment
Veolia Environment looks as if it is breaking out of a 5 year base formation.
Thank you for this observation. Veolia Environment (Est P/E 22.63, DY4.75%) shares commonality with a number of the waste management companies I reviewed yesterday. Logically, as the global population increases, demand for additional water treatment and recycling facilities should increase. Ensuring they get paid for the services they provide is likely to remain an issue for such companies. Regardless of how much it costs to deliver, water is considered by many as a basic commodity they want to pay as little as possible for.
I contacted a subscriber with intimate knowledge of the water sector for his thoughts on Veolia and in the spirit of Empowerment Through Knowledge he sent through Veolia's brand brochure, investor presentation as well as some additional thoughts.
He mentioned that branches have been eliminated, headcount has been reduced and the CEO has driven through bureaucratic reform. The refocusing of strategy on service provision and leveraging the company's knowledge base means it is now operating in the competitive consultancy field. On the other hand, despite selling assets the company is still engaged in a number of public/private partnerships and joint ventures which they entered in order to gain market access. These agreements diluted consolidated earnings. Additionally there was a risk during the rationalisation period that the share would be ejected from the CAC40 which fortunately has not occurred.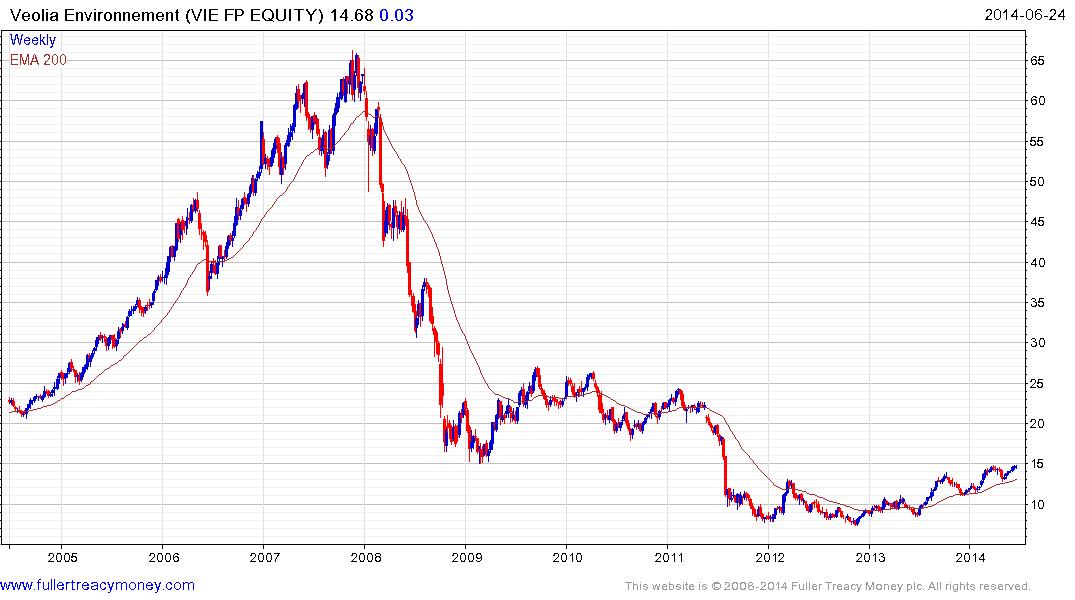 The share failed to sustain the breakdown to new lows in November and has held a progression of higher reaction lows since. It is currently testing the March high near €15 and a sustained move below the 200-day MA, currently in the region of €13, would be required to question recovery potential.
(Also see Comment of the Day on April 26th 2013)
Back to top