Email of the day on value opportunities in telecoms
Your comments are often from a US perspective such as "telecom stocks are in downtrends such as Charter Communications". This is true for US telecom shares but many others, particularly in Europe have been going sideways for a number of years, potentially building bases such as KPN, Orange, Singapore Telecom, Telefonica, Vodafone and China Mobile. One or two have broken out to the upside. Would you be happy to comment on some of these charts?
Thank you for this email. I last did an extensive review of the high yielding global telecoms sector in November. Here is a link.

The point I made in that review was many telecoms companies have spent a great deal of money building out 5G networks and do not appear able to recoup the investment from additional fees. That has been the primary reason for their underperformance.
The big question therefore is whether the desire to capture utility-like yields will be enough to spur investors to buy these companies at unchallenging valuations, as a hedge against the interest rate sensitivity of the wider market.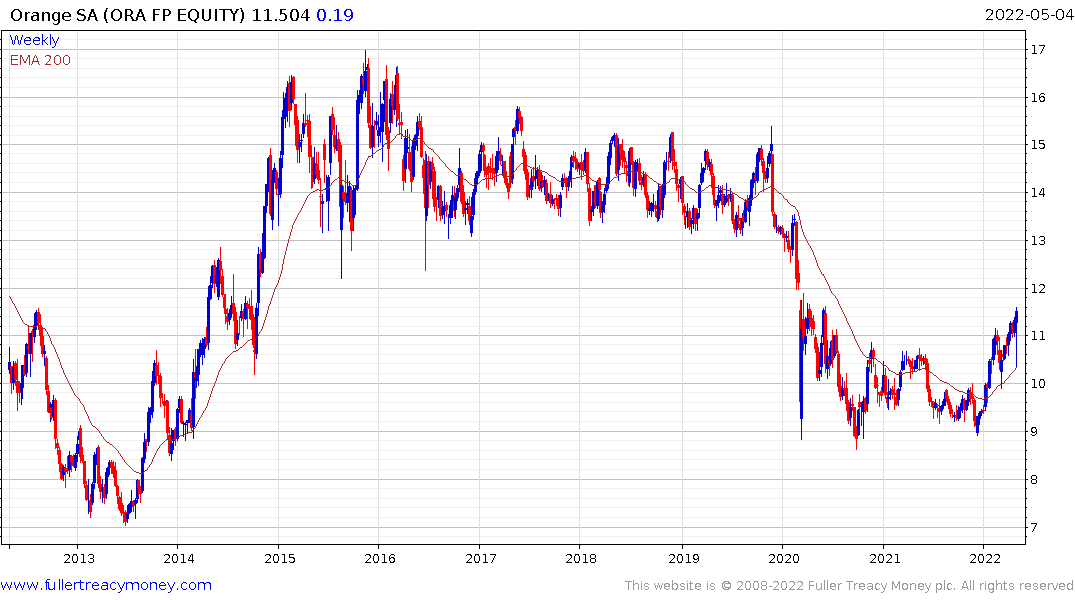 Orange (DY 6.08%) is in the process of completing its base formation.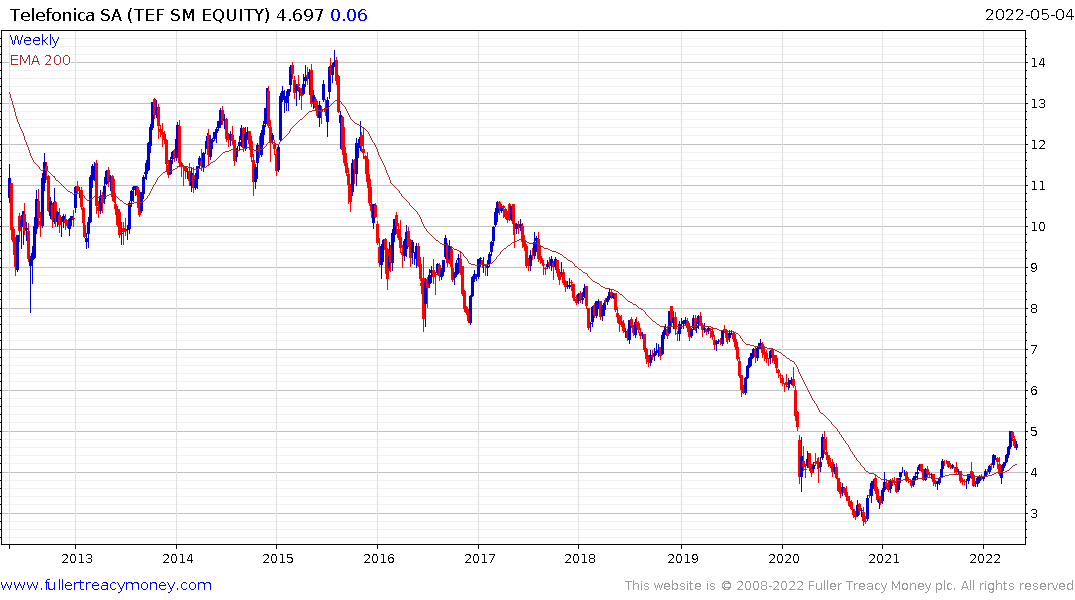 Telefonica (DY 6.39%) completed its base formation in early April and is now pausing as it consolidates the breakout.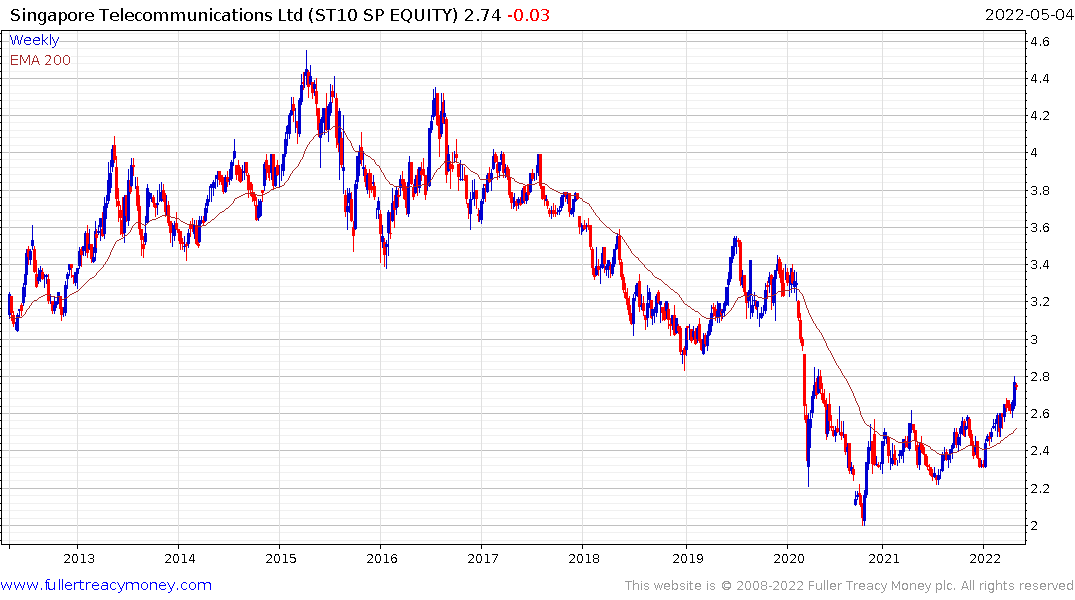 Singapore Telecom (DY 2.5%) broke out of a two-year base formation last week.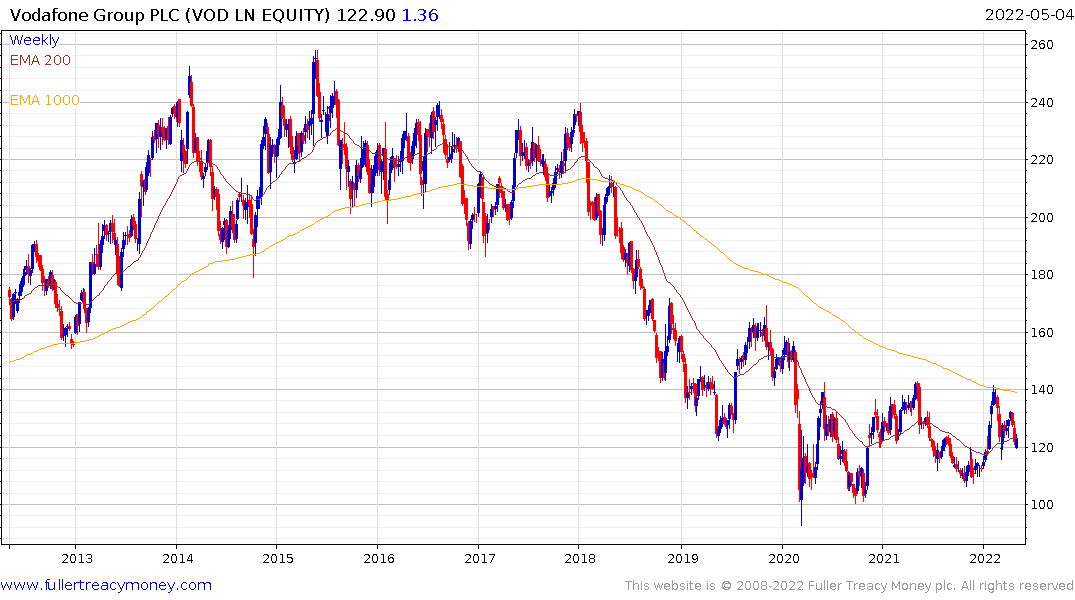 Vodafone (DY 6.18%) continues to build a base formation and the series of higher reaction lows suggests the share is under accumulation.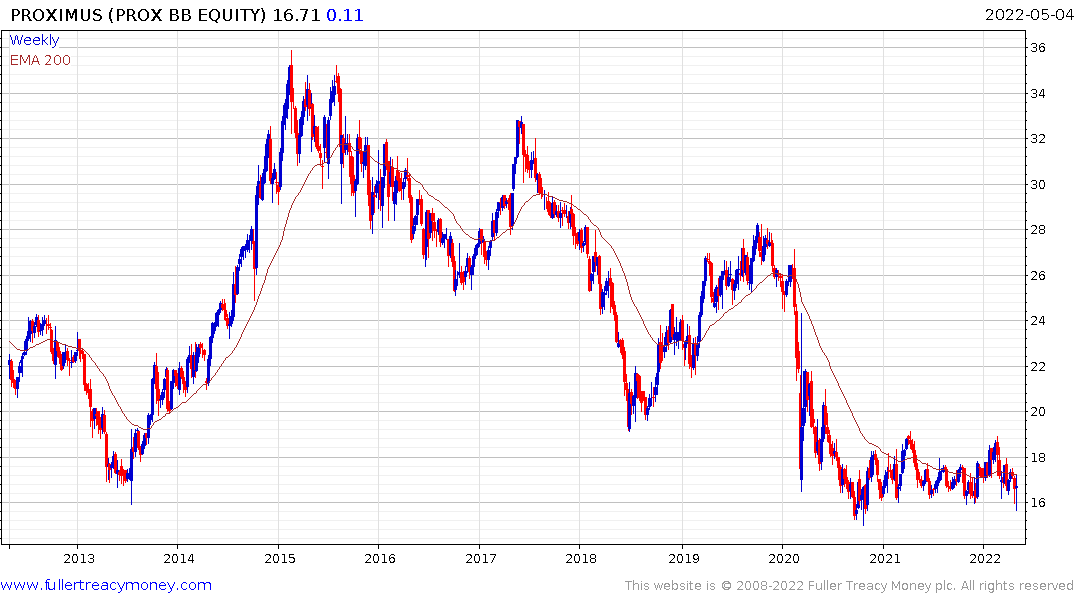 Proximus (DY 7%, Belgium) rebounded this week from the lower side of its base formation.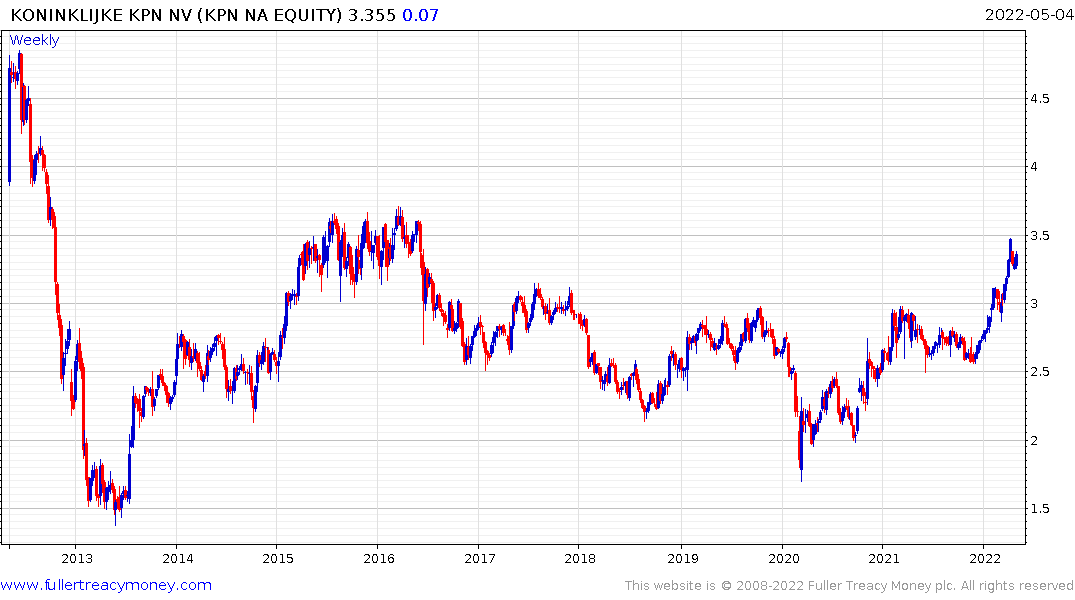 KPN (DY 4%) is back testing the upper side of its base formation following an impressive year-to-date rally.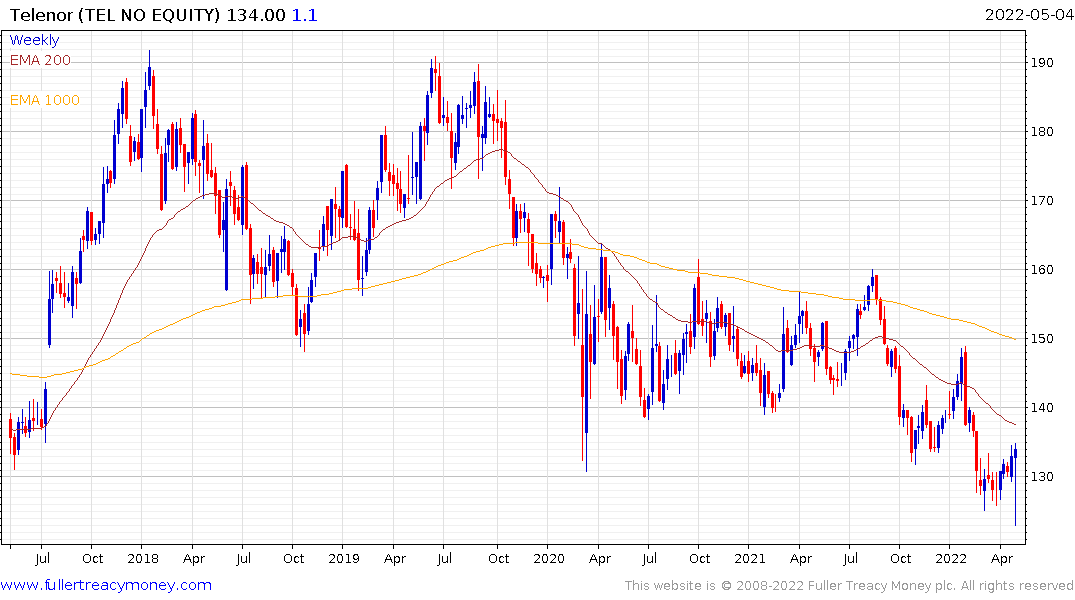 Telenor's (DY 6.72%) primary markets are Norway, Thailand, Bangladesh and Malaysia. The share failed to sustain the downward break this week as it rebounds from the region of the 2016 lows.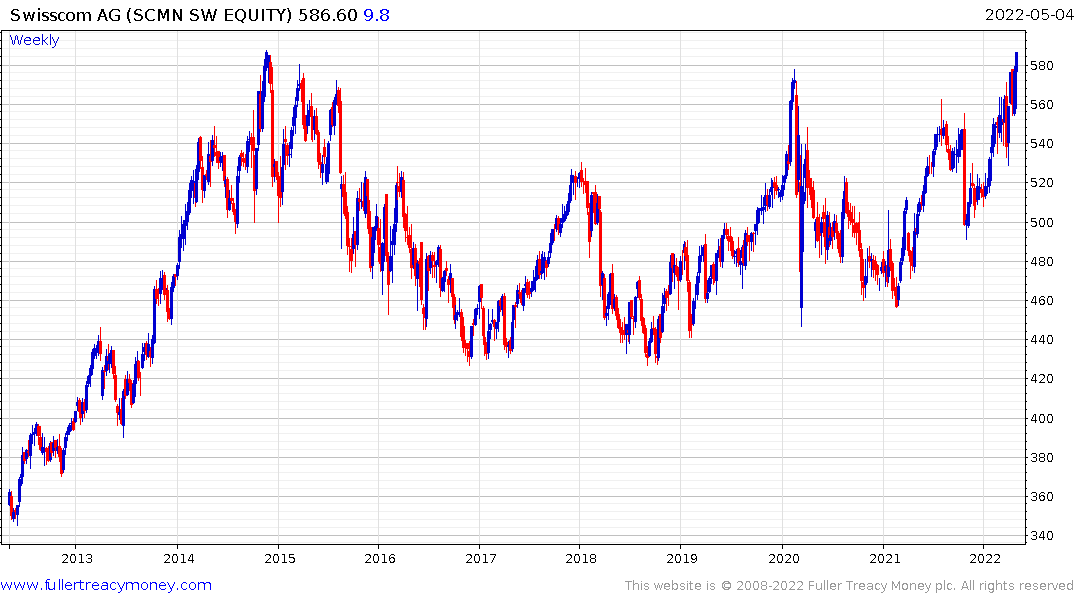 Swisscomm (DY 3.75%) is testing the upper side of an eight-year range and rallied impressively today.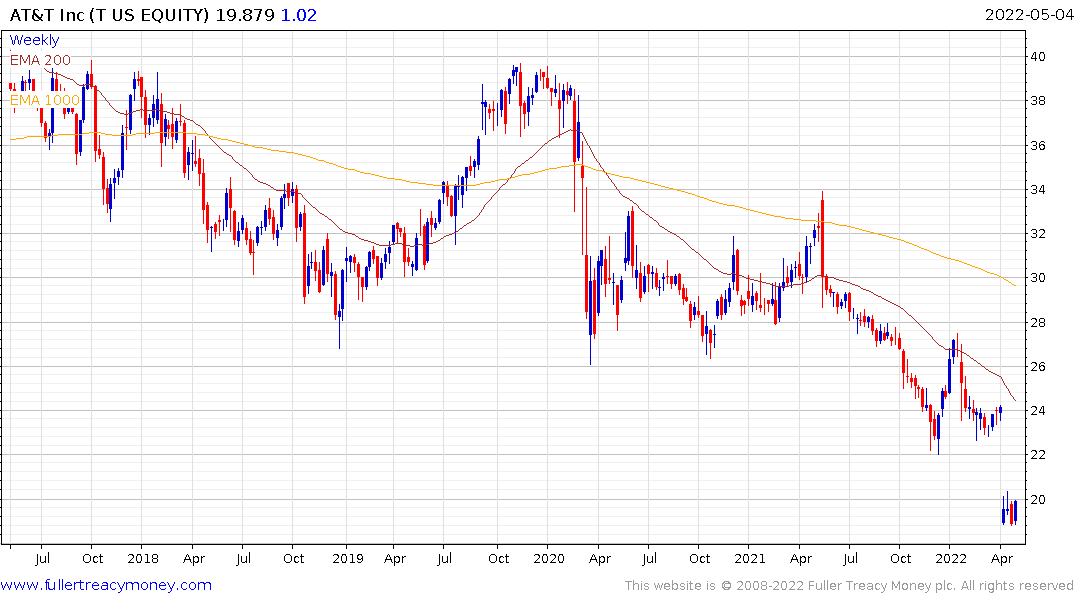 AT&T (DY 5.64%) has completed the merger with Discovery. The dividend fell less than many anticipated and the share is building support as it tests the region of the 200-day MA.

Verizon (DY 5.35%) collapsed in April and is beginning to steady in the region of the 2016 lows.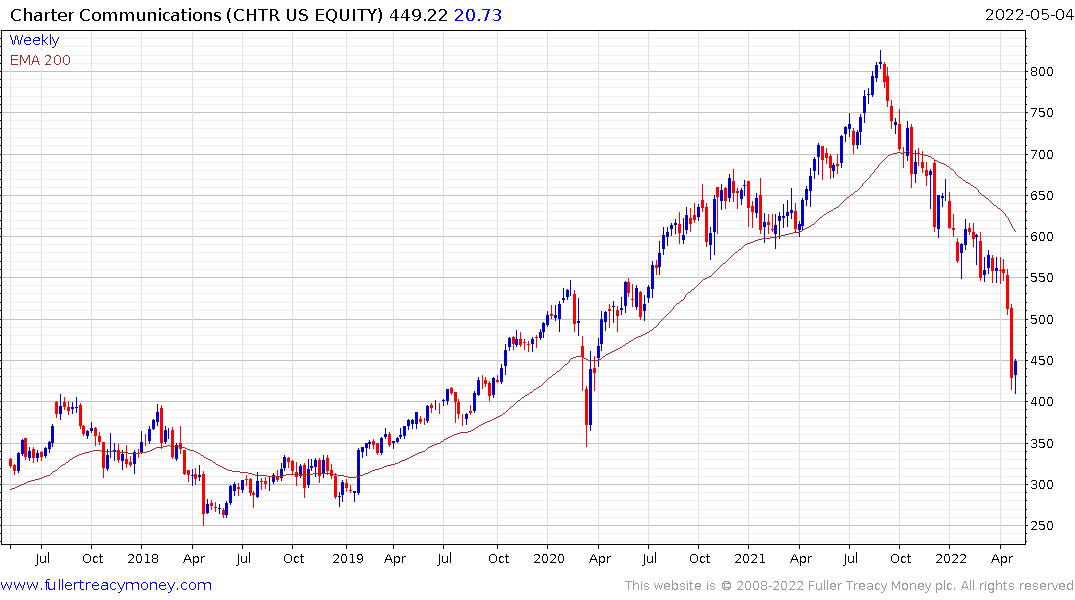 In the cable/satellite sector Charter Communications has halved since November and is beginning to unwind the deep short-term oversold condition.
Back to top