Email of the day on USD/AUD
Would you be able to give your interpretation of the USD/AUD chart as it looks like a massive head and shoulders to me, is that your take? If so does it give a projection back down to the lows again?

Always appreciate your thoughts and comments
Thank youfor your kind words and this question which may be of interest to subscribers. The Australian Dollar has been among the strongest currencies in the world over the last decade. This has attracted the ire of the RBA which has signalled it is unhappy with the effect the strong currency is having on the domestic economy and has acted to weaken it.
Iron-ore and coal represent major exports for Australia. A great deal of media attention is currently focused on the fall in prices for both these commodities and the negative impact this might have on the Australian economy. These represent non-trivial considerations from a growth perspective, not least because miners have been cancelling investment in expansion projects. However, despite the fact iron-ore and coal are under pressure, they are likely to remain powerful export markets. Additionally, Australian LNG capacity is set to overtake that of Qatar in the next decade. This represents another powerful growth driver in terms of exports. Therefore while the RBA is not happy with the strength of the currency, there are bullish factors which act to support it.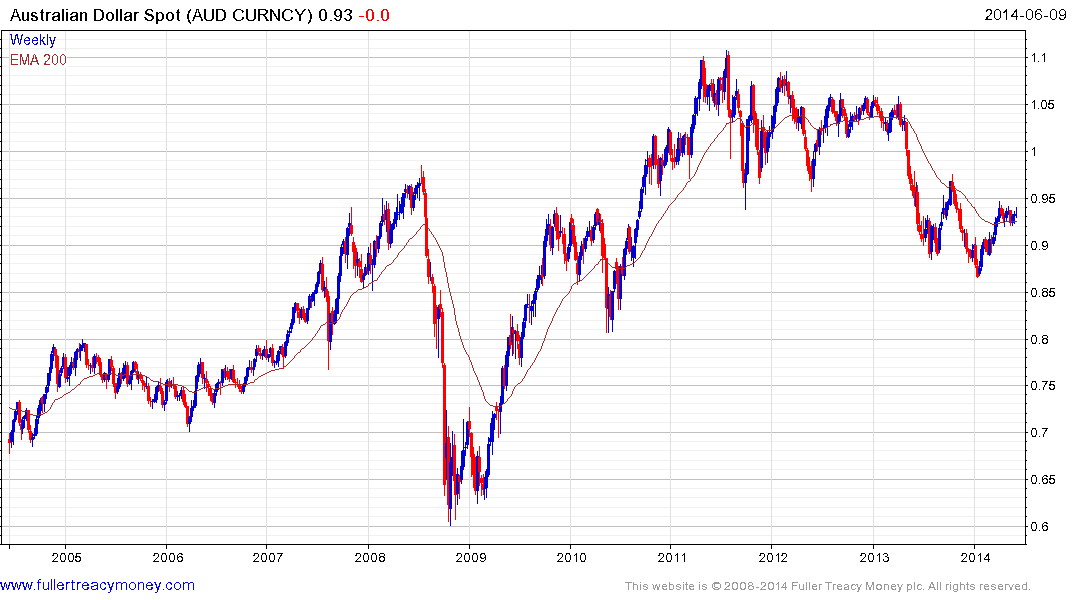 The Aussie Dollar ranged mostly above the psychological $1 for much of the time between 2011 and 2013 and below it for the much of the last year. The pattern over the last five years has head and shoulder characteristics or medium Type-3 top characteristics as taught at The Chart Seminar. The ranging, time and size attributes of any such formation result in a great deal of ranging which means some powerful short-term moves can occur within the context of medium-term churning. The short-term upward bias remains in place but over the medium-term, the $1 area is likely to represent an area of resistance.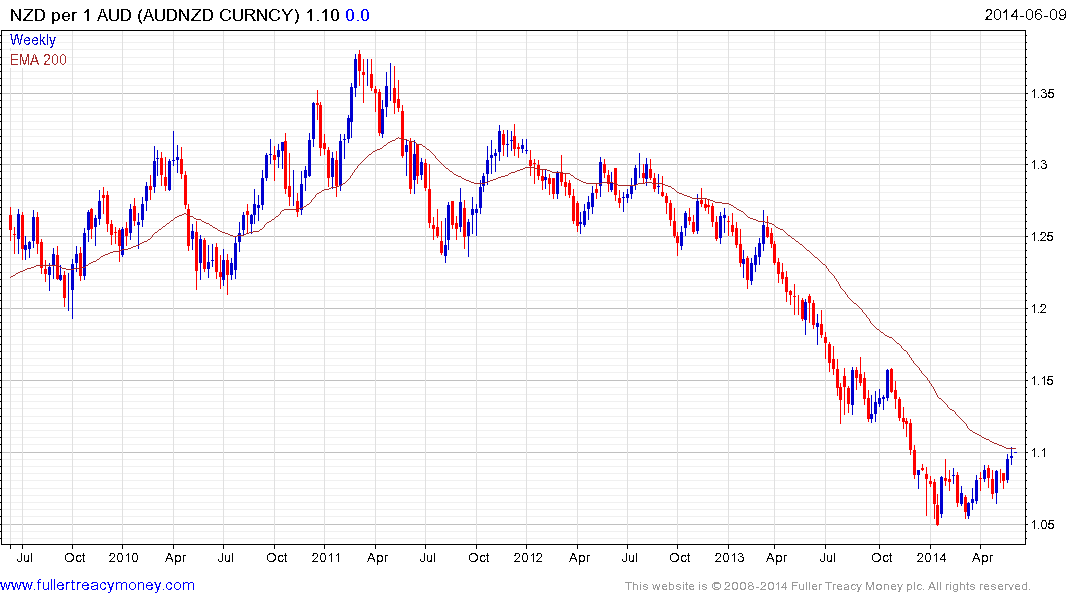 At The Chart Seminar and Global Strategy Sessions in Sydney earlier this year, we discussed the high likelihood that the Aussie Dollar had bottomed against the Kiwi. Following a three-year downtrend, the Australian Dollar has found support in the region of the 2008 and 2006 lows against the New Zealand Dollar and has rallied to close the overextension relative to the 200-day MA. A clear downward dynamic would be required to question medium-term potential for additional outperformance.
Back to top