Email of the day on robotics
I know you have earlier followed the robotics market, in line with your monitoring of technological advances around the globe. I have an investment in Fanuc, but am wondering if it would be better to invest through a fund or ETF. Do you or any of the collective have a view on the best ways to invest in this theme?
Thank you for this question which may be of interest to subscribers. An argument can be made for owning a sector ETF when one wishes to diversify exposure but this is dependent on the sector's constituents exhibiting commonality and market breadth. In a stock picker's market, such as we are currently presented with, an ETF might just as easily diversify away any gain the leaders in the sector enjoy.

An additional consideration with ETFs is the volatility they are subject to as a result of high frequency trading and the size of options positions. In the current environment stops can be hazardous to your wealth suggesting ETFs need to be looked on as investment propositions rather than trading tools.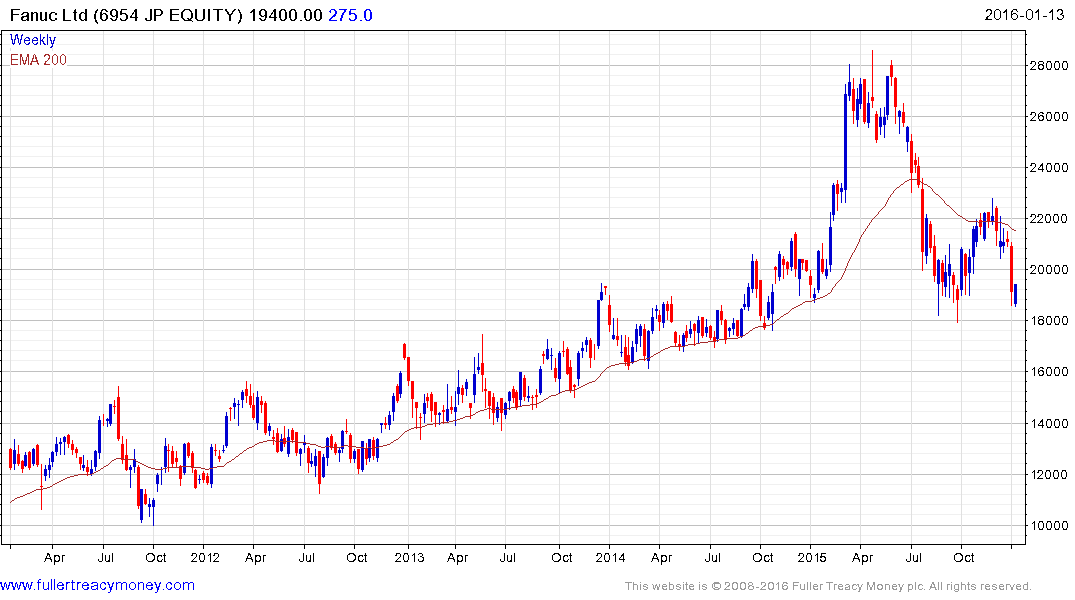 This week Goldman Sachs listed Fanuc as one of a number of Japanese companies likely to benefit from share buybacks this year. The share bounced today from the region of the September lows and will need to hold the ¥18,000 level if potential for additional higher to lateral ranging is to remain credible.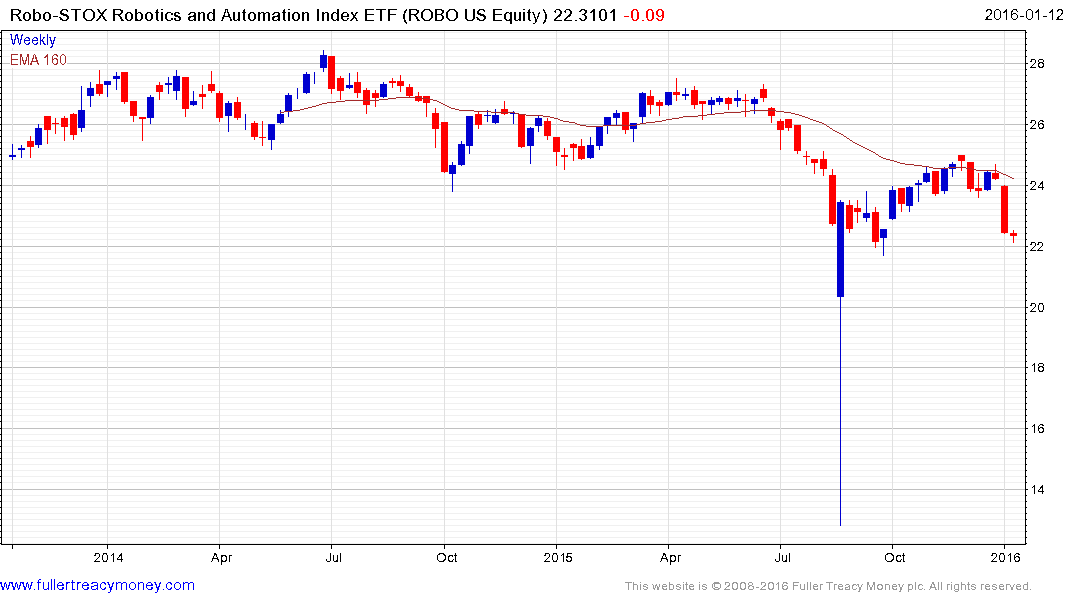 The Robo-Stox Robotics & Automation ETF (ROBO) encountered resistance in the region of the trend mean and the lower side of the overhead trading range from late December and a sustained move above $25 will be required to question current scope for continued lower to lateral ranging.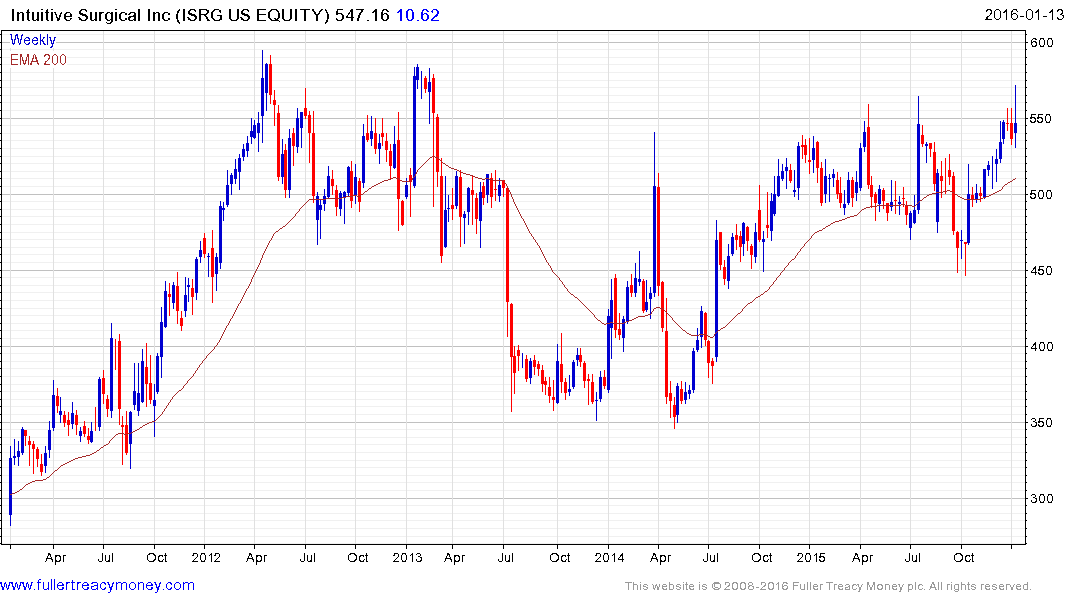 Against a background of a generally weak stock market environment it is worth pointing out relative strength. For example Intuitive Surgical has been confined to a volatile range for four years and is now testing the upper boundary. Some consolidation in this area is possible but a sustained move below $500 would be required to question medium-term potential for a successful breakout.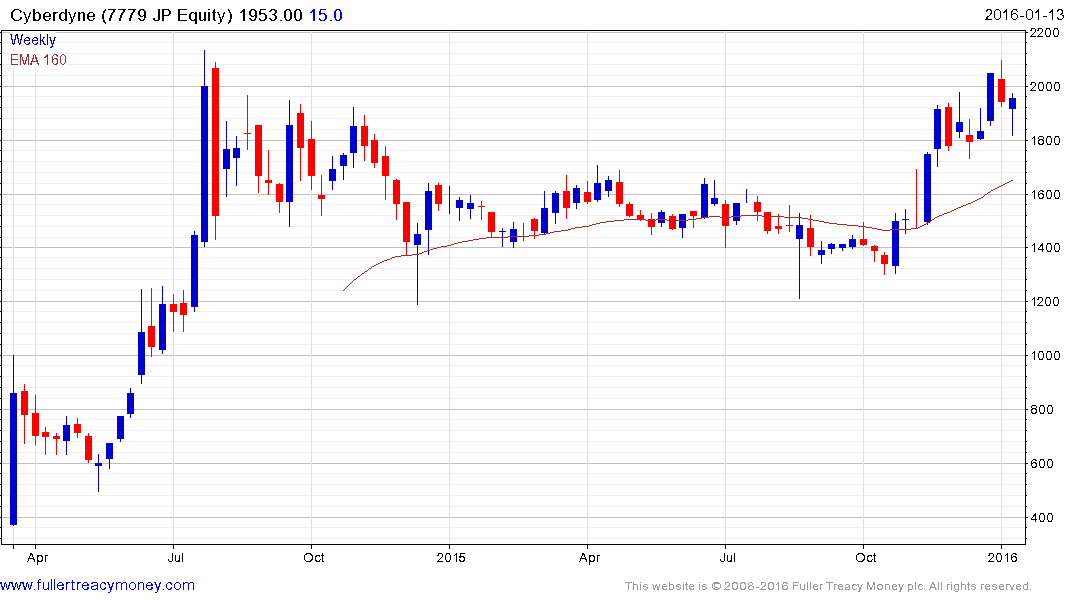 Japanese listed Cyberdyne is currently consolidating in the region of the 2014 peak and a sustained move below the 200-day MA would be required to question medium-term scope for additional upside.
Back to top