Email of the day - on nickel's underperformance
Do you know why Nickel is not joining in the commodity boom and whether eventually it might? Wonderful service
Thank you for your kind words and this question which may be of interest to other subscribers. Indonesia has historically been the primary supplier of nickel but from 2014 it toyed with banning exports of ore in an effort to stimulate domestic production of refined metal This article from Stratfor, dated October 12th carries some additional detail. Here is a section:

The decision to delay the ban once again, announced by the acting chief of the Energy and Metals Resources Ministry on Oct. 4, comes as little surprise. Though foreign investors have committed some $12 billion to build 27 smelters nationwide in the past four years, anecdotal reports and trade data indicate that much of that money has yet to generate higher exports of refined metal products. In one example, the value of Indonesian exports of raw nickel ore — of which the country was once the world's largest producer — has collapsed. In 2013, the year before the first ban took effect, it stood at $1.65 billion, but by 2014 that figure had dropped to $85 million; by 2015, it had fallen to zero. Though exports of refined nickel products rose in 2014 from 2013, they, too, plunged in 2015 and continued to decline in value through the first four months of 2016. Nickel is not unique in this respect, either: The value of metal ore exports as a whole has collapsed, and that of most refined metal products has stagnated or declined.

The 2014 ban came on the heels of a slowdown in China's economy and a dip in metals prices, caused in part by the increasing ore supplies of key competitors such as the Philippines. Low prices then undercut investor interest in building smelting facilities, as did uncertainty surrounding the status of Indonesia's regulations. Meanwhile, the lack of even minimal support infrastructure for construction operations meant that the companies that agreed to build smelters often found themselves responsible for building and funding roads, power generators and other basic utilities to support them. Nevertheless, despite these headwinds, many smelting projects are still underway or in the planning stages.

Indonesia's intervention in the market has been a major contributor in the underperformance of nickel relative to the other LME traded metals. News last week that the Philippines is closing some of its mines, not least because they are uneconomic at today's prices has been a catalyst for renewed interest in the commodity. Also see Comment of the Day on February 2nd where I reviewed the impact of this development of some of the major nickel miners.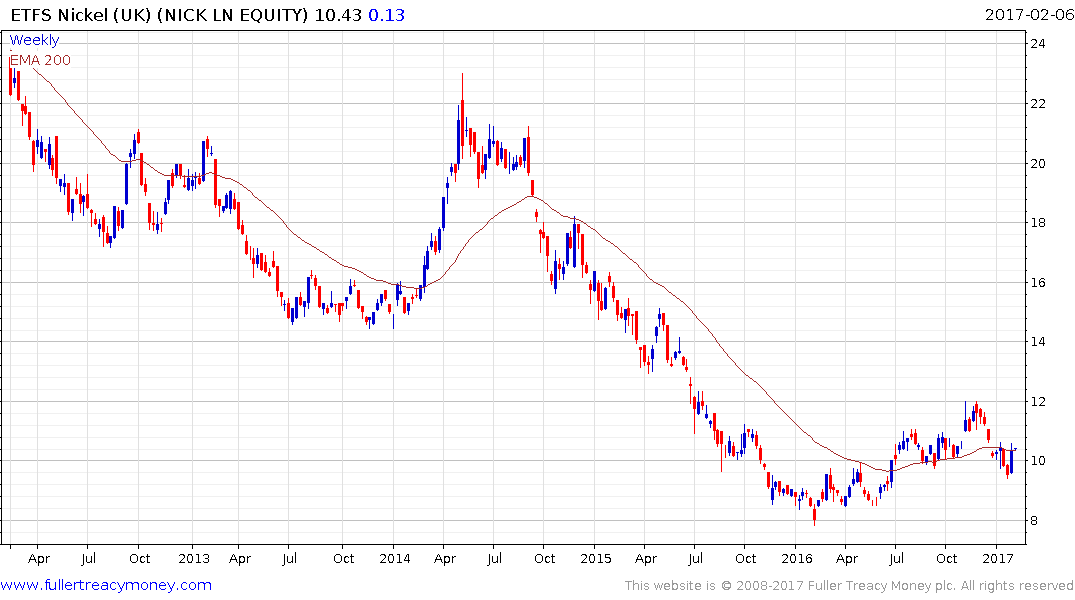 UK traded ETFS Nickel continues to firm from the $10 area and a sustained move below it would be required to question medium-term scope for continued higher to lateral ranging.
Back to top