Email of the day on Mexico
I'm forwarding to you the most recent free, weekly commentary of Michael Drury, in house economic analyst for McVean Traders, a Memphis (Tennessee) based commodities broker-dealer. I find the commentary, an evaluation of the current status of the Mexican economy, to be quite lucid and educative. Perhaps others of your readers would find it so, too?

Warm regards and with great appreciation for the service you render.
Thank you for your kind words and this report which may also be of interest to subscribers. Here is a section:
At the Bank of Mexico, much of the conversation centered on Mexico's current very high rate of inflation – which is largely due to surging energy costs after deregulation of the electricity sector a year ago. As with Japanese VAT tax increases, these reforms caused a pig in the python effect as they work their way through reported annual CPI increases. Mexico's CPI should plunge lower toward 4% early next year as the energy hikes pass out of the data. This is still high compared to the 3% target, but should drift within the 1% acceptable band around the target. The Bank sees more recent data as confirming that new inflationary pressures (which were mostly from the pass through effect of higher energy cost) are small. As a result, recent hikes in the central banks reference rate are expected to end – though they will not be quickly reversed. The combination of sticky rates and plunging inflation suggest a threat to Mexican growth from sharply higher real interest rates. However, real economic growth has surprised to the upside recently, while high inflation has reduced the burden of earlier debt accumulation. Long term interest rate appear already to have peaked as Bank rate hikes are ending.
One perennial problem for Mexico is a low domestic savings rate and underdeveloped financial markets. Combined with the earlier commitment to the view that all Mexican oil is a resource for the people and so no foreign ownership should be allowed, this meant that Mexican oil resources were underutilized and inefficiently operated. However, as the deregulation of the telecom industry has shown, competition increases consumer options and lowers prices. Private firms (from Italy and Houston) have recently found 3.4 million barrels of oil – out of an estimated 9 billion in Mexican reserves. Perhaps those figures will have to be revised higher. However, issues concerning crossownership and the upcoming election – where Obrador is campaigning for a roll back of energy reforms -- are clouding the speed with which these huge finds will be developed.

Mexico's interest rates are currently at 7% following an 18-month hiking program aimed at supporting the currency amid concerns about the impact the collapse in oil prices and the Trrump administration were having on the Peso. That wide interest differential contributed to the Peso's advance from deep oversold levels for most of this year, but there is increasing evidence the Dollar has found at least near-term support. A sustained move below MXN18 would now be required to question current scope for additional upside.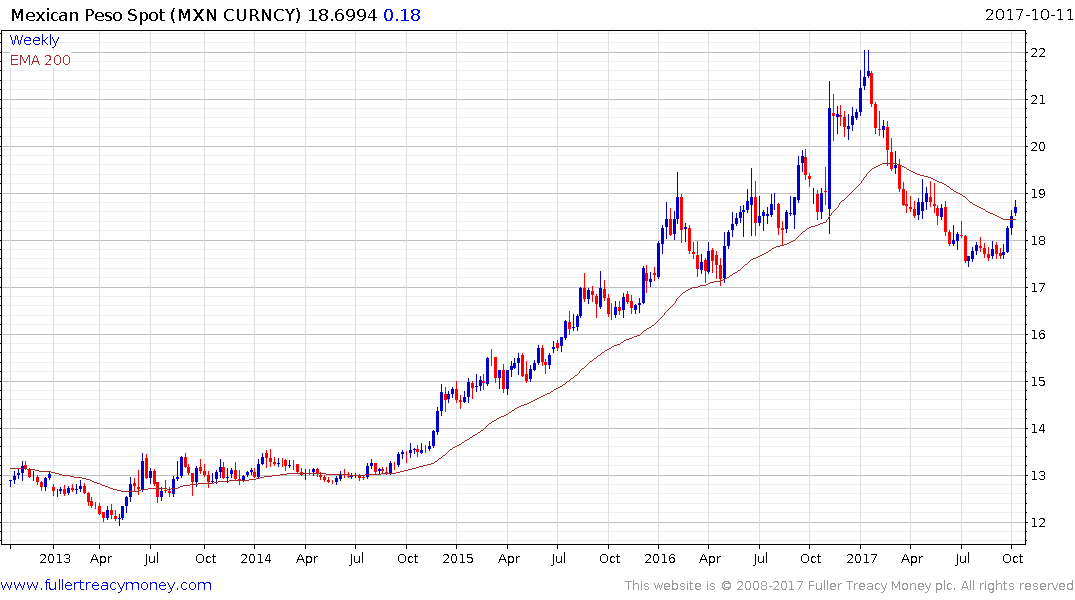 The uncertainty surrounding Mexico's 2018 election coupled with Trump's ambivalence towards NAFTA are probably contributing to the pullback. Meanwhile the recent strength of the energy complex should act as a cushion.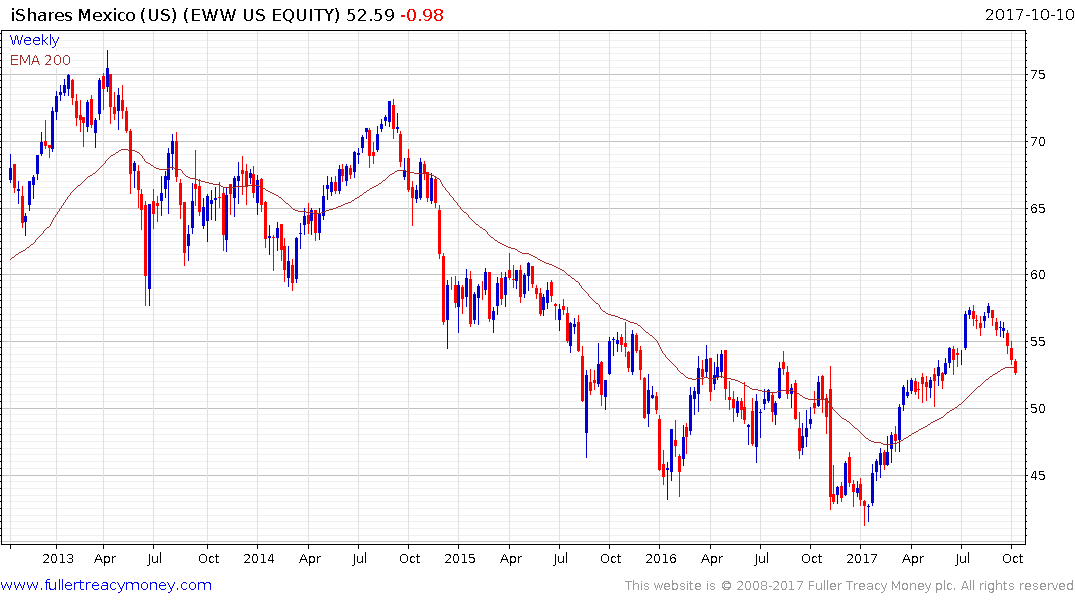 The iShares MSCI Mexico ETF rallied from early this year to break a four-year downtrend. However, it is has fallen back in line with the currency over the last month and will need to demonstrate support in the region of the trend mean if medium-term scope for additional upside is to be given the benefit of the doubt.
Back to top