Email of the day on guest publications and lithium miners
What are your current views on lithium and lithium miners?

I continue to enjoy your tour de force reporting and analysis. Nothing stops you, not even airline travel. Amazing.
Thanks for this question which I'm sure will be of interest to other subscribers. It's been a busy few weeks, what with an enjoyable and educative trip to Japan last week and the upcoming flight to Melbourne for The Chart Seminar and another conference next week, where I'm looking forward to chatting with Marc Faber.
Sometimes I look back with a sense of yearning on the days when David could still take a month off in August to cycle from Land's End to John O'Groats and back again. In fact, part of the reason he brought me onboard in 2003 was to ensure the service could move to a seamless daily publication schedule.
I'm beginning to think about how to arrange taking a holiday over the summer. David used to invite guest writers to contribute copy to the site when he was away and I would like to do the same thing while I am away for perhaps two weeks in July or August. If any subscribers are interested in submitting an article during that time please let me know and I would be happy to discuss the conditions under which that might be appropriate.
Now let's turn to lithium miners.
I've variously described lithium as a supply inelasticity meets rising demand market over the course of the eight years. (Also see Comment of the Day on March 16th) What is now animating the market is that supply is beginning to come to market, with Wood McKenzie putting out a sharply bearish report in March. That has resulted in the largest pullback in at least two years for the sector.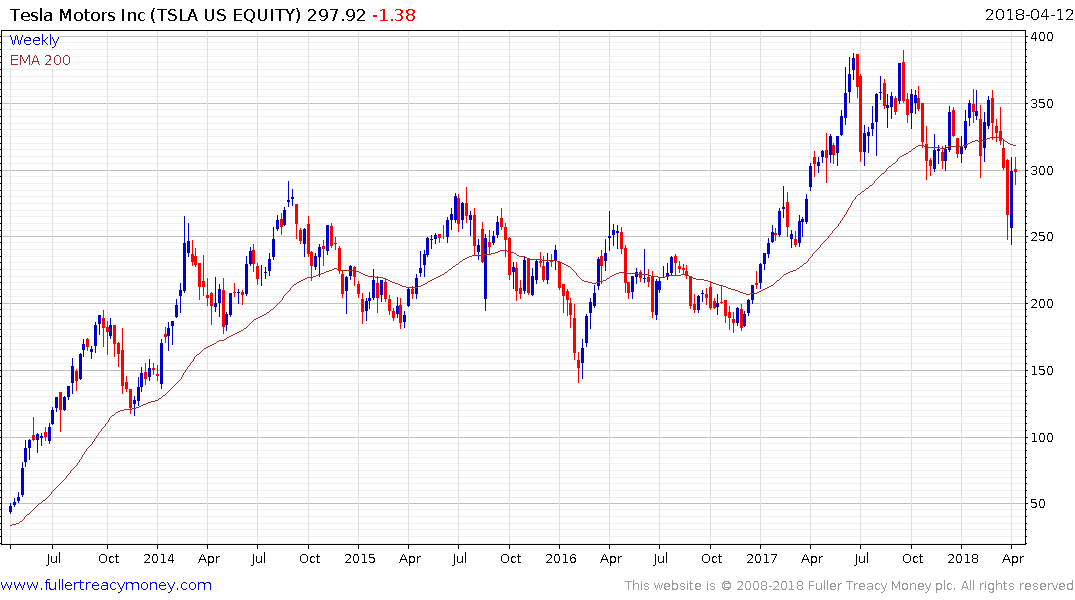 The easy part of the rally has taken place. The big question now is whether the electric car market is going to continue to grow at 40% a year. I believe there is a very good chance it will considering the improvements in battery chemistry seen already and what is to be expected over the next decade. However, Tesla's performance of late obviously has investors questioning the persistence of the trend. The share is barely steady at the psychological $300 area and a failure at this level would likely act as a headwind to the lithium mining sector.
The lithium miners share a high degree of commonality. The primary producers Albemarle, FMC Corp and Orocobre are now trading below their respective trend means. FMC and Albemarle have at least paused while SQM rallied over the last two weeks to confirm support in the region of the trend mean. Orocobre has yet to demonstrate support has been found.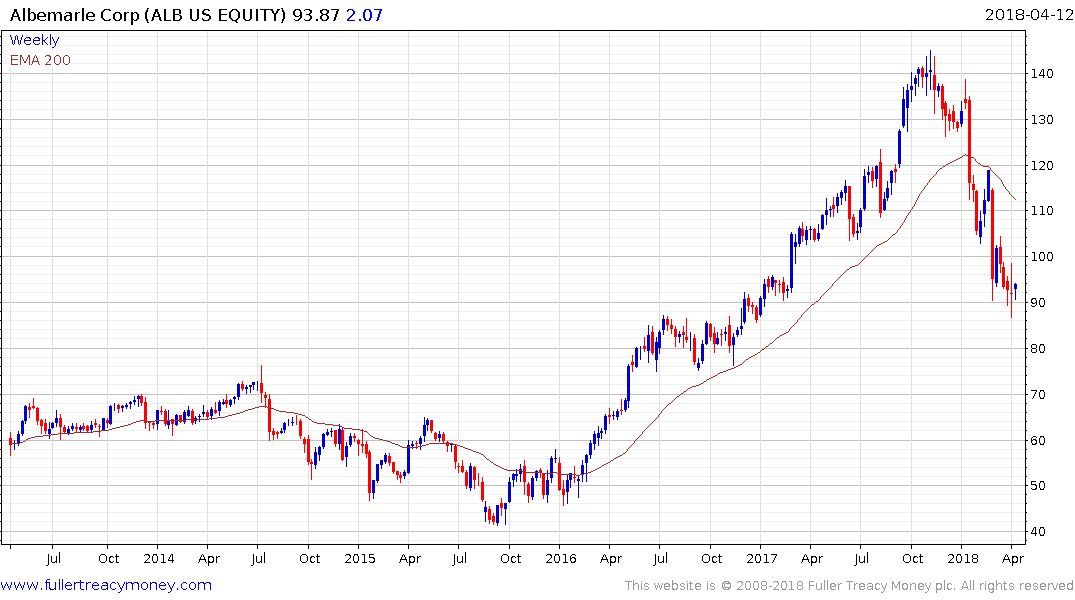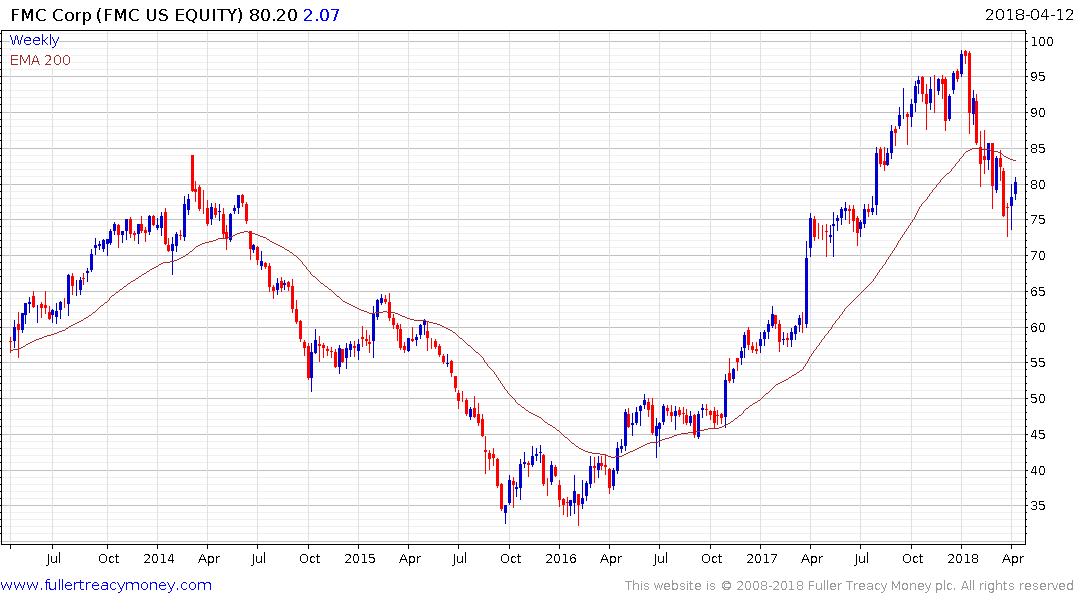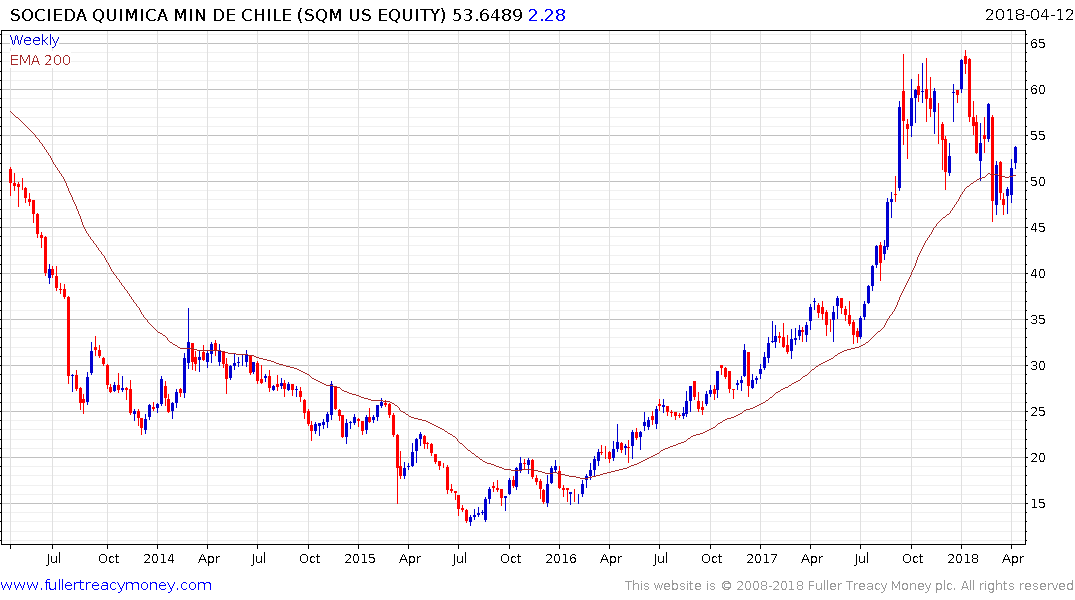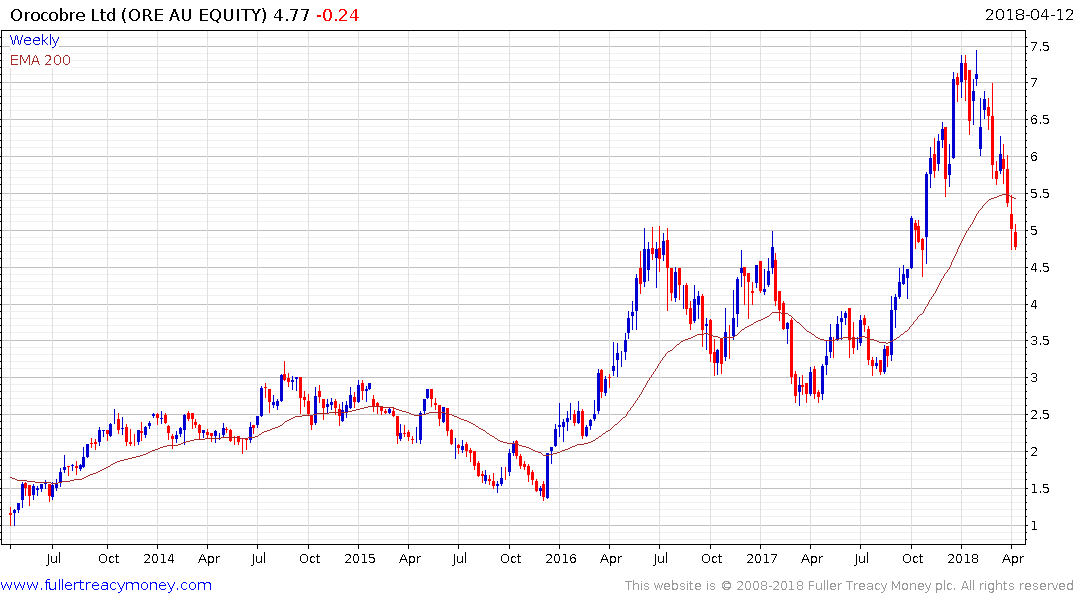 My sense is that this is a pause, possibly of medium-term duration, but that the longer-term bull market is still intact.
Back to top