Email of the day on feeling intimidated by the speed of a breakout
In today's video you made two very valid points:

• The five largest stocks account for 45% of the US Biotech Index.
Biotech stocks present a short to medium term investment opportunity.

The chart for a leading biotech ETF (see below). This potential investor finds the chart more than a little frightening.

Thank you for this email and I agree explosive breakouts can be hard to deal with. At The Chart Seminar we define ranges as explosions waiting to happen. Ranges are boring relative to the trending phases so we tend to be surprised by the ferocity of breakouts when they occur even though when a range is completed we expect prices to rise quickly because the breakout punctures a vacuum of supply above the range.

I discussed the argument for a rotation into Biotechnology on June 14th as it was looking increasingly likely that a breakout was imminent.

For investors entering on a breakout there is often a perception of great uncertainty because they have to assume the advance will continue. Of course the higher prices move away from the range, the greater the potential that a consolidation will result in the opening position sitting in negative territory, until the advance resumes or in a worst case scenario the breakout fails. That will result in some people deciding to wait for a pullback while accepting that a pullback might occur at higher levels. Those people waiting to enter represent a source of potential demand during consolidations and if the group is sizeable will help the market sustain the breakout.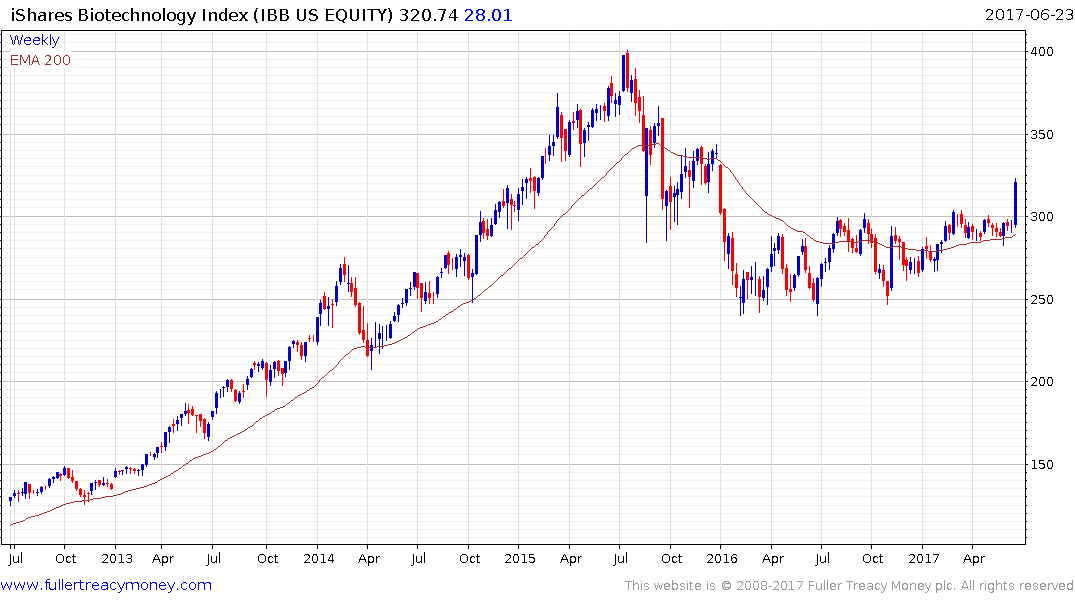 A sustained move back below the 200-day MA would be required to question medium-term scope for additional upside.

One of the primary catalysts for the breakout has been the absence of any mention of drug pricing in the US Senate's healthcare plan. That issue could resurface at some point but for the moment the administration likely has other priorities.
Back to top