Email of the day on agriculture and Amazon
Hello, could you take a look at the agricultural sector (Deere, CNH, Monsanto, Potash) and also could you comment Amazon? I find it too expensive, but I fear that they are building a monopoly in the retail sector, so it is expensive now, but nobody can really compete , especially book stores or electronic retailers
Thank you for this question which raises a number of items that may be of interest to subscribers.
With bumper crops and comparatively low prices it is an open question as to what extent farmers will be able to invest in new plant, machinery, nutrients and/or seeds. I wonder to what extent crop switching will be a factor in the next season since prices for just about all grains and beans have fallen. With cattle contracts still close to all-time highs, demand for more feed in the coming year is a certainty as herds are rebuilt. That suggests beef farmers are likely to be better positioned than tillage farmers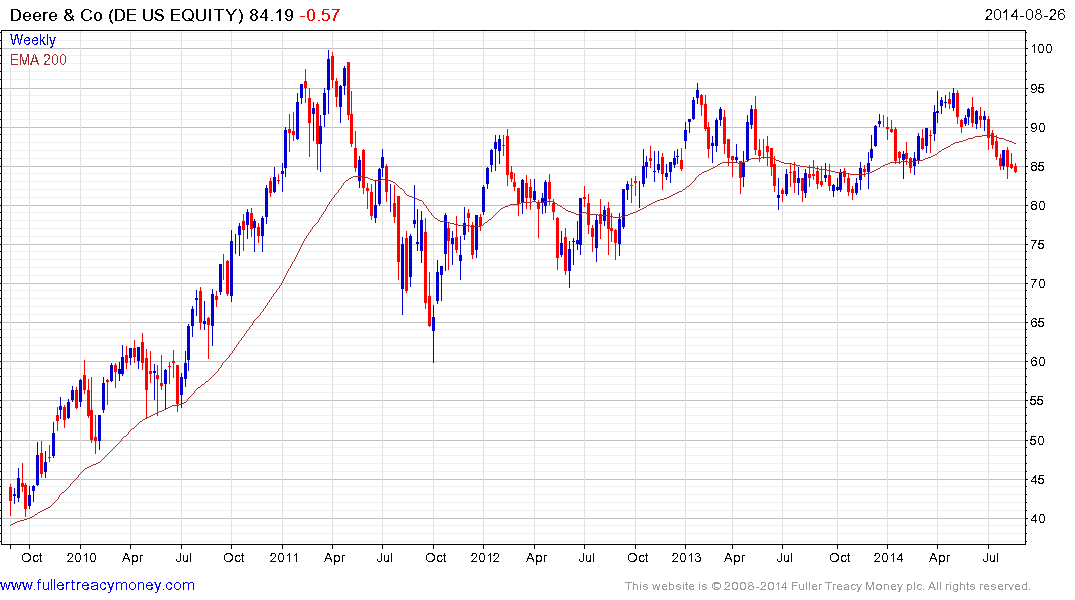 Deere (Est P/E, DY 2.83%) has been ranging with a mild upward bias for nearly four years. The share has returned to test the region of the progression of higher reaction lows and will need to hold the $80 area if medium-term scope for continued higher to lateral ranging is to be given the benefit of the doubt.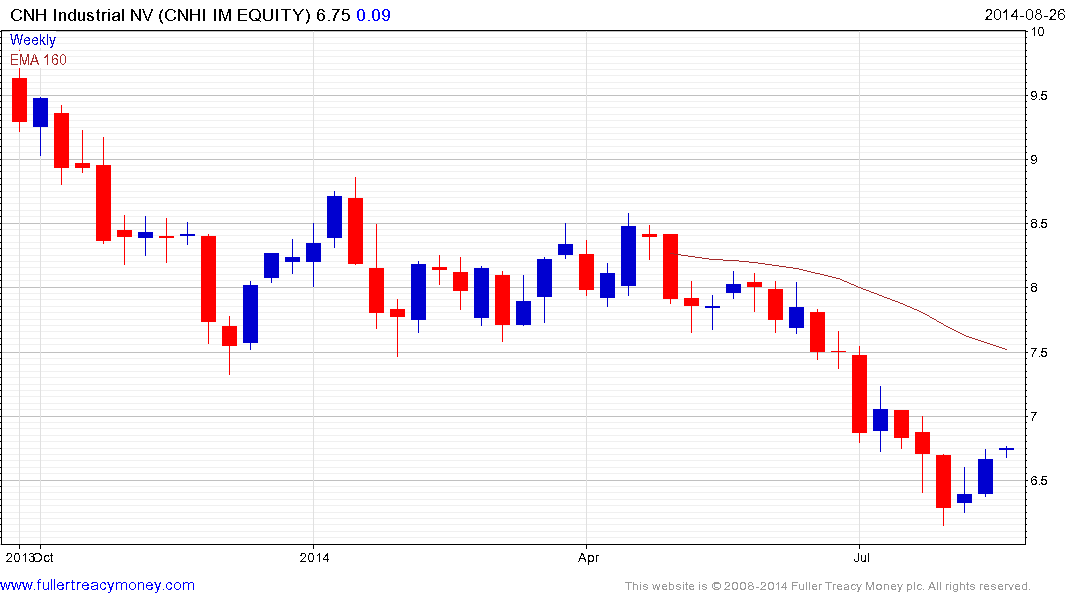 Fiat Industrial has been through a number of iterations over the last few years and was relisted in Italy under the CNH Industrial (Est P/E 13.43, DY 2.97%) moniker almost a year ago. The share found at least temporary support two weeks ago near €6.15 and an unwind of the oversold condition relative to the 200-day MA appears to be underway.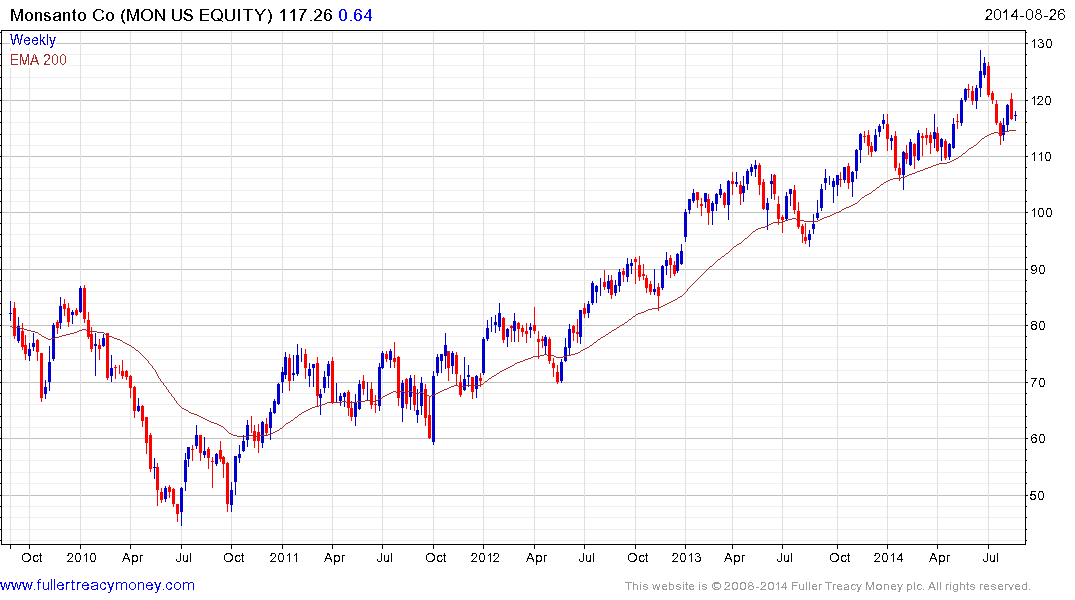 Monsanto (Est P/E 22.52, DY 1.67%) has held a progression of higher reaction lows since 2010 and most recently found support in the region of the 200-day MA in July. Last week's rather abrupt downward dynamic is likely to hold up the advance for at least a few weeks and the share will need to continue to hold above $110 if medium-term scope for continued upside is to be given the benefit of the doubt.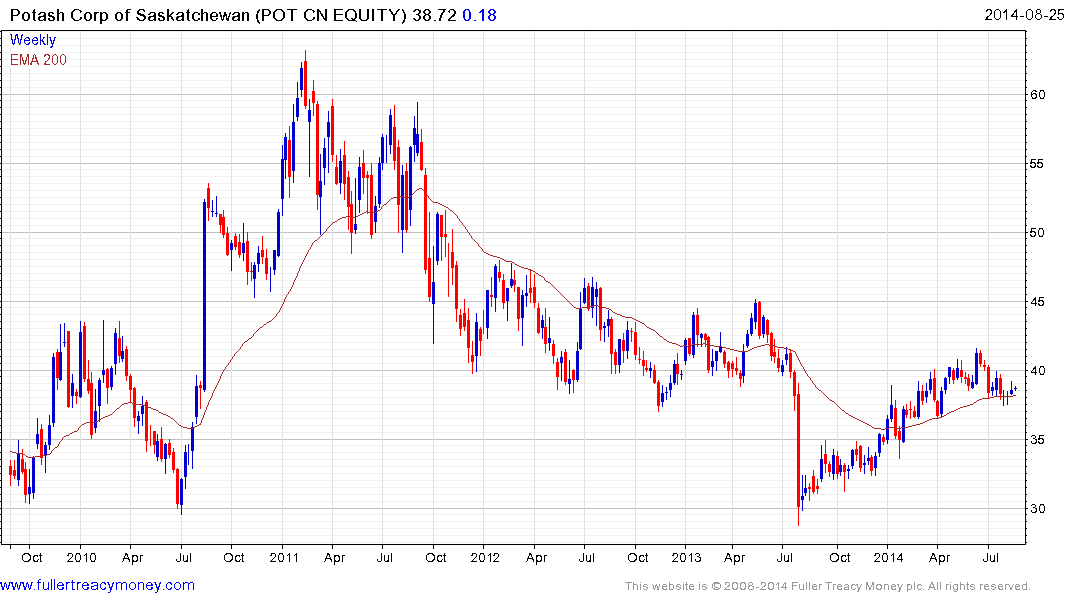 Potash Corp of Saskatchewan (Est P/E 20.02, DY 3.88%) unwound the mid-2013 collapse by June and continues to consolidate in the region of $40. However a sustained move above that level will be required to confirm a return to medium-term demand dominance.
Turning to Amazon, its estimated P/E of 3803 reflects the fact it has been sacrificing profits for market share. The company is so far succeeding and with a price to sales ratio of 1.9 investors are still willing to support the shares because whenever the company decides to focus on profits, it will transform the balance sheet.
Another way of looking at the company is will it ever be able to focus on profits? In a global economy there will always be someone else willing to offer the same product at a razor thin margin in order to gain market share. This means that securing supply lines, attracting loyalty from customers and offering value added services will remain a priority.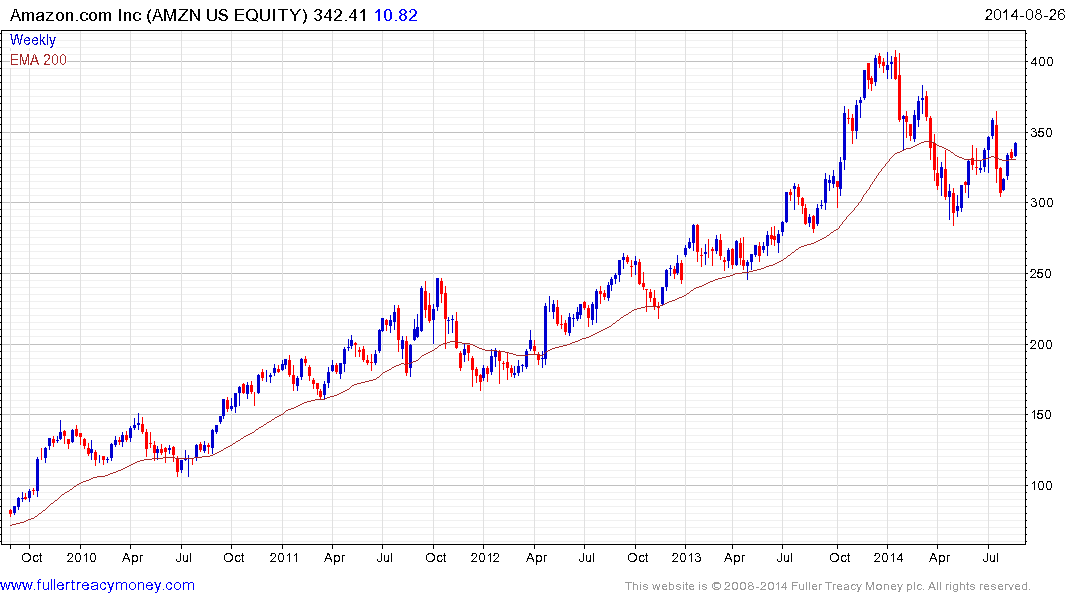 The share found support in the region of $300 from May and continues to hold above that level. A sustained move below it would represent a major trend inconsistency.
On a philosophical note, I wonder if an antitrust suit is in the future of companies like Amazon, Google and Alibaba at some stage. The online, and increasingly the physical, market place is becoming increasingly concentrated in the hands of a small number of companies; for example Amazon and Google. In much the same way that Rockefeller gained outright control of the US oil sector in the 1800s, internet giants are intent on the same objective today with regard to retail. Almost all of us enjoy the lower prices and free shipping available on Amazon and the access to products and services it provides. The ranks of vacant retail units where small businesses have failed are a testament both to the streamlining of supply chains and greater competition in every area of retail.
I saw an interview with Philip Green earlier this year at the opening of a new flagship store in New York for Topshop. He expected it to be a loss leader because the brand's predominately young customers tend to shop online. They had spent so much time looking for the location because it would act as a centre for advertising their products rather than as a primary point of sale. I viewed this as an indication of the evolution of the retail sector.

There is no indication that this trend of consolidation and rationalisation is about to end any time soon but I thought it worth considering where it will eventually lead. Are we headed for smaller grocery stores focusing on fresh produce, bakeries and butchers where just about every pre-packaged food not designed for immediate consumption will become part of the online store? In my neighbourhood at least, that would appear to be the trend.
Back to top