Email of the day -on investing in batteries
Related to Your comment regarding electric vehicles and batteries: I've been thinking about that same area, and how to invest. I ended up with the conclusion that instead of going for some hyped and bubbly valuations (such as Tesla), try to find something reasonably priced that benefits from the same disruption. A "in a gold rush, best money is made by selling shovels" type of strategy. So, after some digging, I bumped into SGL Carbon in Germany. They have had a tough couple of years, refocusing the group and a rights issue recently. Now the company is largely focused on carbon based (graphite, graphene) parts that go into Lithium batteries. The chart looks like it has bottomed, at least to me. Just something that I wanted to highlight for the collective, perhaps you have found other (and better) shares around this theme? As a disclaimer: I'm already long SGL.
Thank you for this thoughtful email. Carbon fibre companies are increasingly transitioning toward producing graphite with the aim of entering the emerging graphene market. This is a niche market but I agree it has ample scope for growth as the battery sector evolves.

Perhaps the most important point is a race is ongoing internationally to come up with the next best in class battery solution whether for the anode, cathode or electrolyte. They are in fact three subcategories of the overall theme. For example, lithium is primarily used in the anode and this is also where graphene would likely be used. Cathodes are generally made with nickel, cobalt and manganese. When you hear about investigation into polymer batteries they are generally talking about enhancing the electrolyte.

I've often made the point that batteries are the gateway technology to the renewable energy, fossil fuel free libertarian ideal many people have. Therefore, the prize for delivering the next big leap in energy density, charging speed and cycling couldn't be larger. Tesla is a highly leveraged company that is bringing down costs by going for economies of scale but it partners with Panasonic for its battery technology.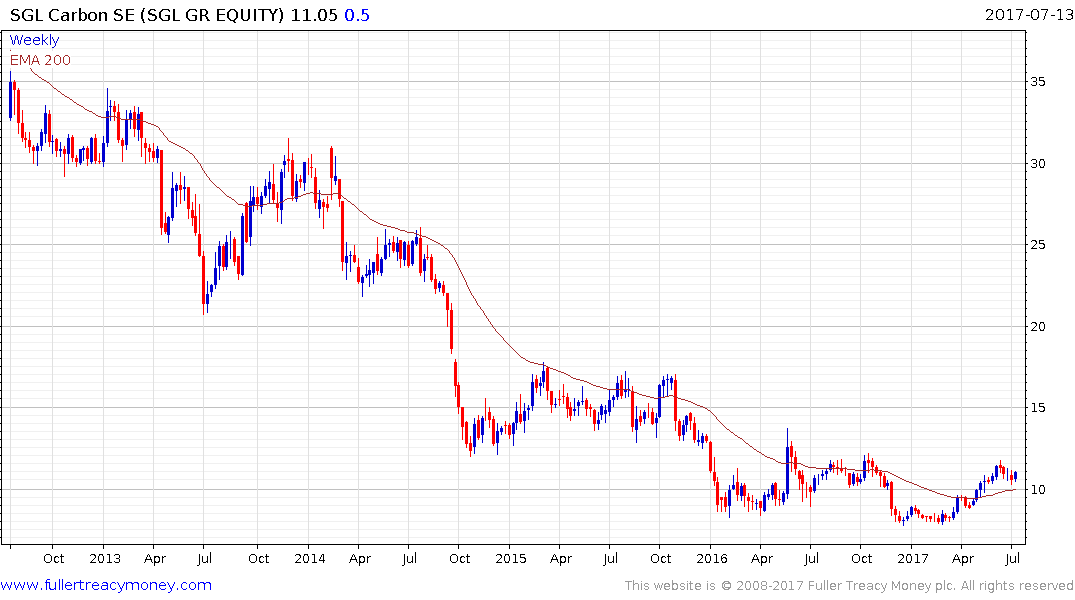 German listed SGL Carbon has broken its progression of lower rally highs and has potential base formation completion characteristics.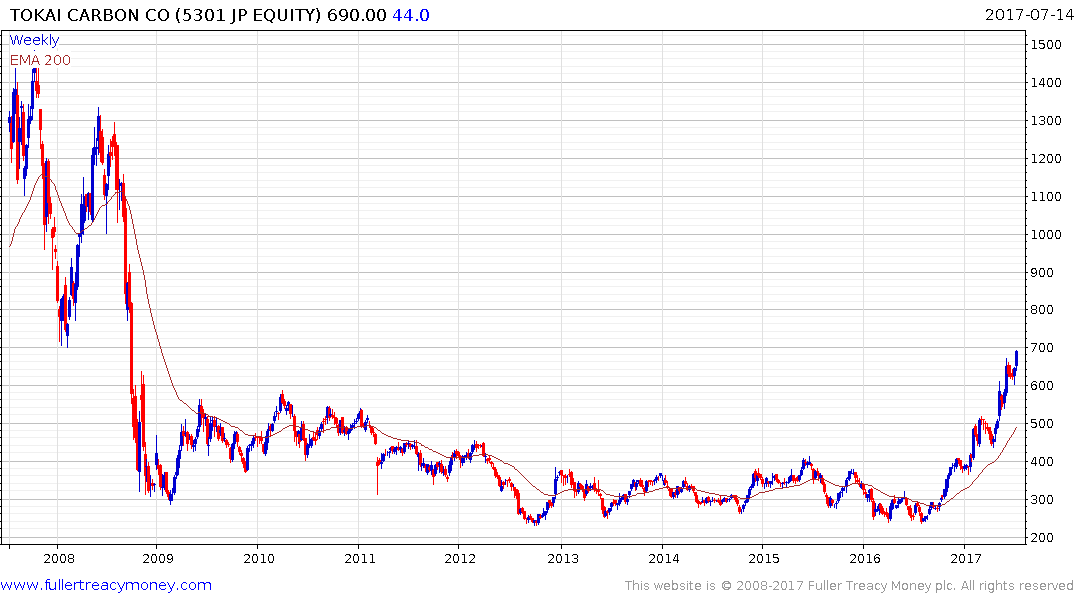 Japanese listed Tokai Carbon completed an eight-year base in January and continues to extend its advance.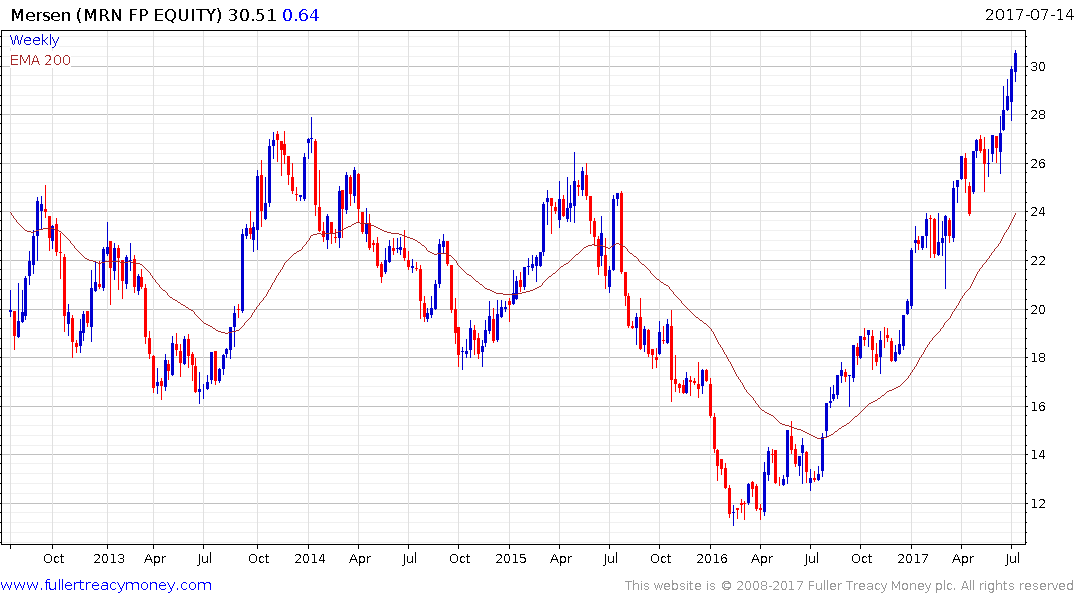 France listed Mersen focuses on electrical components and its share has been trending higher for most of the last year.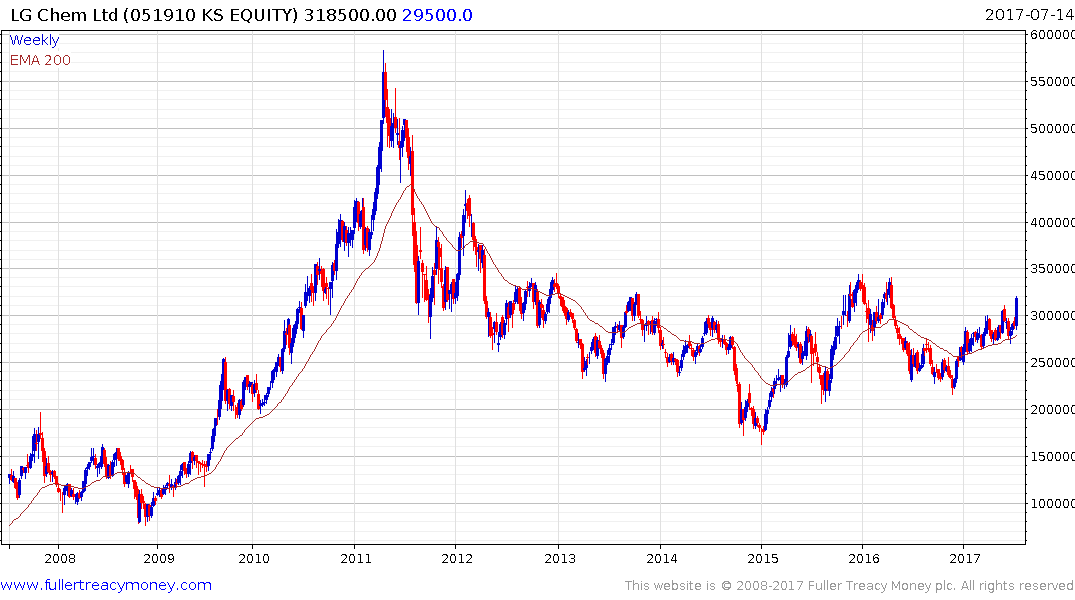 South Korea listed LG Chem exhibits a rounding characteristic consistent with accumulation and
firmed over the last couple of weeks from the region of the trend mean.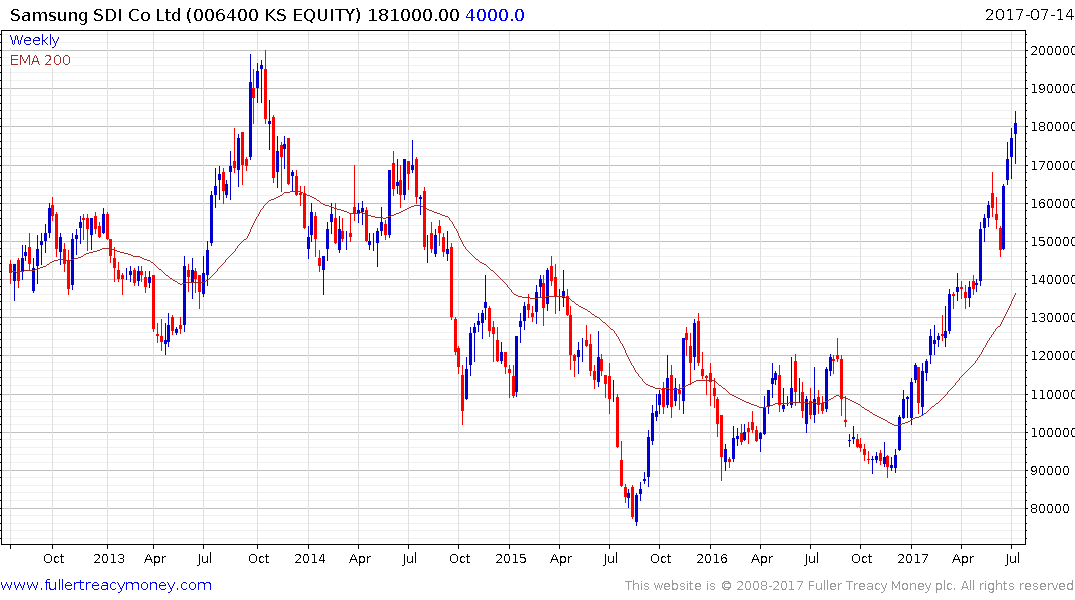 Samsung SDI has also been marching higher since early this year but is looking quite overextended as it approaches previous areas of resistance.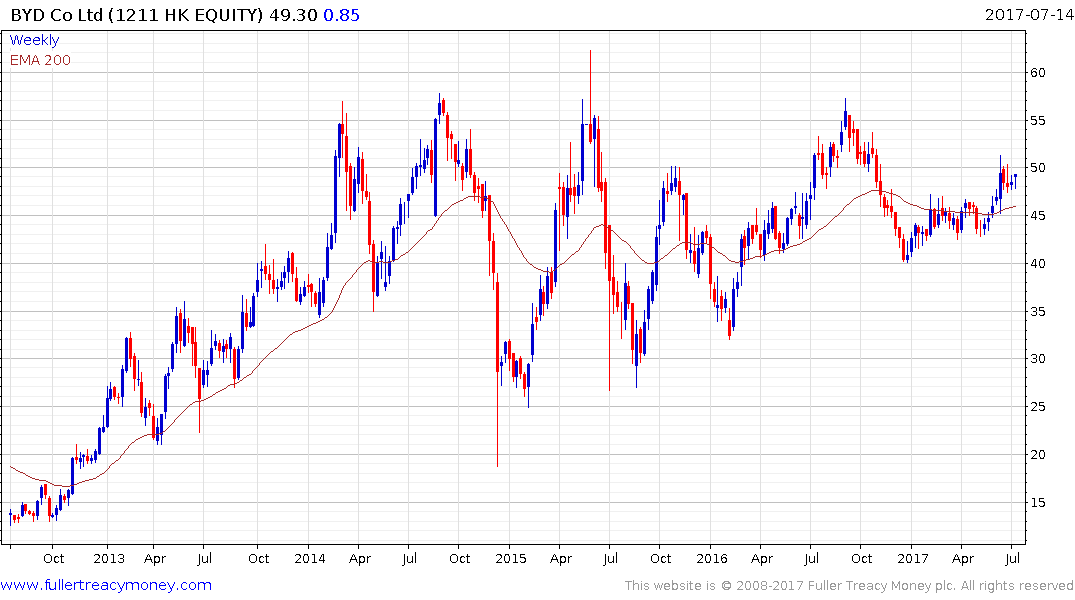 Hong Kong listed BYD has been ranging in a volatile manner since 2014 but an overall upward bias has been evident since early 2015 and it is currently firming from the region of the trend mean.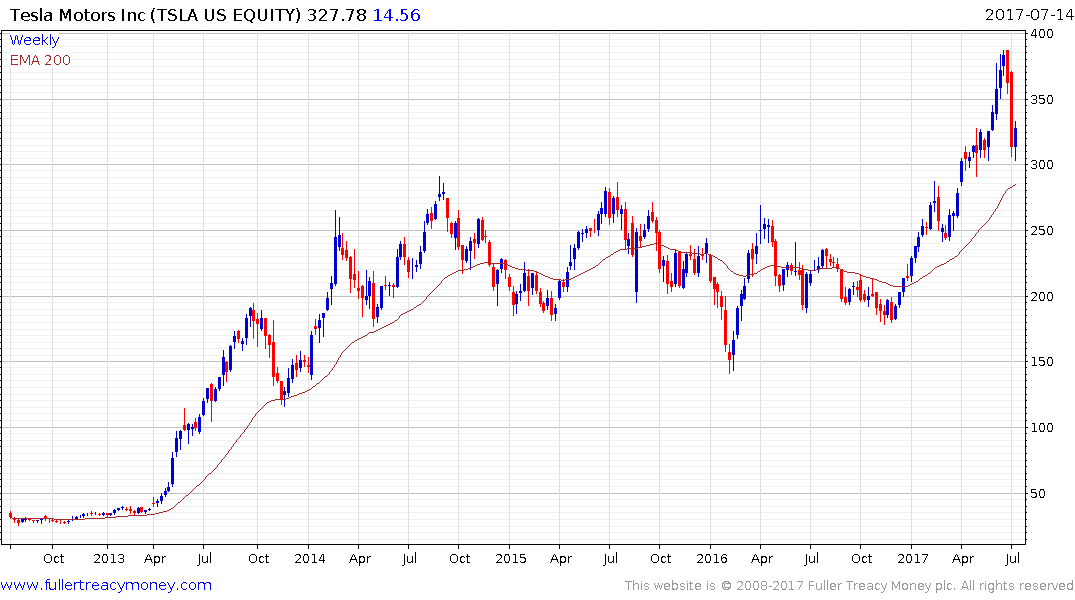 Meanwhile Tesla has completed a version towards the mean and there is at least near-term evidence it has found support near $300.

This post from May 24th contains an interesting graphic focusing on the number of battery factories currently under construction.
Back to top