Despite the Excitement, There is Reason to Think Twice on Alibaba
This article from the New York Times may be of interest to subscribers. Here is a section:
At $68 a share, Alibaba's market capitalization is about $168 billion. It's hard to find a United States company that's directly comparable, but Professor Greenwald said eBay comes the closest. Like Alibaba, it has an auction site that benefits from a powerful network effect, it offers a vast e-commerce site and it has a pay system, PayPal. (While Alibaba spun off its payment system, Alipay, Alibaba will get a share of the proceeds from any sale or public offering of Alipay.) EBay's market capitalization is about $65 billion.

Of course, eBay doesn't dominate e-commerce in the United States to the degree that Alibaba does in China. But is it reasonable to assume such dominance will persist as the Chinese market matures? No one company dominates e-commerce in the United States or in Europe, and none are as large as old-economy Walmart. China may now be underserved by national brick-and-mortar chains, but that could change. Professor Greenwald said he believed that Alibaba deserved a premium to eBay — perhaps twice eBay's market capitalization. "But three times? That's really pushing it," he said.
The ticker symbol, BABA, means father in Mandarin and this was certainly the mother and father of all IPOs. The share price briefly testing the $100 area today, up from the $68 agreed at the close of the offer stage. Some of the early investors in the company were able to liquidate positions early and others will have had an opportunity to sell today so it is questionable where the additional demand will come from to push prices much above today's high in the short term.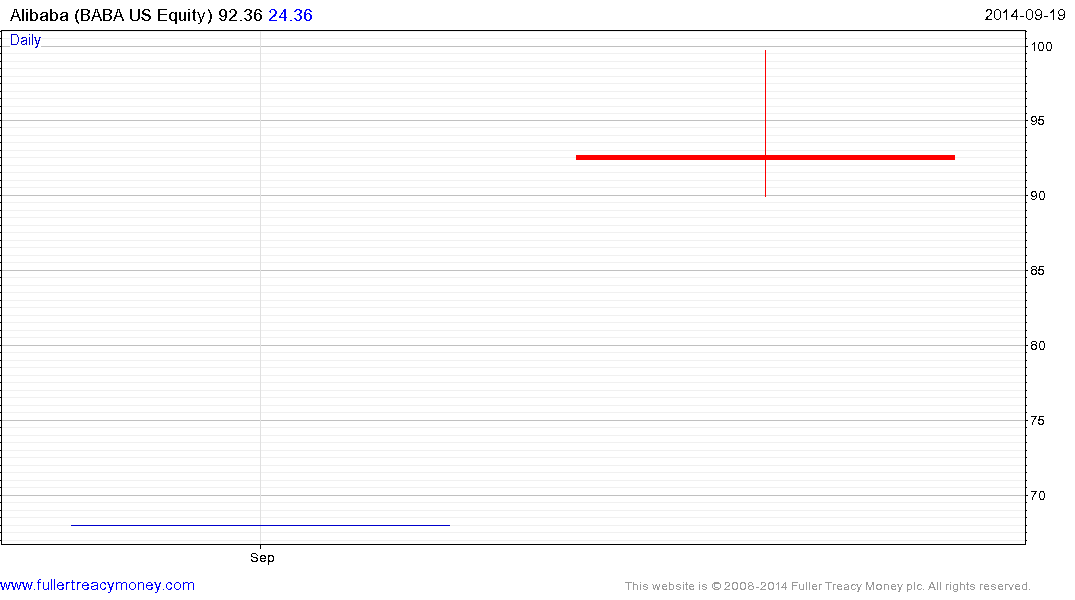 Meanwhile this additional article from the New York Times highlights the entrepreneurial ecosystem developing in picturesque Hangzhou. The start-ups spawned by former Alibaba employees suggests the number of companies that will be seeking to IPO is likely to increase in the coming years. It remains to be seen if Alibaba's former employees will have the same effect on Hangzhou as HP's had on Silicon Valley.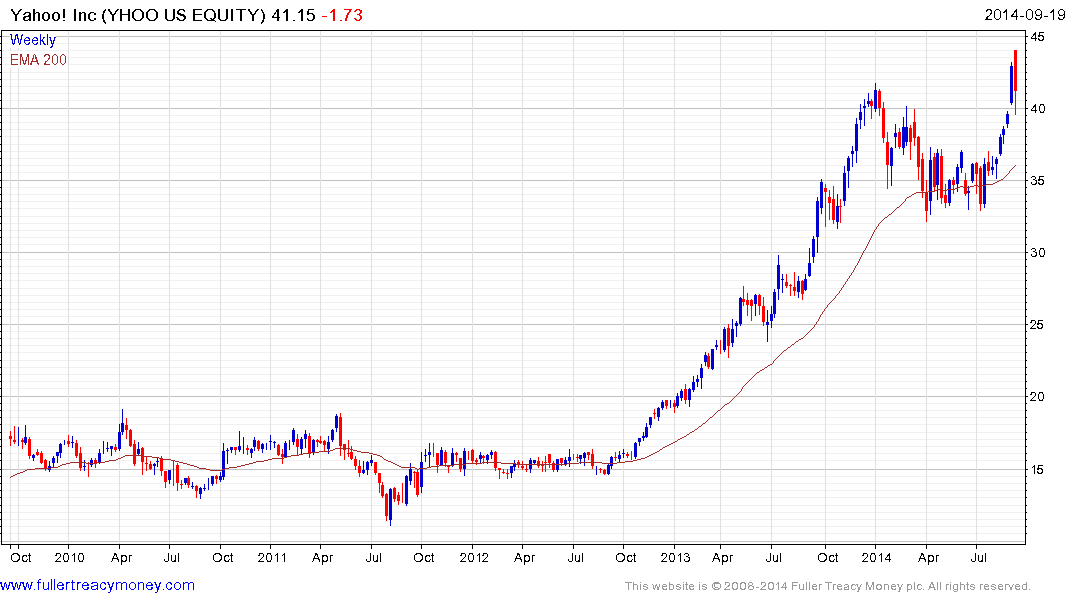 Yahoo was an early investor in Alibaba and its share price moved to a new 14-year high last week. It pulled back sharply today, probably because the company used the IPO as an opportunity to take profits and a least some consolidation of recent powerful gains in underway.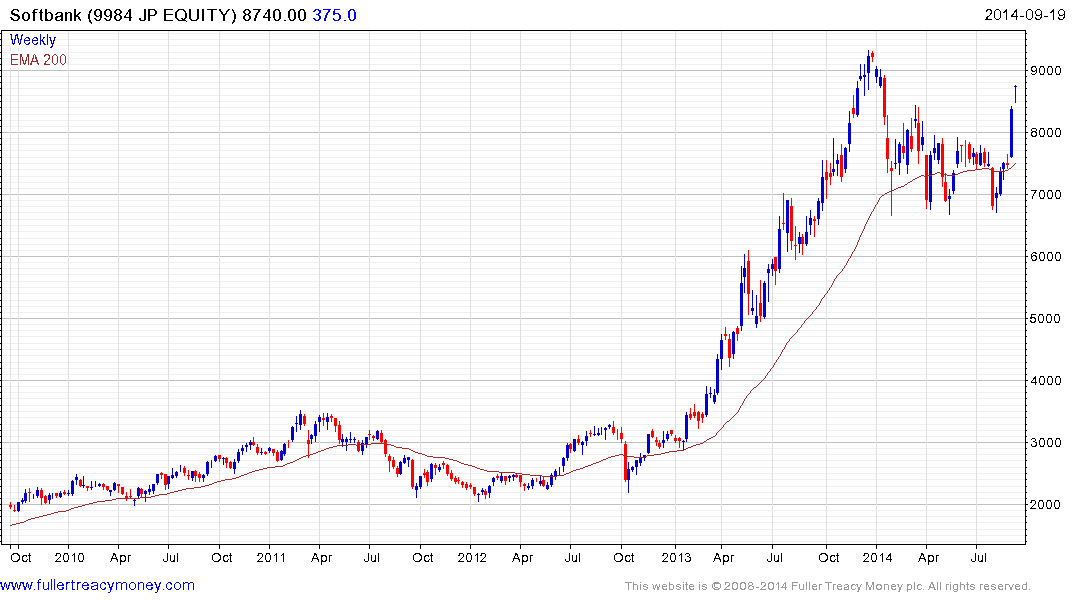 Japan's Softbank was the largest early investor in Alibaba. The share has been consolidating its powerful 2013 performance for much of the last year and is now testing the psychological ¥9000 level. Some consolidation is possible in this area but a sustained move below ¥7000 would be required to question the broad recovery hypothesis.
Back to top