D.E. Shaw Considering Major Stake in TerraForm
This article by Nathan Reiff appeared in Investopedia and may be of interest to subscribers. Here is a section:
D.E. Shaw is one of the most recent companies to express an interest in buying SunEdison's shares of TerraForm. Shaw already owns about 6.7% of TERP shares following a negotiation made to forgive SunEdison debt. While this is a significant stake already, it is nowhere near SunEdison's huge percentage of ownership of the company. By purchasing up additional "Class B" shares in TerraForm, D.E. Shaw would attempt to capitalize on SunEdison's bankruptcy declaration by acquiring one of its most valuable holdings.

Golden Concord has also recently made it known that it is interested in purchasing now-defunct SunEdison's shares of TERP stock. The company, which is China's largest new energy company that is not government-owned, no doubt also sees a prime investment opportunity. For both D.E. Shaw and Golden Concord, however, added interest in SunEdison's stake in TERP means that the competition for those shares is rising, and the price is likely to go up as well. Throughout Monday, August 29, shares of TERP were trading at higher levels as a result of the increased interest.
To coin a pun "solar has been under a cloud of late". Last year's decision by Nevada to side with established utilities and force solar power providers to help pay for the grid, which they had being using for free, foreshadowed wider questioning of the subsidies on which the installation sector has relied upon. The bankruptcy of SunEdison and Tesla bailing out/absorbing SolarCity are both symptomatic of the challenges facing the sector.

There is little argument that the efficiency of panels is improving. However many of the most innovative solutions have yet to reach market and the panels being installed on people's rooftops are usually the cheapest rather than the most efficient. It is looking increasingly likely that if rooftop solar is going to survive as a going concern then panels will have to be twinned with batteries. Elon Musk said as much when he announced the acquisition of SolarCity.

Terraform Global is one of two companies set up by SunEdison to hold the assets of the solar power plants it built over the last decade and is not included in the bankruptcy. It is arguable whether it will be able to pay dividends as it plots its path ahead as an independent company but that might not be an avenue open to it for long. SunEdison's majority position in the voting rights of Terraform Power is up for sale and competition appears to be heating up for control of this valuable geographically diverse set of assets.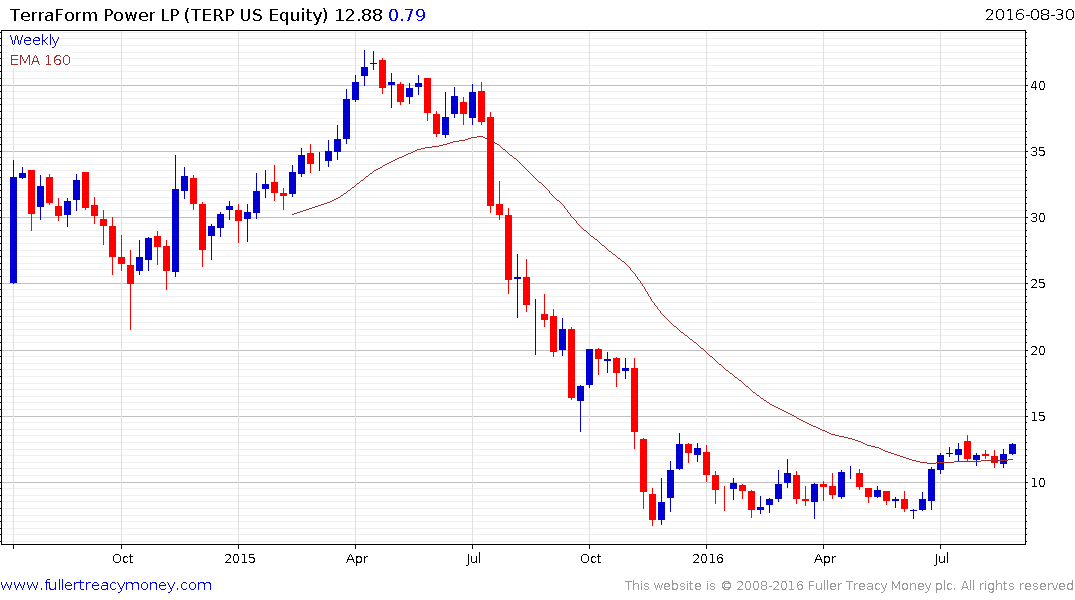 The share looks to be forming a first step above its six-month base and a sustained move below $10 would be required to question recovery potential.
Back to top