Crypto Lender Celsius Stops Withdrawals, Fuels Market Slum
This article from Bloomberg may be of interest to subscribers. Here is a section:
Celsius Network Ltd. paused withdrawals, swaps and transfers after weeks of speculation over the sustainability of the outsized returns being offered by the DeFi lending platform, fueling a broad cryptocurrency selloff.

Crypto markets tumbled after the Celsius announcement, with Bitcoin dropping as much as 14% to the lowest level since December 2020 and other major tokens like Ether also falling sharply. Celsius's CEL token was down about 50% to 19 cents as of 7:16 a.m. in New York Kong, according to pricing data site CoinGecko.

The meltdown is the latest blow to DeFi, or decentralized finance, crypto's answer to traditional finance, with more control and less costs for users but also less oversight and more risk.

Doubts about the sky-high yields backing products such as those Celsius offers have intensified after the collapse of the Terra ecosystem in May, and as tighter monetary policy across the world curbs demand for riskier assets. The CEL token promises "actual financial rewards," including as much as 30% extra returns weekly, according to its website.

While the collapse of the TerraUSD (UST) stablecoin captured most of the market's attention, one of the project's main attractions for investors had been its promised interest rate, set as high as 20% for UST deposits in the Terra blockchain-based lending project Anchor. Celsius was an investor in the project. Both revolve around the promise of super-high yields to keep up demand, which itself depended on a steady flow of new entrants feeding the system, or borrowing to pay the high rates.
Relying on a steady flow of new entrants to support outsized yields for existing investors sounds very similar to a ponzi scheme. The parallels with the yields Bernie Madoff promised are obvious. Even the 20% headline number is the same. That suggests investors in these schemes are either ignorant of market history or simply ignore it.
One of the least appreciated characteristics of crypto exchanges is the difficulty of selling. They do not appear to have ever corrected the disparity between facilitating purchases but limiting withdrawals. That is obviously problematic in a falling market.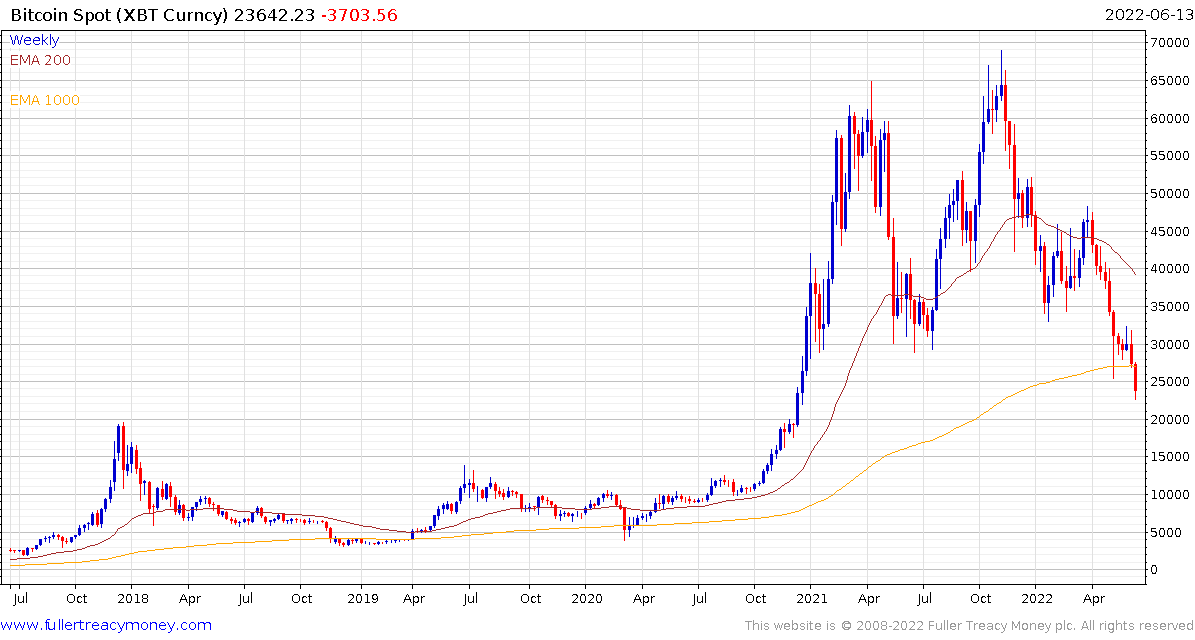 Both Bitcoin and Ethereum broke downwards today which obviously challenges the validity of the buy-the-dip instinct of crypto investors/traders. Clear upward dynamics will be required to check momentum.
Cryptocurrencies are barometers of global liquidity. The weakness of the market is a clear signal that tightening conditions are threatening asset values.
Back to top