Could Next-Gen Reactors Spark Revival In Nuclear Power?
Thanks to a subscriber for this informative article from National Geographic focusing on next generation nuclear. Here is a section:
"We've been talking with the national labs about it," she says, noting the Department of Energy has a new loan guarantee program for advanced nuclear reactors. "There's really good buy-in from DOE for developing a wide range of technologies."

Even if all goes well, Dewan says, it will take at least a decade to develop a commercial molten salt reactor. She's optimistic it will happen and welcomes the work of other nuclear startups.

"It's so cool how much new development is occurring," says Dewan, the grown-up version of the sixth grader who managed to produce light by connecting a water wheel to a generator. "It makes me excited for the industry."
I posted a similar article from the Brookings Institute in February which also talked about the potential of new reactor designs to change the nuclear industry beyond recognition. These are big ideas and will require big money to help realise them but the potential for a truly ground breaking innovation is worth the investment. The problem right now is that there is not a great deal of appetite for energy investment in any shape as oil prices trend lower and budgets are slashed.

Nevertheless while this is a difficult environment for anyone raising money to build energy infrastructure that will not always be the case and investors will begin to eventually differentiate between fossil fuel developers and next generation energy innovators.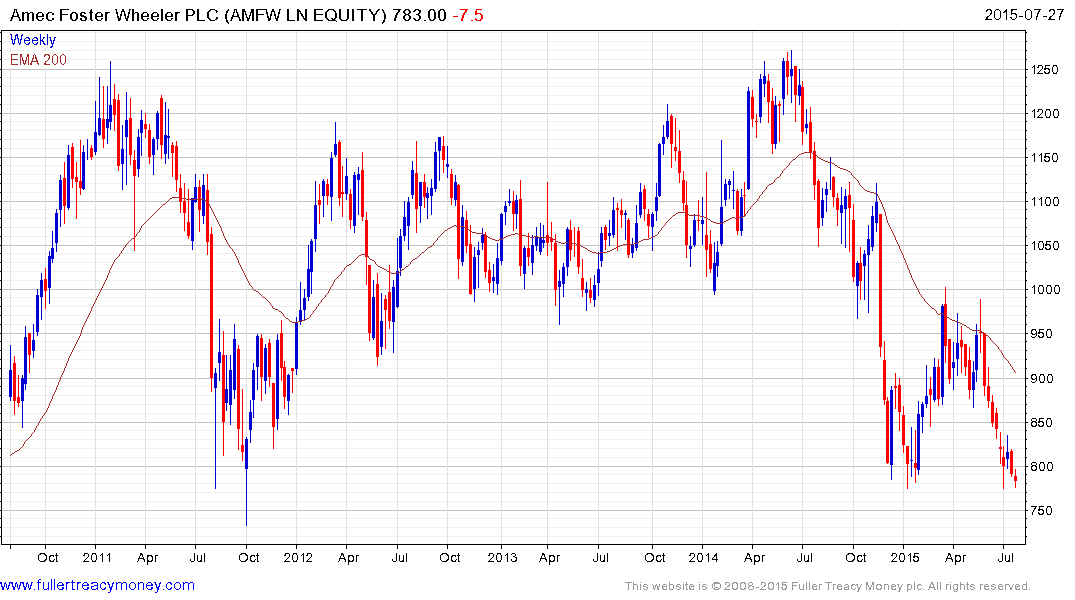 Amec Foster Wheeler is a good example right now. The share has an historic P/E of 22.14, a forward P/E of 10.62 and yields 6.14%. Its business is about evenly split between oil & gas and clean energy/environmental infrastructure but right now is only being priced on the oil & gas segment. The share dropped to a new closing low today and a clear upward dynamic and break of the short-term progression of lower rally highs will be required to signal short covering and more than temporary support.

This additional article from the Third Way think tank may also be of interest.
Back to top