Correction seen after growth
This article from VietnamNews.com may be of interest to subscribers. Here is a section
Also, last week's opening of the State Securities Commission investment promotion conference in the United States helped bolster domestic investors' psychology. Leaders of the Ministry of Finance and the commission presented new policies to help upgrade the Vietnamese investment environment, including newly-issued Decree 60 which allows foreigners to raise their stakes in Vietnamese listed companies.

Meanwhile, Minister of Finance Dinh Tien Dung said the ministry would soon issue a circular to provide instruction to implement Decree 60 in July. This eased investor concerns about the delay in the implementation of the raising foreign room regulation.

The foreign sector reacted positively to this movement, causing an increase. They picked up the combined net buy values of more than VND1.1 trillion ($50.5 million) worth of shares in the two markets, of which 90 per cent of their purchases focused on the HCM City market's shares.

"Although the market outlook remains in an uptrend in the medium- and long-term period, the markets remain exposed to substantial risks of a short adjustment this week," analysts at Bao Viet Securities Co wrote in a report. They added that the market rallies would heavily depend on leading stocks and foreign movements in the context that domestic money flows were still modest.
Foreign investment interest in Vietnam has been curtailed by restrictions on ownership of shares. Once the limit on ownership was hit there was no way to buy more and it was difficult to sell because there was the risk that it would be impossible to re-enter the position later. The prospect of Vietnam removing or at least loosening ownership limits represents a potentially important catalyst for the market not least if it helps gain admittance to the MSCI Emerging Market Index.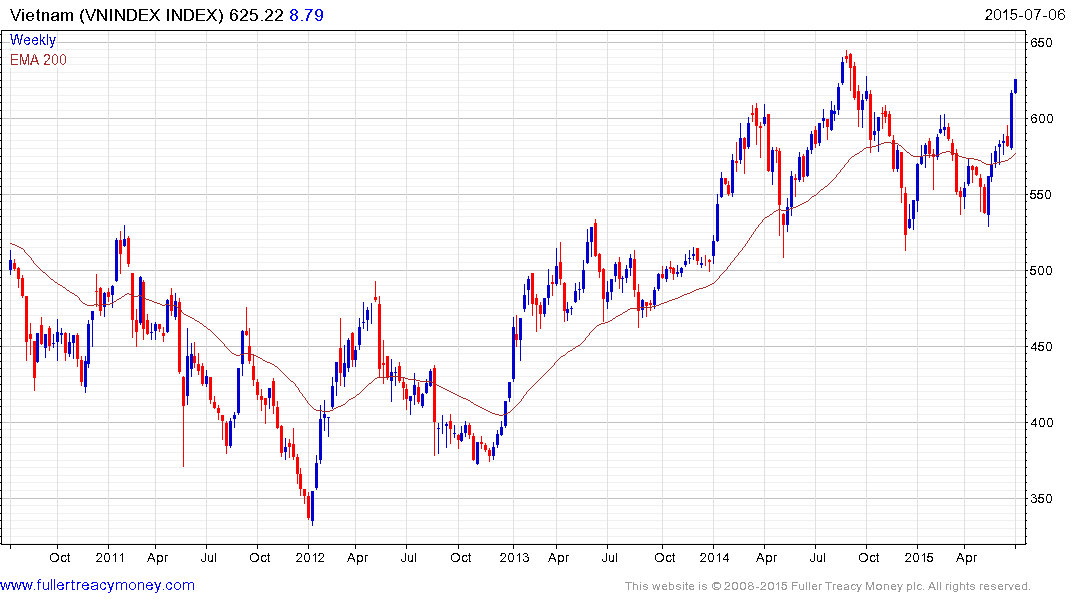 The Vietnam Index continues to rebound and a while a little overbought in the short term, a clear downward dynamic would be required to question potential for additional upside.
Back to top