China Vows to Keep Property Curbs, Evergrande Risk Seen Limited
This article from Bloomberg may be of interest to subscribers. Here is a section:
The property controls have achieved good results and the government will refrain from using the real estate sector as a short-term economic stimulus measure, Liu Zhongrui, an official at the China Banking and Insurance Regulatory Commission, said at a briefing in Beijing on Thursday. Evergrande is an "individual" case and won't hurt the overall credibility of Chinese firms, which is backed by the country's economic stability, he said.

Property controls to stamp out speculation in the housing market have weighed on the country's indebted developers, which are now seeing sales plunge and home prices snapping a years-long streak of increases. While officials have told banks to speed up mortgage lending again, the central bank has indicated that contagion risks from Evergrande are "controllable" and unlikely to spread.

Property lending growth at Chinese banks slowed to 8.6% this year through September, Wang Zhaodi, a spokesman at the CBIRC, said. That's down from 12% in the first quarter, which was the slowest pace in eight years.

New-home prices in 70 cities fell 0.08% in September, the first drop in six years, official data showed this week, posing a potentially big blow for an economy that counts on property-related industries for almost a quarter of its output.
China Evergrande was ordered not to default on its US Dollar debt, so it has made a last-minute payment to avoid that outcome this weekend. It has late payment deadlines on two additional bonds due before the end of the month. Since it has so far failed to reach agreements on asset sales, it begs the question how long more can this go on for?
It is looking increasingly likely that the government is going to manage the winddown of the company in a piecemeal fashion. It will eventually be forced into taking whatever terms it is offered for its assets which will ensure someone comes out of this debacle in a very favourable position.
The much bigger question is what is to be done about funding municipal and regional administrations. The government is walking back talk of a property tax so land sales will remain a necessity. That's suggests the credit impulse is likely bottoming at present.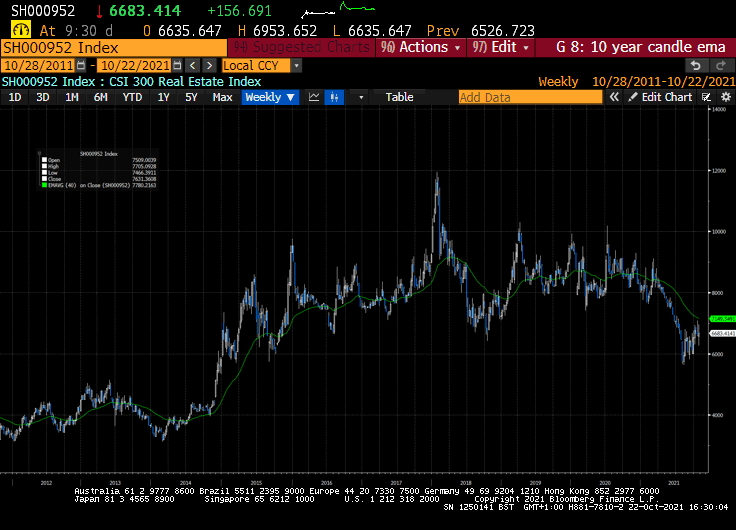 The CSI 300 Real Estate Index continues to firm from the lower side of a six-year range.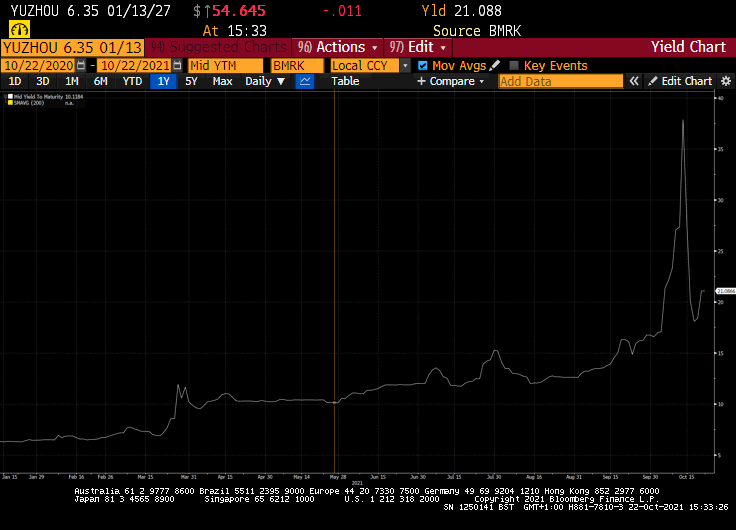 I first highlighted bond issues that looked less likely to default on September 21st. That proved to be three weeks ahead of the nadir. For example, Yuzhou's 6.35% 2027 yield peaked at 37.8% on the 14th and has since contracted to 21%. That's still above the 16.3% in late September which suggests the outlook remains uncertain for the sector. Nevertheless, if a property market rout is avoided, the sector has scope for recovery. The share is now firming from the HK$1 level, amid a deep oversold condition.
Back to top