China to Force Authors to Provide Real Names When Publishing Online
This article by Amy Qin for the New York Times may be of interest to subscribers. Here is a section:
In new guidelines on online literature made public this month by the State Administration of Press, Publication, Radio, Film and Television, the government called for a system that would require all authors to register their real names with publishing platforms on the Internet.

Under the guidelines, creators of online content will still be allowed to publish under pen names. But unlike before, when some writers registered accounts under fake names, websites will know exactly who is publishing what.

Linking the identities of authors with their writings online, the guidelines say, will encourage them to "take better responsibility" for their works as well as strengthen their "professional moral education and training." The aim is to promote "healthy" online literature and to root out problems like plagiarism and poor quality, the guidelines state.

?"It is very clear that the government is taking these measures with the intention of suppressing online creativity," the writer known as Murong Xuecun, whose real name is Hao Qun, said in an interview.
Anonymity on the internet is a touchy subject. On the one hand anonymous hackers have the ability to disrupt movie releases. Internet trolls might be in the minority but they take pleasure in insulting other people from the comfort of their own homes and totally free from retribution. On the other hand the use of anonymous profiles has allowed the spread of liberal ideals in a number of authoritarian regimes which has challenged the ability of the political apparatus to control news flow. This was particularly the case in a number of the Arab Spring revolts and is something China is now moving to ensure goes no further within its borders.

Freedom of speech is only possible when backed by a robust legal framework and where the political establishment is subject to the rule of law. The Communist Party's absolute control of the media was tight before, and this measure represents a considerable escalation of state control. Weibo and Sina blogs are incredibly popular in China. People document almost every aspect of their lives but they are also the modern equivalent of town hall meetings as friends, colleagues, relatives and old school friends actively discuss various topics. It strikes me as no coincidence that the push to implement real name profiles is coming so soon after the unrest in Hong Kong. The Communist Party has no intention of easing its grip on power.

The reform agenda instituted under Xi remains a focus of policy. While the tightening of state control is unlikely to be welcomed by the Communist Party's most vocal critics, the ability of the administration to push through the reform agenda is more important from a market perspective. The imposition of real name property registration due to be begin on March 1st is a potentially important development from the perspective of stabilising municipal budgets since it is step towards the imposition of property taxes. Here is a section from a Wall Street Journal article on December 22nd:

"The government has been looking to curb excessive speculation in the property market and to stem official corruption. A lack of transparency in real estate ownership in China has allowed corrupt officials and speculators to acquire multiple properties, contributing to a steep run-up of home prices in the past.

The move could also help China implement a property tax, which it doesn't currently have in most places. A property tax could also help rein in speculation while giving the government access to an untapped source of wealth. Currently, the property tax is being used on a trial basis in the cities of Shanghai and Chongqing."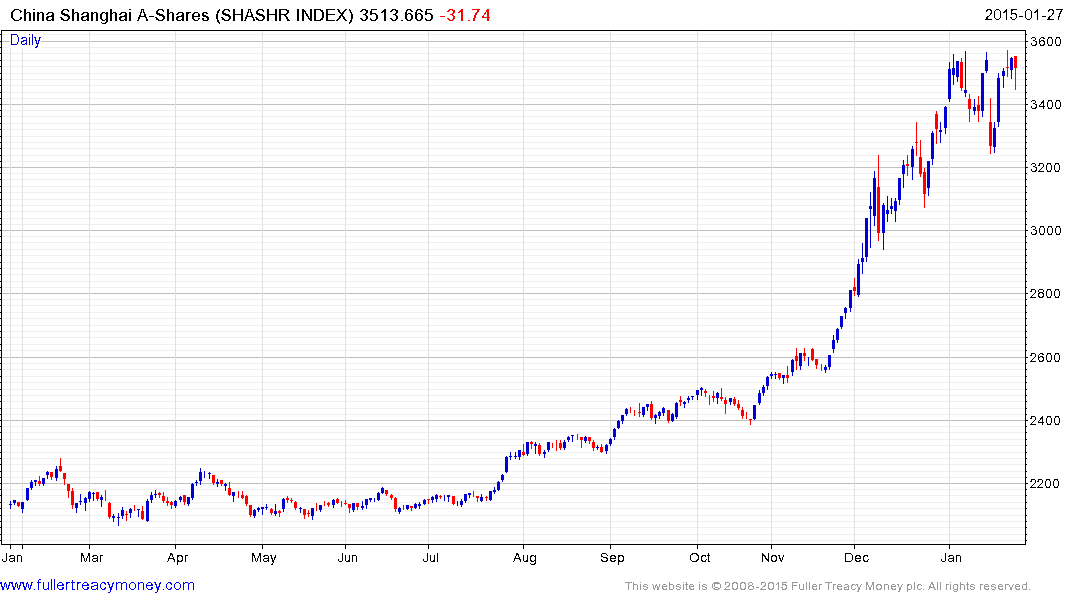 The pace of the Shanghai A-Share Index's advance has moderated following its spectacular breakout late last year. A sustained move below 3200 would be required to signal a lengthier period of consolidation is unfolding.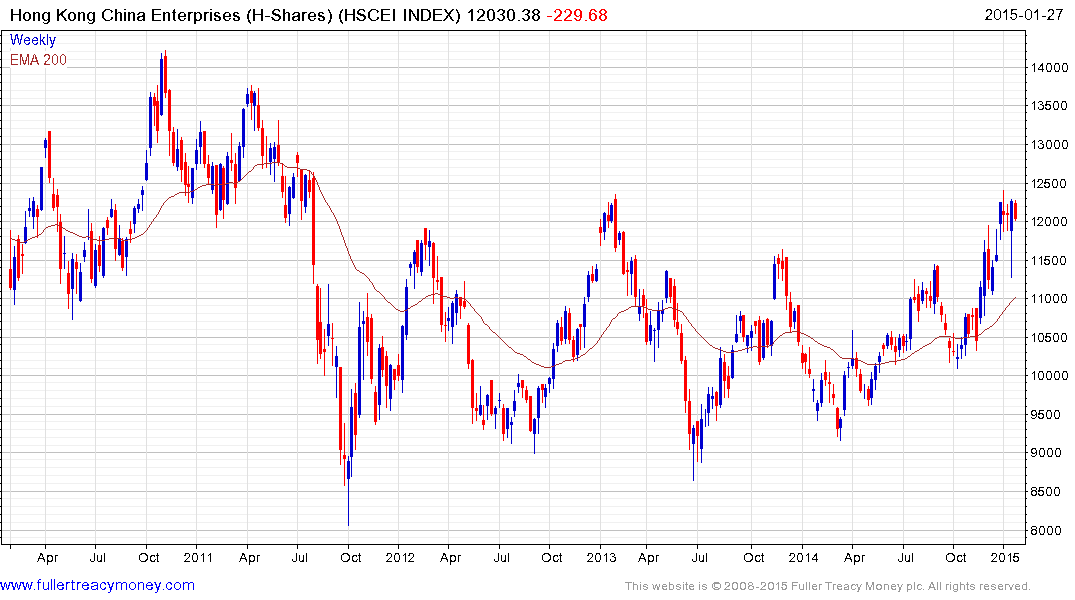 The Hong Kong Hang Seng China Enterprises (H-Share) Index continues to test the upper side of its three-year range. A sustained move below the 200-day MA, currently near 11,000, would be required to question medium-term scope for a successful upward break.
Back to top