China to become net importer of some rare earths
This article by Frik Els for Mining.com may be of interest to subscribers. Here is a section:
According to the Adamas outlook for rare earth demand from 2016 through 2025 over the past five years upwards of 30,000 tonnes of annual rare earth oxide demand were lost due end-users' growing concerns over supply security. On top of that more than 20,000 tonnes were lost as a result of the ongoing phase out of several mature technologies, such as fluorescent lamps, NiMH batteries, and hard disk drives used in PCs.

According to the authors following the lengthy and painful adjustment, the REE market will return to strong global demand growth for a number of rare earth elements including neodymium, praseodymium, dysprosium, and lanthanum. The resulting rise in price will help "sustain the profitability and growth of today's dominant producers, and incentivize continued investment in exploration and resource development globally":

REE demand will boom from 2020 onwards as growth rates of top end-use categories including electric vehicles, wind turbines and other hi-tech applications accelerate.
Rare earth miners went through a crushing bear market and it is arguable whether it has ended. The growth of new sources of demand is a potential medium-term bullish catalyst. However it is unlikely China will surrender its dominance of the global supply chain not least because it wishes to attract and support advanced manufacturing companies.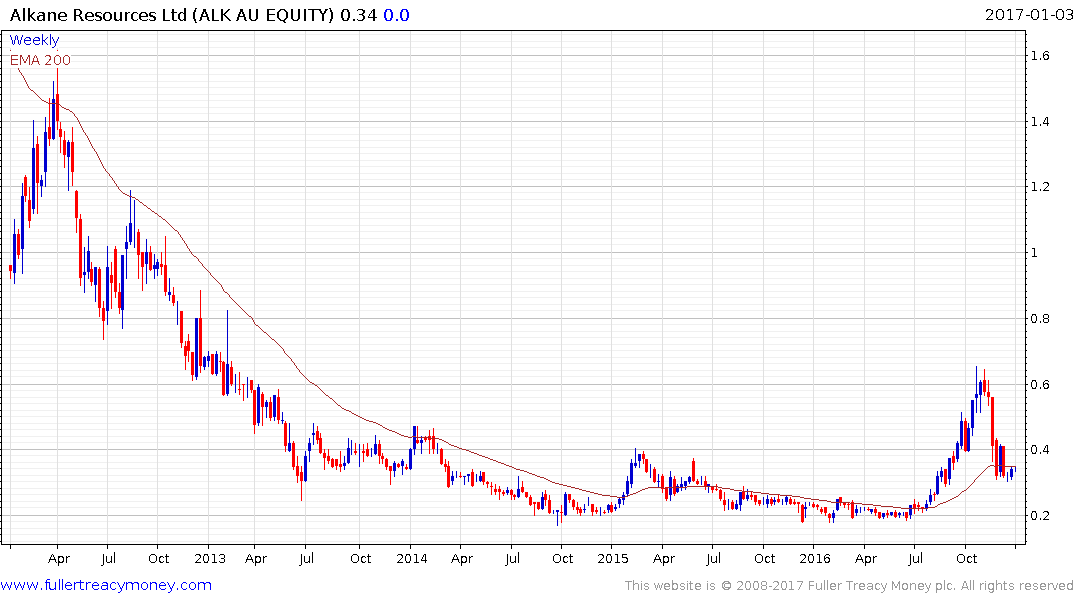 Australian listed Alkane Resources generates revenue from gold mining but is also developing a rare earth metal mine from the proceeds. The share has returned to test the region of the trend mean following a deep pullback in the last few months and a sustained move below 25¢ would be required to question medium-term scope for some additional higher to lateral ranging.
Back to top