China Said to Consider Options to Back Yuan, Curb Outflows
This article from Bloomberg News may be of interest to subscribers. Here is a section:
China's currency stockpile has probably shrunk further after hitting a five-year low of $3.05 trillion in November, according to the median estimate in a Bloomberg survey before data due as early as this week.

Capital outflows from China accelerated in recent months as the yuan suffered its worst year of losses against the U.S. dollar since 1994, declining 6.5 percent. About $760 billion left the country in the first 11 months of 2016, according to a Bloomberg Intelligence gauge. The yuan will decline 2.7 percent the rest of this year, according to the median estimate in a Bloomberg survey.

"The policies, if implemented, can help increase foreign-exchange supply in the onshore market, and hence help defend the yuan in the short term," said Carol Pang, vice president for fixed income, currency and commodities at Zhongtai International Holdings Ltd. in Hong Kong. "However, it won't change market expectation of further depreciation."
The Renminbi is somewhat oversold at present following a quicker pace of depreciation in the last quarter than seen in the three-year downtrend to date. Therefore there is scope for a reversionary rally or at least some steadying.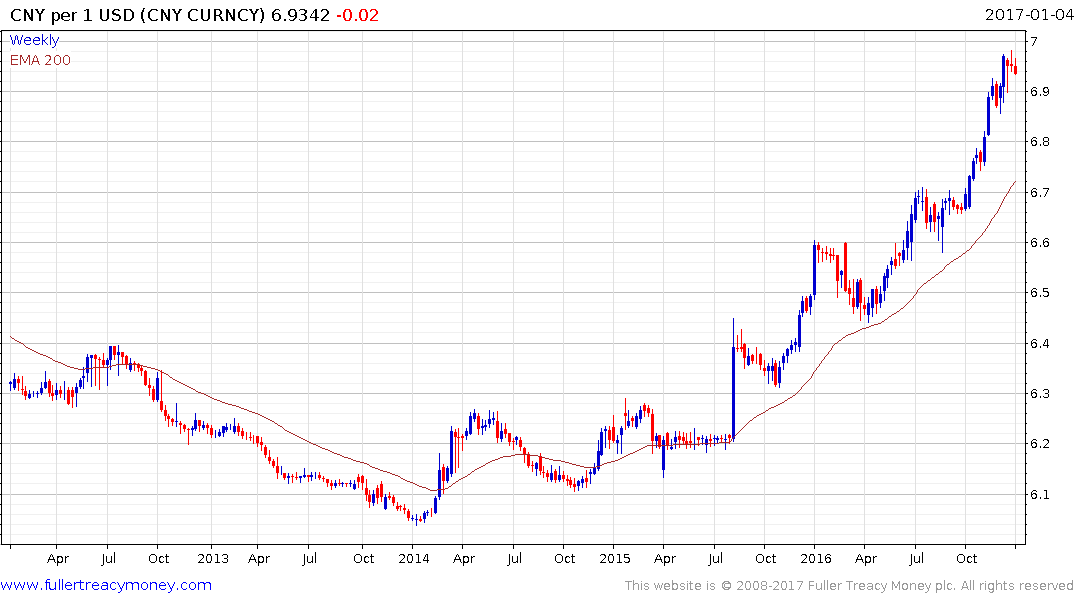 The Chinese monetary authorities exercise some control over the currency and have been responsible for the reasonably moderate pace of its decline over the last few years. This has meant selling Treasuries and depleting reserves but with $3 trillion in hand, it still has plenty of firepower.

However they have no control over the value of Bitcoin which is an increasingly prevalent way for Chinese citizens to move their cash out of Renminbi. The fact the cryptocurrency surged through the psychological $1000 in the first days of this year when everyone in China's quota for FX transactions reset is a testament to the fact many Chinese are choosing to convert into bitcoin over just about anything else.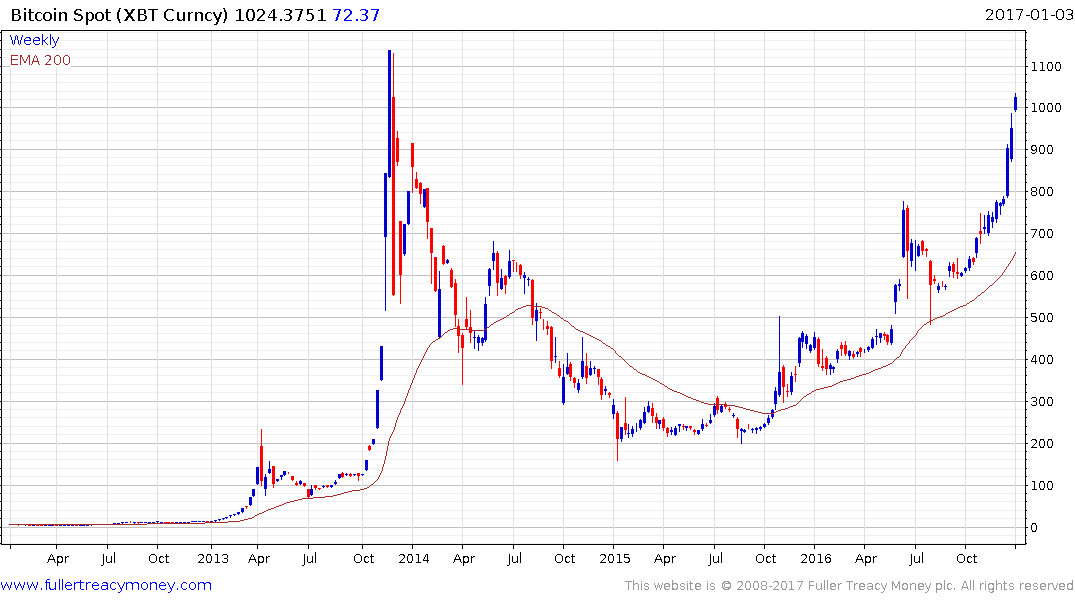 The price is now accelerating higher and the first clear downward dynamic is likely to signal a peak of at least near-term significance. While the Chinese authorities cannot directly affect the price of Bitcoin they can employ the statist firewall to stop access to bitcoin exchange sites in much the same way they have for Google, Facebook and YouTube. In such an eventuality the price of bitcoin could be expected to crash lower so it remains a high risk asset class.
Back to top