China's Markets Get a Double Dose of Caution From Moody's, MSCI
This article by Chris Ansley and Enda Curran for Bloomberg may be of interest to subscribers. Here is a section:
Moody's Investors Service unveiled a surprise downgrade of China's sovereign credit rating, citing concerns about its continued buildup of debt. Earlier, the head of one of the world's top stock-index compilers suggested China had more work to do to get its onshore stocks into emerging-market gauges. With a June 20 deadline looming, "there's still a lot of issues to resolve," MSCI Inc. Chief Executive Officer Henry Fernandez said.

Underlying the critique from both: issues stemming from the Chinese leadership's preoccupation with control. Few analysts expect painful reforms to be unleashed ahead of the Communist Party's leadership reshuffle due later this year. While officials preach the need to rein in credit, ensuring the economy hits a 6.5 percent growth target remains the top priority.

Moody's highlighted that policy makers' are fixated on economic growth targets, meaning already-high leverage will continue to build. For MSCI, concerns include authorities placing restrictions on financial products abroad that would incorporate Chinese stocks.
Trying to lean on the shadow banking sector, while also stimulating the economy is a tough goal while also achieving an outsized growth rate. However it is also worth considering that only about 12% of China's debt is held externally. The caveat of course is that a good portion of that has been raised by property developers recently through US Dollar bond issuance.

This article from the Epoch Times, (which is famously anti-Communist) carries a graphic of how many of the Politburo's standing committee will be retiring this year. Here is a section:

Meanwhile, five out of seven members of China's Politburo Standing Committee, the top decision-making body in the Chinese regime, are set to retire at an important political meeting slated for the second half of 2017. Also stepping down are at least two-fifths of the current Politburo and over half of the 376 elite Chinese officials in the Central Committee.

That represents both an opportunity and challenge for Xi Jinping to solidify his hold on power. Half of the wider 25 person Politburo also need to retire. It is going to be a pivotal event for Chinese politics because the next leader, who can be expected to take over from Xi in 2023 will be chosen from the 7 member Standing Committee. It also helps to explain why Xi has so far refused to make mention of who he anticipates will replace him.

What happens in China and the country's appetite to embrace market reform will have significant knock-on effects for everywhere else. This address by Shuping Yang at the University of Maryland's commencement ceremony is inspiring for its idealism but has not been particularly welcomed back home in China. It highlights just how wide a void exists between the perception of Chinese people's acquiescence and the aspirations of a young more globally-minded demographic which is increasingly being educated abroad.

Australia has gone for what must feel like forever without a recession and even came through the global financial crisis with little more than a hiccup thanks to China's massive stimulus which boosted demand for commodities just when they were needed. That would suggest the economy is highly dependent on what happens in China.

The government's announcement of a bank levy aimed at raising A$6.4 billion over four years represents a headwind for the banking sector has helps to explain the steep decline over the last couple of weeks.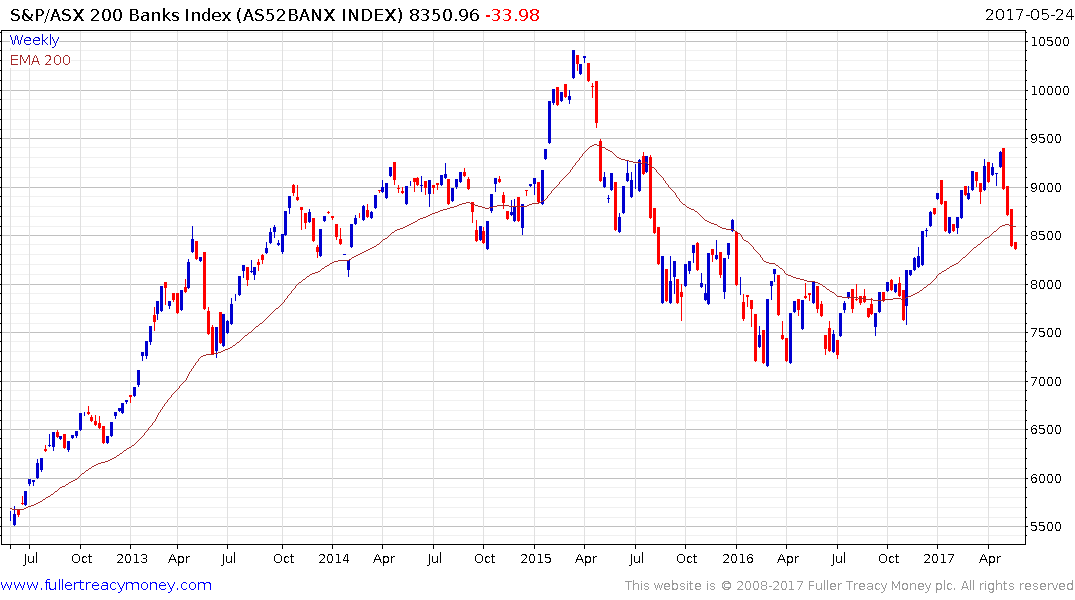 The S&P/ASX 300 Banks Index posted a downside key reversal at the beginning of the month and has continued to pull back over the last few weeks. A short-term oversold condition is now evident but a clear upward dynamic will be required to check the decline.
Back to top