China's Inflation Risks Build as Producers Pass on Costs
This article from Bloomberg may be of interest to subscribers. Here is a section:
The producer price index climbed 13.5% from a year earlier, the fastest pace in 26 years and above economists' median forecast for a 12.3% gain, data from the National Bureau of Statistics showed Wednesday. The consumer price index rose 1.5%, the highest since September 2020 and exceeding the projected 1.4% gain.

Producer prices in China have been rising rapidly in the past few months, first due to the global commodity price rally and then output curbs caused by a power crunch. Consumer inflation is also starting to pick up as weather-related supply problems push up food prices and manufacturers pass on higher costs to retailers.

The data "implies broad-based inflation pressure on both the production side and the consumer side," said Bruce Pang, head of macro and strategy research at China Renaissance Securities Hong Kong Ltd. "Inflationary pressure and the more hawkish stance of monetary policy in other major economies will likely limit China's room to maneuver for monetary easing."
China exported deflation for much of the last twenty years, with a steady flow of cheaply manufactured goods flooding the global market. That boosted consumption as well as created the impression prices would never again rise in an unexpected matter.
The trend is ending for both long-term and short-term factors. China's labour force is aging out of low-cost manufacturing as the number of new young workers declines and living standard expectations rise. That's a factor that has been present for the last few years and it will only become more powerful in future.
Meanwhile the short-term factors of sporadic regional lockdowns, kneejerk imposition of antipollution regulations and the self-harm endured by trade wars with countries like Australia and Canada have all contributed to rising prices this year.
Coal prices are now declining. The stress caused by abrupt policy change is dependent on politics. That volatility has picked up because of uncertainty about the tenure of the sixth plenum which is taking place this week. https://theconversation.com/chinas-sixth-plenum-will-consolidate-xi-jinpings-power-and-chart-the-countrys-ambitions-for-the-next-5-years-171395 This meeting will set the program of events for the Party Congress next year, so there has been a lot of political maneuvering to ensure cadres appear to fully support the big man on top.
Meanwhile, easing trade tensions with major trading partners looks unlikely. That suggests the surge in producer prices is likely to ease somewhat but the upward trend will remain in place.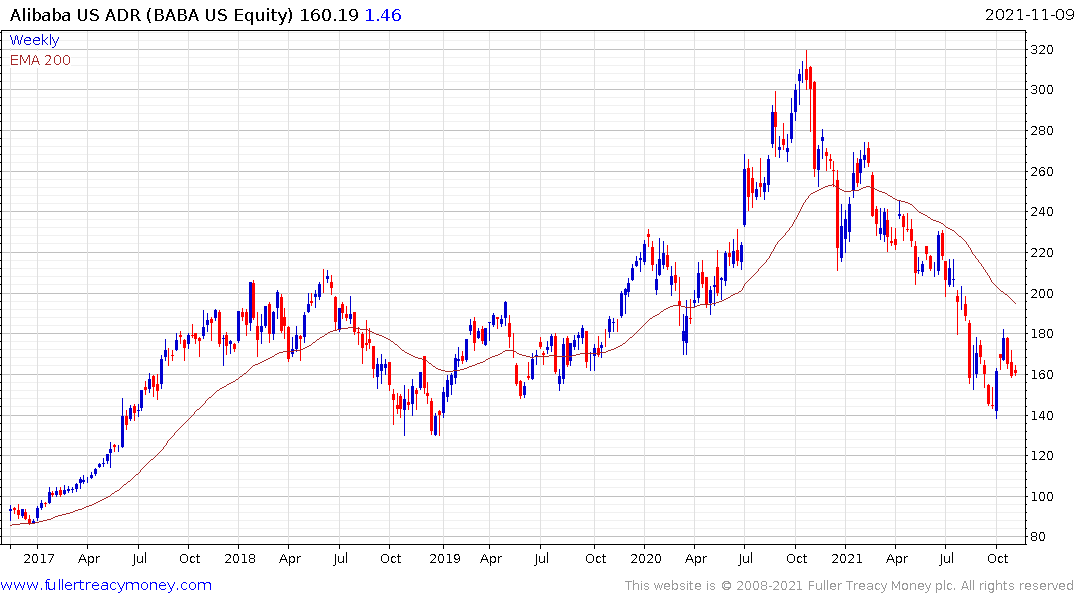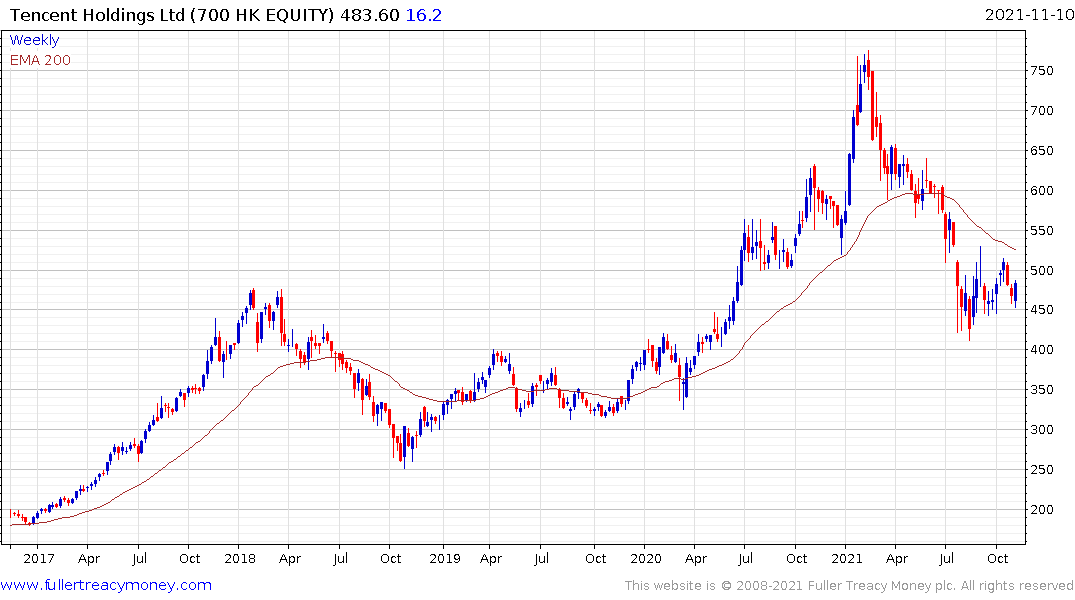 Many of the tech-oriented stocks continue to firm; with Tencent and Alibaba continuing to hold their respective lows.
Back to top