China Pledges Action on Tech Transfer as Trump Plans Tariffs
This article from Bloomberg news may be of interest to subscribers. Here is a section:
"Businesses are very much in a position that they want to see China take action, and talking about it isn't sufficient any more," John Frisbie, president of the U.S.-China Business Council, said of Li's speech. "And it has to be tangible actions that matter."

The administration is said to be considering wide-ranging tariffs on everything from consumer electronics to shoes and clothing made in China, as well as restrictions on Chinese investments in the U.S., according to people briefed on the matter.

That's one of the administration's lines of attack to deal with the lopsided bilateral trade account, which according to U.S. data, the trade deficit with China reached a record $375 billion last year, with China's accounting considerably lower.

"A large deficit is not something we want to see," Li said. "We want to see balanced trade. Otherwise this kind of trade would not be sustainable."
The last thing China wants is a trade war particularly since its domestic companies are primed to take a more dominant position on the international stage selling everything from smartphones to cars. However one of the reasons they are now able to compete internationally is because of the technology sharing China insisted on over the course of the last twenty years. If China is now willing to give up on that demand we can conclude the administration believes the economy has progressed to a stage where it is no longer essential to development. The pace of R&D spending and patent lodging would support that view.
Meanwhile the government cannot under any circumstances appear weak so Xi delivered a sabre rattling speech aimed at Taiwan which was also making headlines today. Here is a section from the Guardian's story:
Chinese president Xi Jinping has delivered a nationalistic speech in which he vowed the nation would "take our due place in the world" and was ready "to fight bloody battles against our enemies".
Xi also promised "rejuvenation" and warned against attempts to erode China's unity during a speech at the close of the annual session of the National People's Congress, the country's annual parliament often derided by experts as little more than a show that lacks serious policy debate.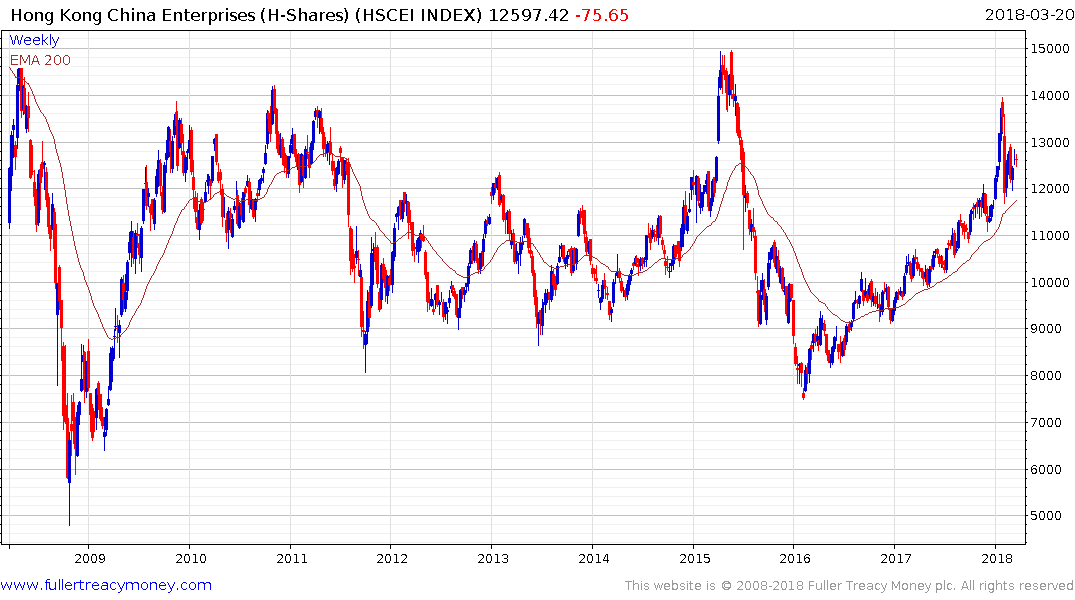 The China Enterprises Index (H-Shares) continues to stead from the region of the trend mean and has held its medium-term progression of higher reaction lows. A sustained move below 12000 would be required to question medium-term scope for continued higher to lateral ranging.
Back to top