China Clamps Down on Webcasting by Weibo and Other Media Firms
This article from Bloomberg News may be of interest to subscribers. Here is a section:
On Thursday night, the State Administration of Press, Publication, Radio, Film and Television ordered services including Weibo to stop broadcasting what it said was negative commentary in violation of government regulations. While the regulator didn't say in its one-line statement what precise actions should or would be taken, it was enough to send Weibo's stock sliding 6.1 percent in New York on Thursday. Sina, which controls the company, slid almost 5 percent.

The regulatory ban, the latest in a series of attempts to curb content on the internet, could disrupt a revival for Weibo that's now underway. The messaging service turned to video streaming over the past year to rejuvenate growth and has since reignited user interest, pushing its monthly audience to 340 million people -- surpassing Twitter's -- and its market value above $16 billion. Chairman Charles Chao is now focused on expanding Weibo into areas including news aggregation and live video streaming.

Weibo, AcFun and Ifeng.com are "broadcasting large amounts of programming that don't meet national standards and which propagate negative opinions on public affairs," the national broadcasting regulator said in a statement posted on its website. "We're taking measures to halt the programs and begin rectification."
China's "Great Firewall" is no laughing matter with VPNs, that previously allowed people to access outside content, being issued closure orders on an increasingly regular basis. Online streaming is very difficult to censor and as a result is being sanctioned not least because this is a politically volatile period ahead of the Party Congress in the autumn.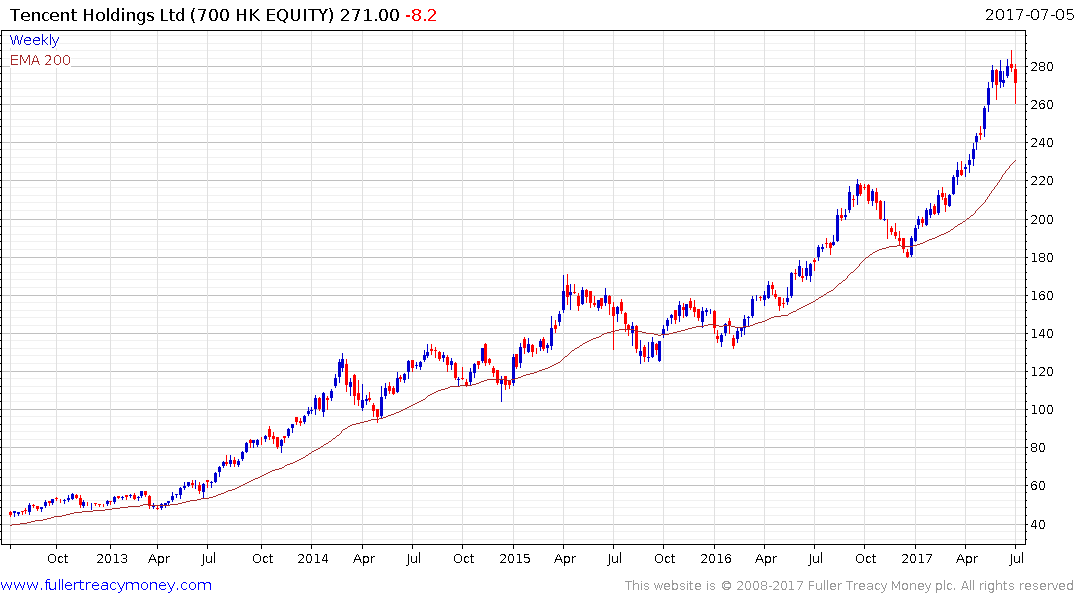 Tencent Holdings lost momentum over the last month and pulled back sharply over the last week to post its largest decline this year. It bounced from the HK$160 area today but a period of consolidation following such an impressive performance is looking more likely than not.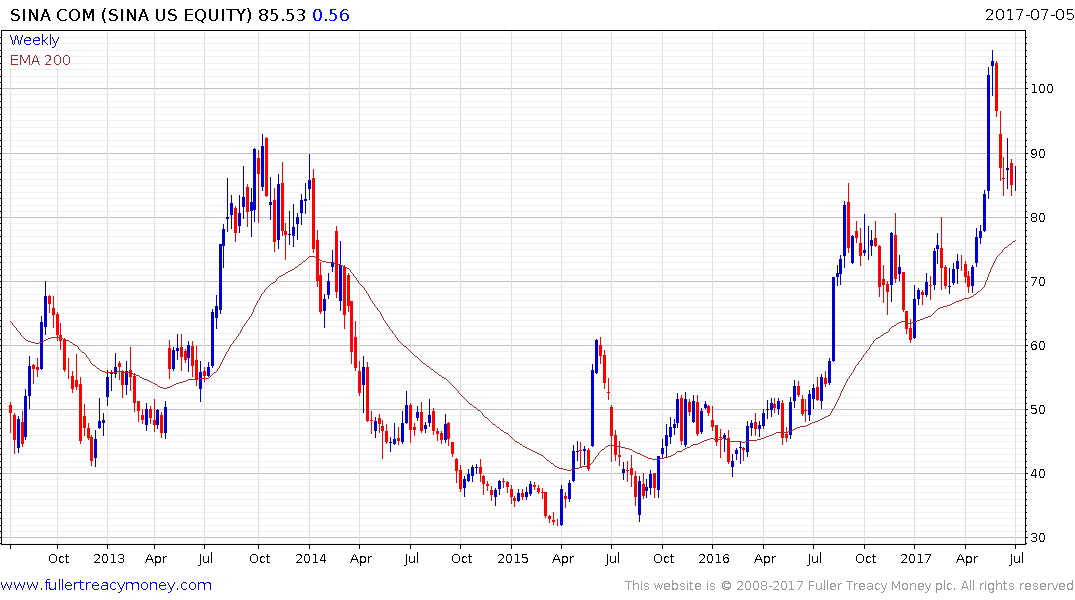 Sina.com broken emphatically higher in May but is now engaged in a process of mean reversion.
China has more bloggers per capita than any other country and they appear to have migrated to live streaming which is a trend that is only beginning to gain traction among the younger generation elsewhere. This article from the Verge.com in 2015 carries more information on the breadth of the live streaming market in the English speaking world. YouNow currently appears to be the leader while Twitter's Periscope service was launched last year. Amazon acquired Twitch the largest streaming service for gamers in 2014.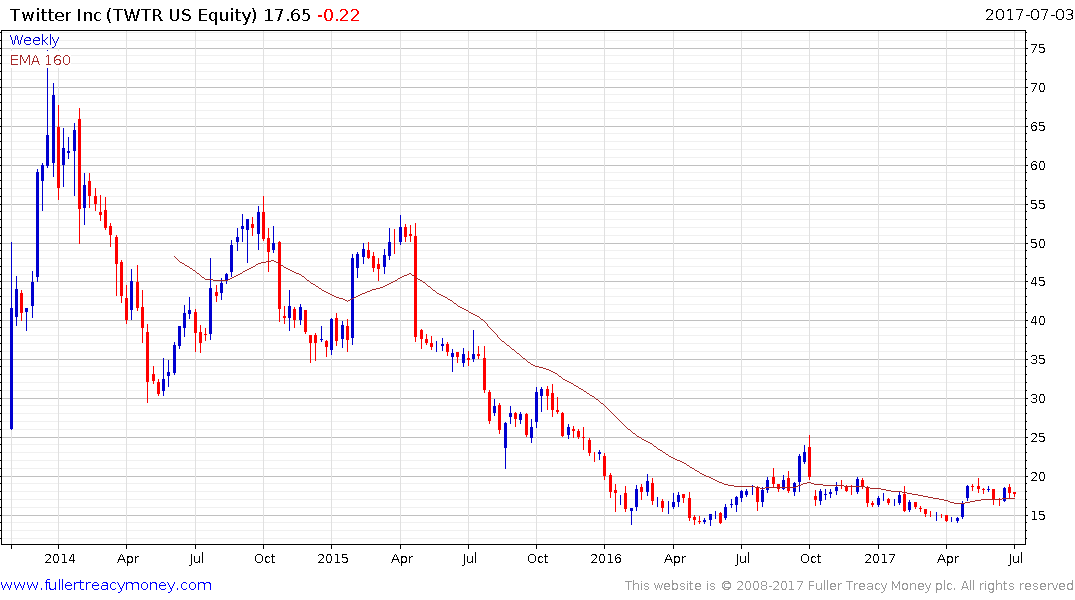 Twitter has been ranging below $20 since early 2016. It popped briefly above that level in September, on speculation it would be acquired by Disney as an adjunct to ESPN, however that deal subsequently fizzled. The share has been ranging above the trend mean since early May but a sustained move above $20 will be required to signal a return to demand dominance.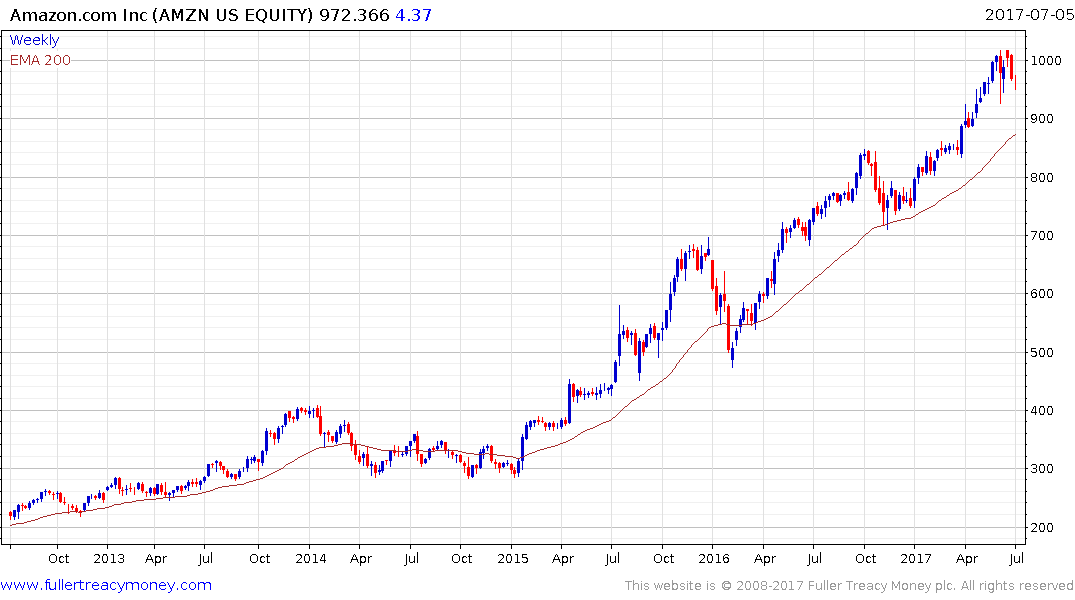 Amazon continues to pause in the region of the psychological $1000 level and while the consolidation, so far, has been modest in scale, it has succeeded in at least partially unwinding the overbought condition relative to the trend mean.
Back to top