China Clamps Down on Web, Pinching Companies Like Google
This article by Keith Bradsher and Paul Mozur for the New York Times may be of interest to subscribers. Here is a section:
Frustrated users have often resorted to "virtual private network," or V.P.N., services to evade China's Internet filters. But those services, too, have come under concerted attack from the authorities, who have interrupted service to them with increasing frequency. Many ordinary citizens cannot afford or obtain access to V.P.N.s to begin with.

In the meantime, Google's business continues to erode. Its share of the Chinese search engine market fell to 10.9 percent in the second quarter of this year, as the stepped-up blocking began to take effect — compared with one-third in 2009, when it still had servers there.

Google's problems extend far beyond search. Its application store, called Google Play, is only partly accessible in China.

That has led to the rise of a number of locally run application stores, which analysts say will sometimes market pirated copies of software or charge extra to promote a new application. Companies are often forced to create versions of their apps for China that are slightly different from the versions distributed to the rest of the world on Google's app store.

"Because Google Play has low market share" in the Chinese market, "app publishers who have applications worldwide on Google Play don't receive the proportionate share of users in China without publishing to local Android stores, even if they have localized Chinese versions," said Bertrand Schmitt, chief executive of App Annie, a company that tracks global app distribution.

Google also hosts publicly available libraries of coding scripts and fonts on its servers, but China now blocks these libraries. The chief technology officer at the start-up said his company had resorted to creating its own libraries and hosting them on its own servers, wasting costly computing power and space.
Western companies invested heavily in Chinese expansion and accepted knowledge sharing joint ventures for the promise of access to China's burgeoning consumer sector. The reality of profitability in China has been more disappointing than originally envisaged and companies are understandably chastened at the reception they have received. For a company such as Google with a global franchise that relies on users accessing its search and mobile apps in order to facilitate advertising, the loss of China as a potential market was priced in shortly after its withdrawal from the country.

However it is becoming increasingly clear that Chinese companies have global ambitions and fully intend to compete with major technology companies on the international stage. They enjoy unfettered access to all markets, a friendly ear in Beijing and favourable regulatory, tax and grant treatment. On the other hand other technology companies are refused access to the Chinese market and do not have the same degree of support from their respective governments. I wonder is it only a matter of time before they use their considerable lobbying power to raise these types of issues with groups such as the WTO?

GlaxoSmithKline settled a $489 million corruption probe in China last week while the highly successful FAW-Volkswagen joint venture is currently being investigated for irregularities. The anti-corruption drive spearheaded by Wang Qishan has most notably targeted high profile Party cadres but is also being used as a tool to curtail the success of western companies. This is ironic since it is exactly this type of activity that was required in order to secure Chinese market share in the first place.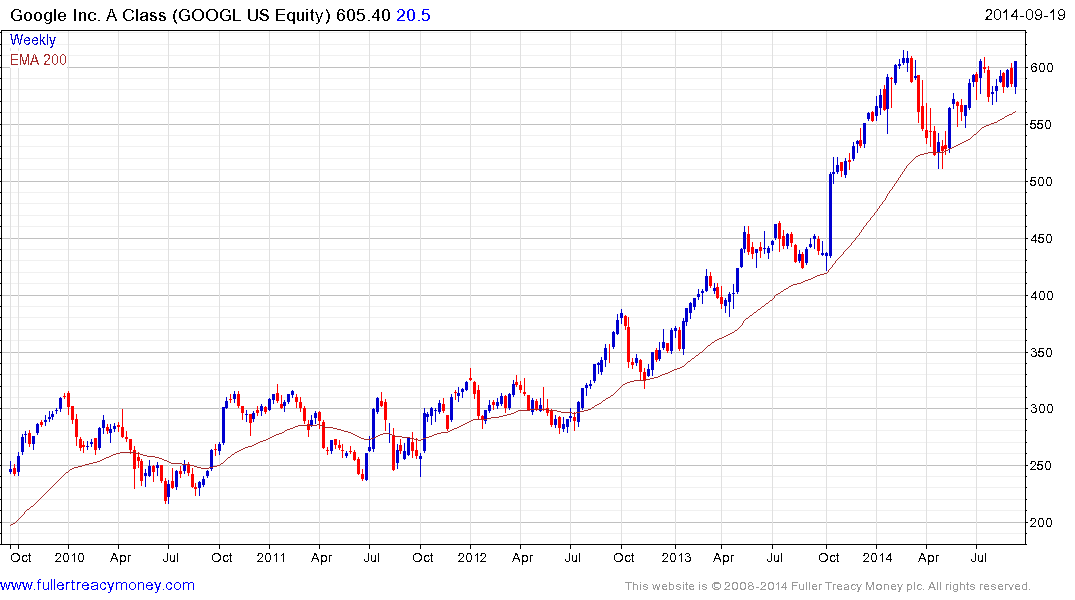 Google has been ranging mostly below $600 for much of this year and will need to sustain a move above that area to reaffirm the medium-term uptrend.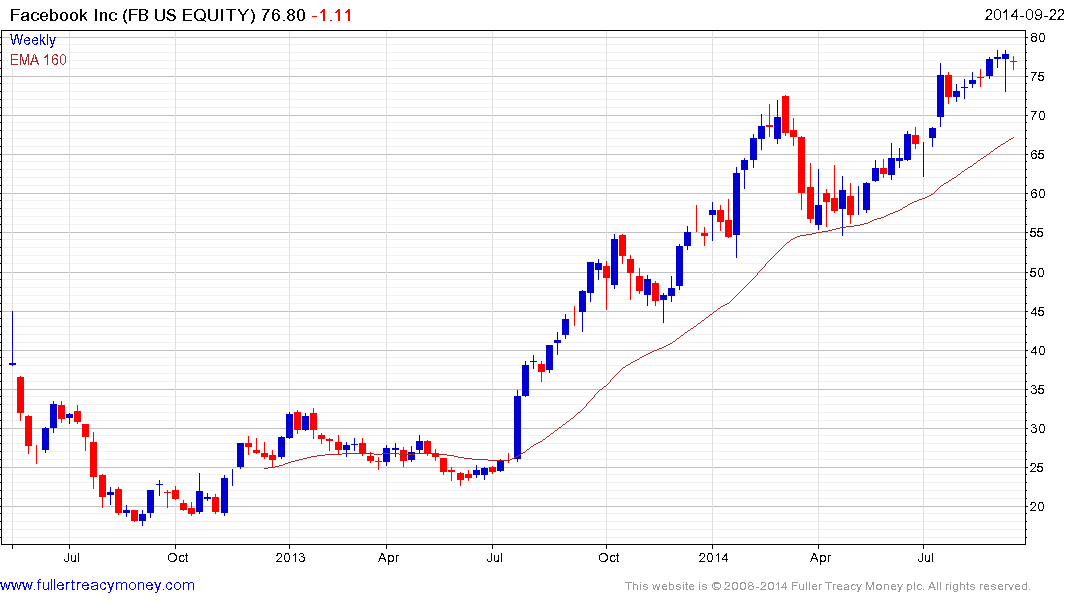 Facebook rallied to test the $80 area earlier this month but is somewhat overextended relative to the 200-day MA and some consolidation of recent gains appears likely.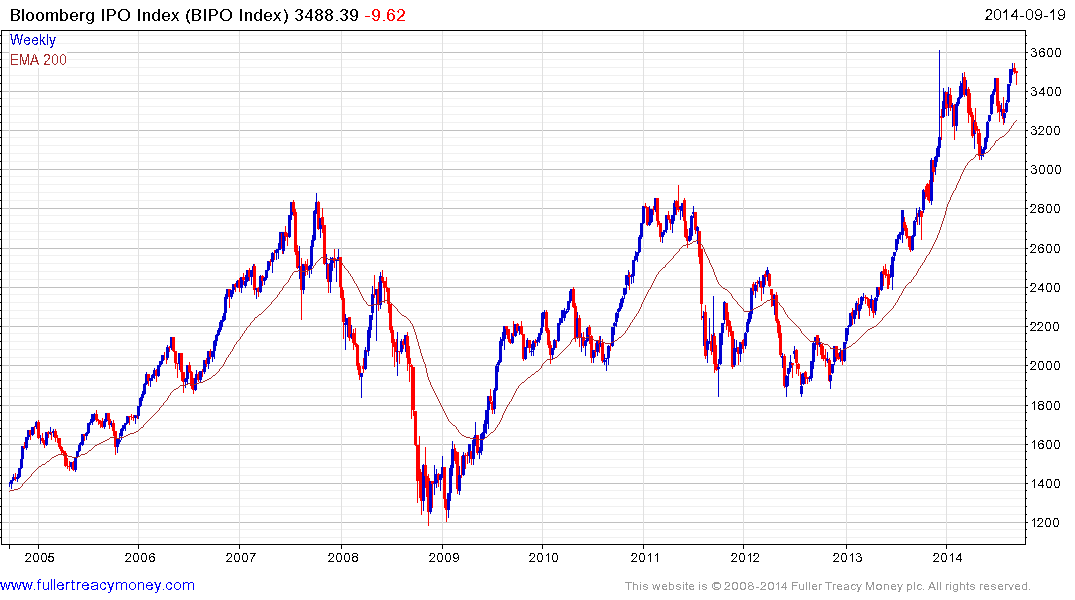 Following its IPO on Friday Alibaba now represents 44% of the Bloomberg IPO Index. The measure hit a peak in December following an accelerated advance and the IPO of Twitter and Hilton Hotels. It has been ranging mostly below 3500 since and a reversion towards the mean is currently underway as some of the froth is taken out of the Alibaba IPO.
Back to top