I was in Las Vegas over the weekend checking out the Consumer Electronics Show and thought subscribers might be interested in a review. My first impression was that while it is a large show, (I walked about 12 kilometres) it is nothing compared to the size of the permanent wholesale markets in Shenzhen where a great many of the products showcased are manufactured. The CES, at least to my mind, offers us a window on what is popular right now and if that is true a lot of companies are betting on drones and fitness.

I reviewed a number of fitness band companies last week and the CES confirmed my impression it is a crowded space. I use a Fitbit Flex HR and am very happy with it but I could use any one of a dozen other products and receive a relatively similar service. That's a problem and a race to the bottom is underway to confirm which will come out on top.

In Chinese wholesale markets there are always people selling remote control helicopters and many of those factories are now producing drones instead. More than any other segment drones dominated this year's event; big ones, small ones, one camera, multiple cameras, vertical take-off, crop surveillance and even a prototype personal transport craft. Many of the designs are fungible and all are rather limited by battery life.

Certainly the range of such products has increased and they are a growing nuisance for commercial aviators and emergency responders but the primary story rests in the software powering these machines rather than the hardware. The synchronised flying display from Parrot Drones was impressive, for example, but they are selling toys rather than focusing on the real world applications of autonomous vehicles and giving a drone a task to complete independently. Of course it might be too much to ask from a show dedicated to hardware to expect software but I believe it is in software where the value proposition lies.

As with any such event it is often worth considering what was not there rather than focusing on what was. I did not see a stand from Google or Amazon. Apple does not attend CES but there were a number of companies offering products for its watch. Companies such as Honda were highlighting their hydrogen fuel cell cars while Tesla announced plans to build a supercar, the Faraday,
However BMW already has a production model electric super car so Tesla is not going to have it all its own way in that particular segment of the market. I did not see much of a fuss made about the outlook for autonomous vehicles and that was disappointing because it suggests they are still a pipe dream than being close to production ready.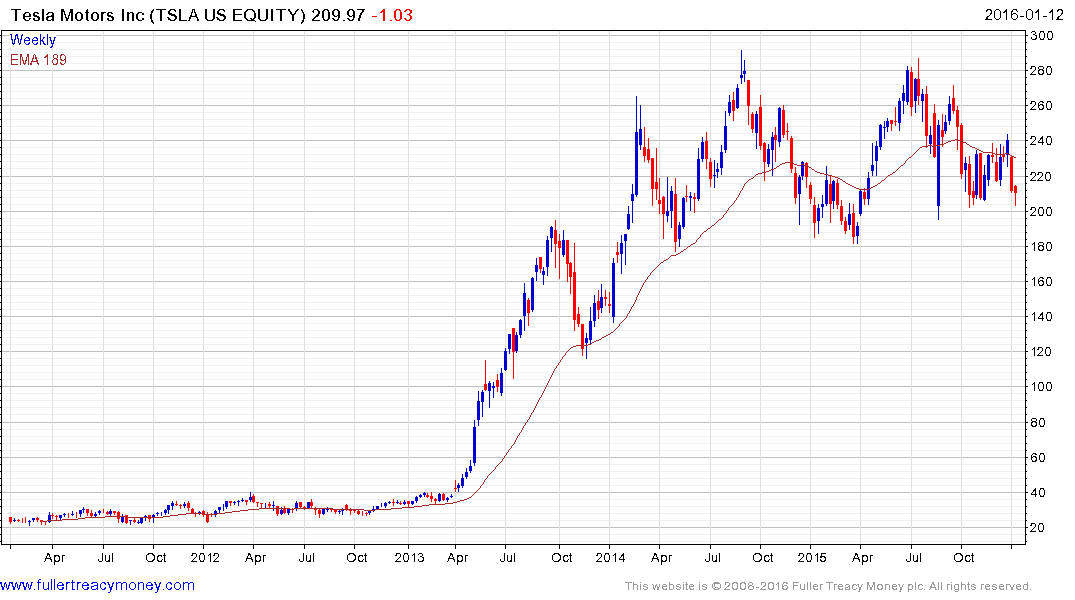 When Tesla announced the major spend on building its battery factory its share stopped rising. The announcement it is building another $1 billion factory suggests the increasing spend is unlikely to stop while the ability to continue to grow earnings is subject to them delivering on increasingly ambitious promises. The share needs to hold the region of the lower side of its two year range if top formation completion is to be avoided.

There were quite a number of companies focusing on payment solutions but I was hoping to see something about innovation in blockchain technology and was disappointed. That suggests either this was not the correct venue or it is still too early.

An additional consideration is that some of the higher profile companies making presentations at this year's event are not listed. This is particularly true of the smartphone and home appliance sector. Low interest rates and abundant private equity capital mean companies do not have the same incentive to seek a listing than they might have previously. The additional burden of regulatory compliance is a further disincentive for many companies that can source financing elsewhere. This means that when a company eventually makes it to the IPO stage it is often because private equity investors want to take their money out rather than a desire to raise capital for additional expansion.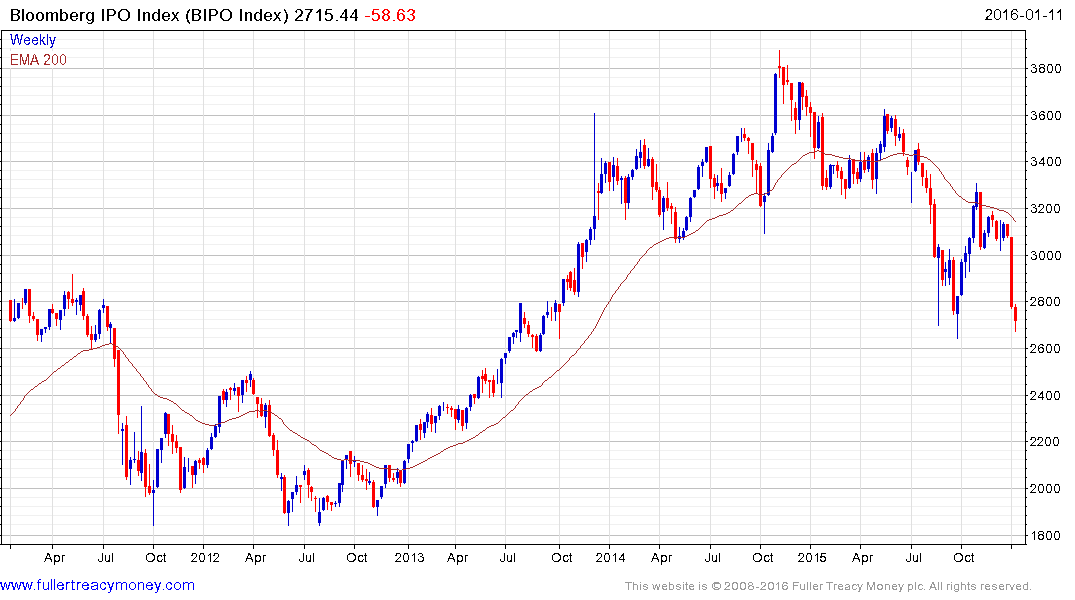 The Bloomberg IPO Index has been trending lower since hitting a peak 14 months ago and dropped precipitously over the last two weeks to test the October lows. A short-term oversold condition is evident but a clear upward dynamic would be required to signal a mean reversionary rally is underway.
Back to top