California Drivers Get No Joy From Oil Rout as Pump Prices Rise
This article by Robert Tuttle for Bloomberg may be of interest to subscribers. Here is a section:
The premium that Southern California drivers are paying over the national average is at its highest ever, Jamie Court, president of the nonprofit Consumer Watchdog, said at a news conference in Los Angeles Wednesday. He was joined by billionaire environmentalist Tom Steyer.

"The Golden State is getting gouged," Court said. "The money that's being made from the pockets of California gas consumers is lining the pockets of the oil refiners."

California-blend gasoline is produced by refineries within the state and in a few other parts of the U.S. and the world.

Output of the blend by in-state refineries dropped to 6.5 million barrels in the week ended July 24, California Energy Commission data show.

?While the refinery fire has contributed to high California pump prices, there are other factors such as the second-highest gasoline taxes in the country and environmental rules that boost costs, Braden Reddall, a spokesman at Chevron Corp., said in an e-mail.

"While it is easy for groups like Consumer Watchdog and individuals like Tom Steyer to take one factor in our earnings out of context, what can't be taken out of context is the fact that many policies backed by Steyer are already increasing fuel prices for California consumers," Reddall said.
Gasoline Cargoes

The high pump prices are temporary and should decline as gasoline cargoes arrive in greater numbers from abroad, Allison Mac, West Coast petroleum analyst at Gasbuddy, said in a phone interview Wednesday.

"Prices should be dropping at a higher rate than we have been seeing and that's because of the imports," she said. "The last couple of days, massive cargo ships arrived alleviating what was causing the prices to spike."
At Costco, which is about the cheapest sellers of gasoline, prices have fallen 40¢ per gallon in the last five days which is about 10%. This suggests the supply shortage which has kept prices high is easing. While competition from imports may represent a challenge for refiners the continued weakness in oil prices is probably a more important factor.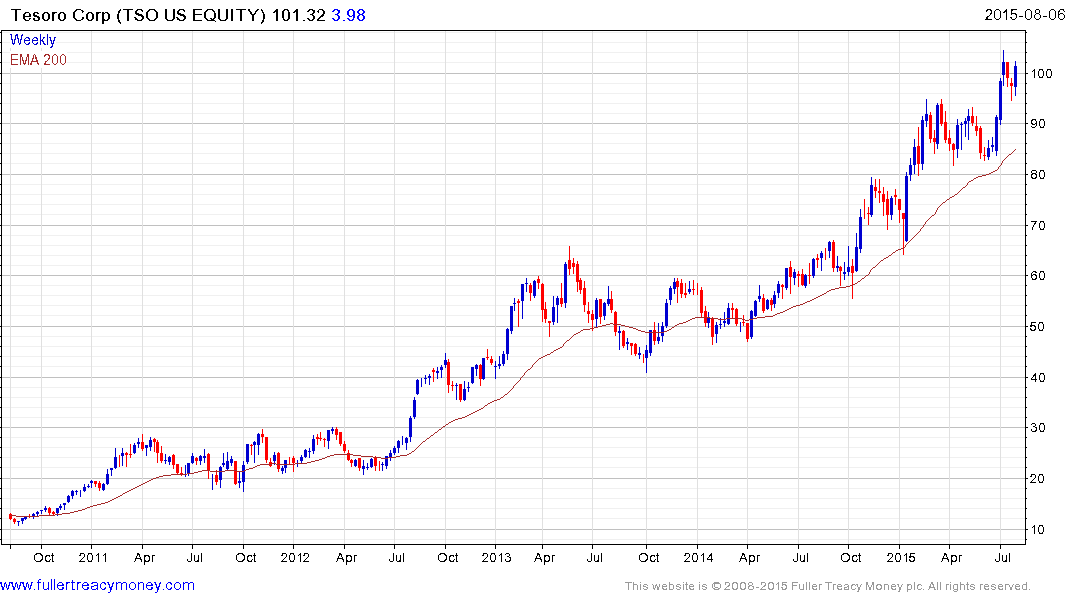 Tesoro (Est P/E 11.29, DY 1.96%) remains in a consistent medium-term uptrend defined by a progression of higher reaction lows.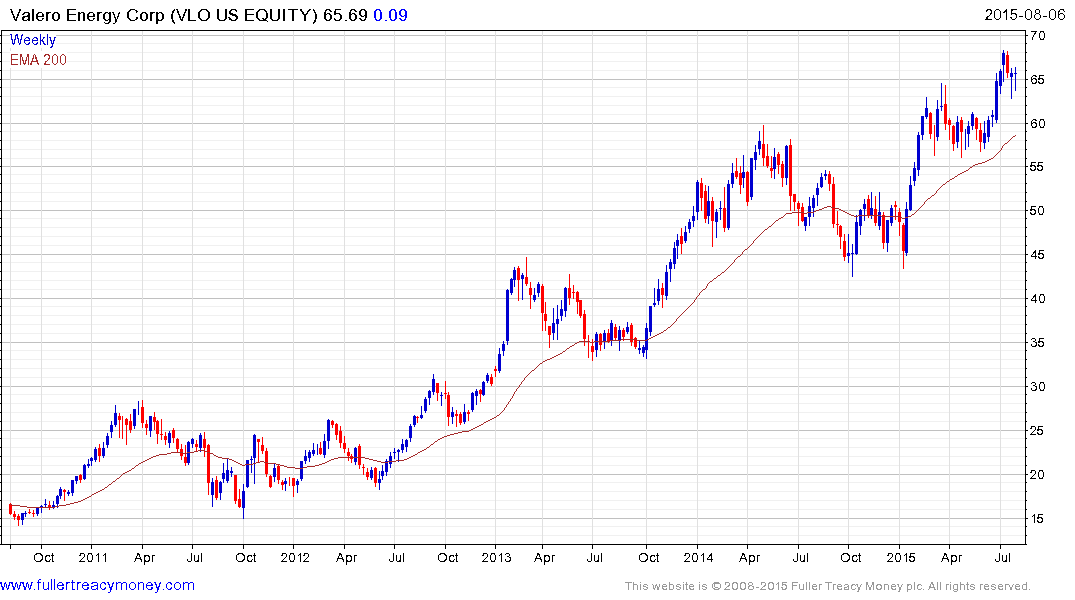 Valero (Est P/E 8.36, DY 2.43%) is consolidating its earlier advance and a sustained move below $60 would be required to begin to question medium-term scope for additional upside.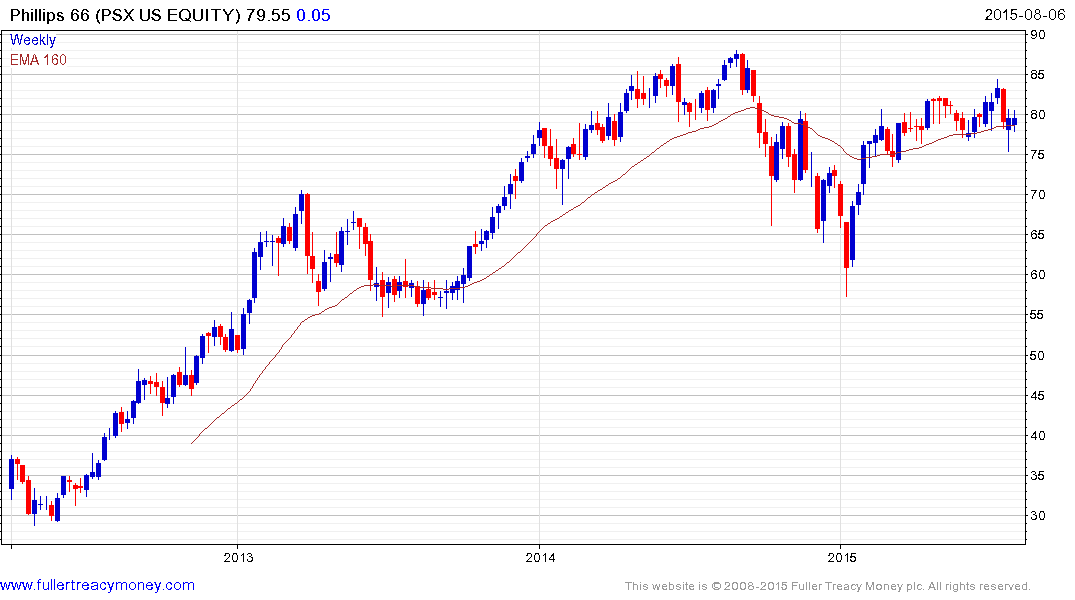 Phillips 66 (Est P/E 12.11, DY 2.81%) bounced back impressively from the January low and has been ranging above the 200-day MA since February. A sustained move below $78 would be required to question medium-term scope for continued higher to lateral ranging.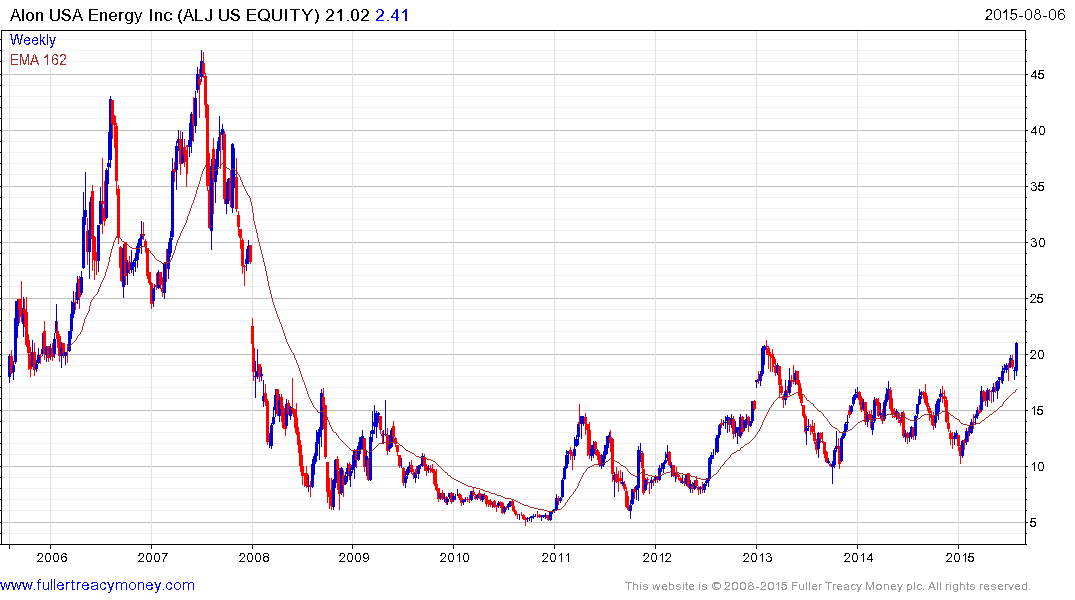 Alon USA (Est P/E 16.08, DY 2.87%) rallied impressively this week to test the upper side of a two-year range. While somewhat overbought in the short term a sustained move below the trend mean would be required to question medium-term scope for continued upside.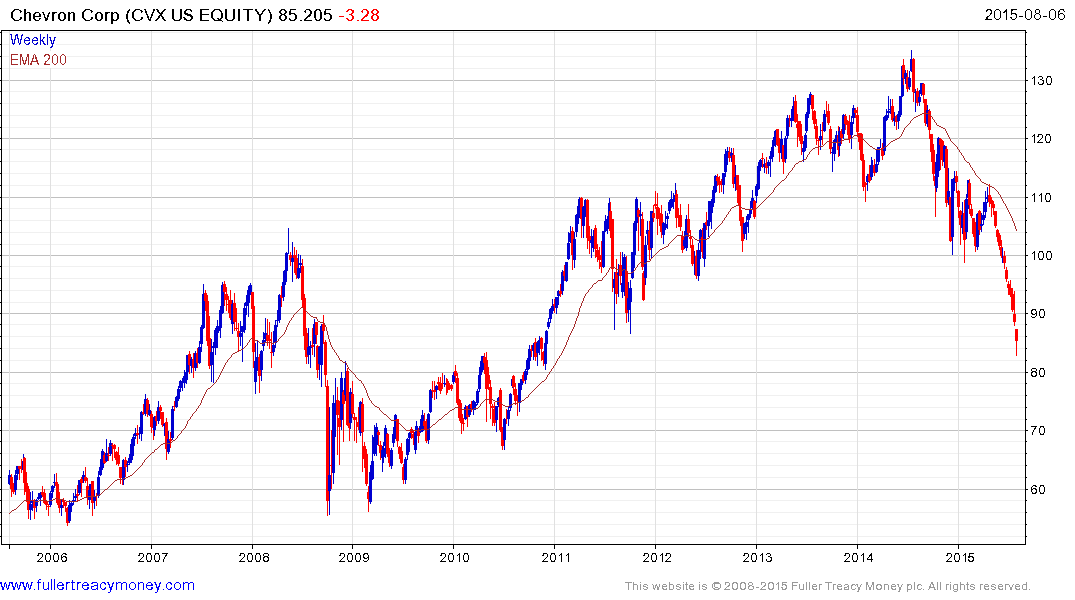 Chevron (Est P/E 21.71, DY 5.03%) generates more than 90% of revenue from its downstream operations but is valued on the replacement cost of its assets. The share has accelerated lower since May and potential for a reversionary rally is looking increasingly likely. Chevron shares a high degree of commonality with the majority of oil explorers and producers, where attractive yields may attract bargain hunters at these levels.
Back to top