Brazil Seen as More Corrupt Than Argentina in Global Ranking
This article by David Biller and Charlie Devereux for Bloomberg may be of interest to subscribers. Here is a section:
Brazil is now seen as more corrupt than Argentina for the first time in over two decades after suffering last year one of the biggest plunges among the nations tracked by a global transparency ranking.

Latin America's largest economy fell 17 positions in the2017 index released by graft watchdog Transparency International on Thursday. It now ranks 96th among 180 nations, tied in the region with Colombia and Peru. Only two other countries in the whole index -- Bahrain and Liberia -- slid more than Brazil last year. Argentina meantime rose 10 spots, to 85th place and now ranks better than Brazil for the first time since 1996.

A series of corruption scandals have rocked Brazil over the past few years as the so-called Carwash probe uncovered a massive kickback scheme involving the country's political and business elite. Former President Luiz Inacio Lula da Silva was convicted for graft last year while allegations against President Michel Temer are still being investigated. In Argentina, meanwhile, President Mauricio Macri has worked to make public tenders more transparent and successfully pushed for a law allowing plea bargain testimonies to resolve corruption cases.

Among key Latin American countries, the least transparent are still Venezuela (169th position) and Mexico (135th spot).

Transparency International's ranking is based on surveys and assessments from 12 institutions and has become a benchmark gauge of corruption perception used by analysts and investors.
There is no Brazilian politician that has not been embroiled in the carwash probe. That's bad news. However, the fact the scandal has broken, is being addressed by the judiciary and is making headlines both domestically and internationally speaks to the fact that Brazil does have institutions that can tackle corruption if the will to do is present.
Another important point is that a bull market papers over a lot of cracks. It wasn't until the commodity bull market ended in 2011 that the fissures in the economies of Brazil, Argentina, Venezuela, Russia and South Africa were exposed. Each of these countries has taken a different path to resolution which has seen standards of governance improve for some and deteriorate even further for others.
The weakness of their respective currencies has flattered the performance of their stock markets in nominal terms. Therefore, it is probably more correct to look at their performance on a currency neutral basis.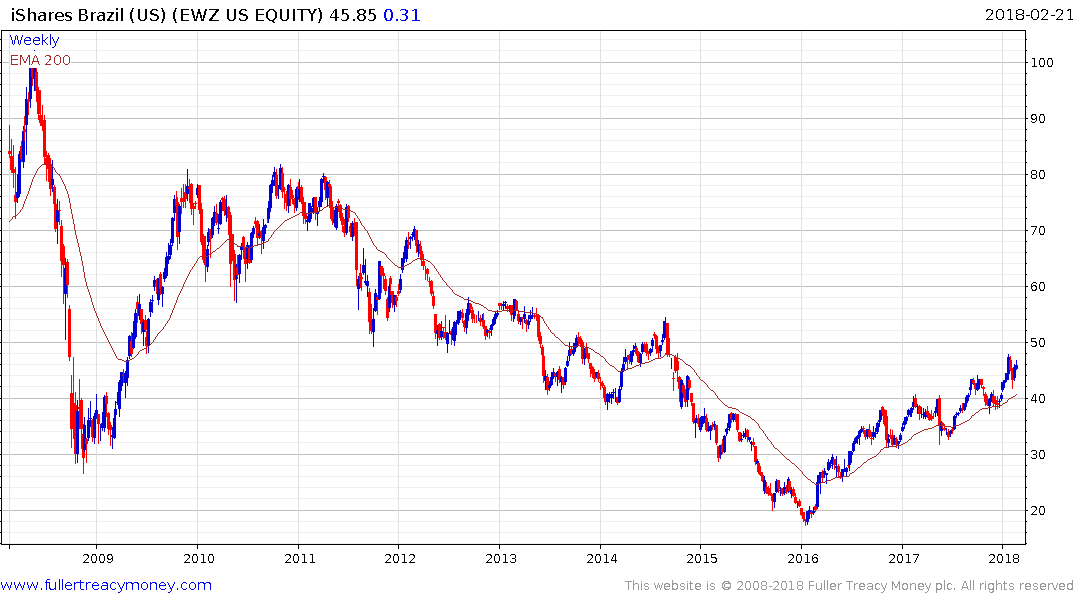 The iShares MSCI Brazil ETF hit a medium-term low in early 2016 and continues to hold a progression of higher reaction lows.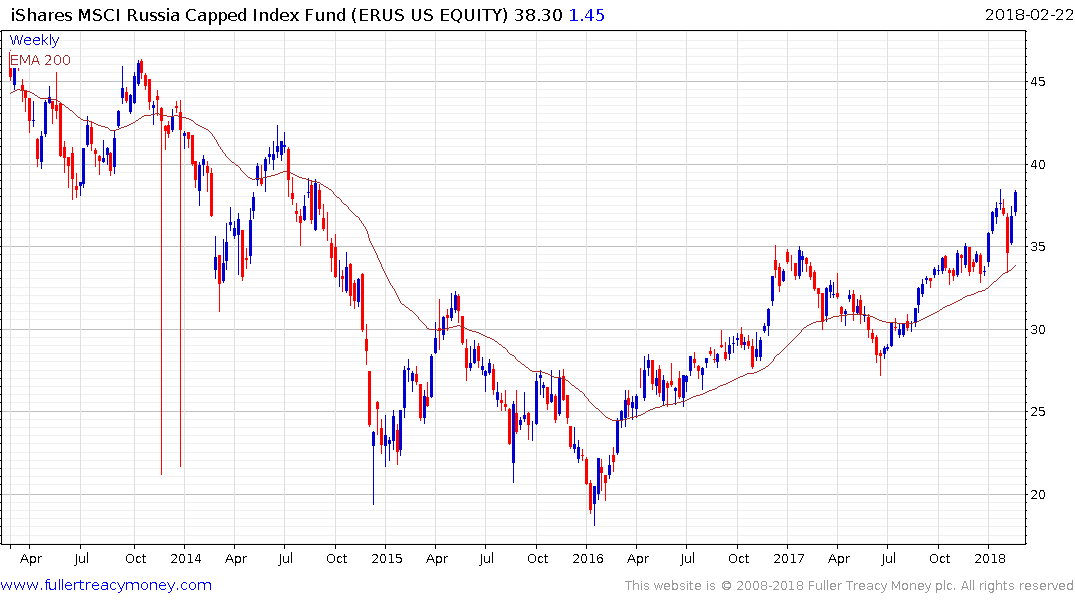 The iShares MSCI Russia ETF also continues to hold a medium-term progression of higher reaction lows.


The Global X MSCI Argentina ETF continues to trend higher in a consistent manner and bounced impressively last week from the region of the trend mean.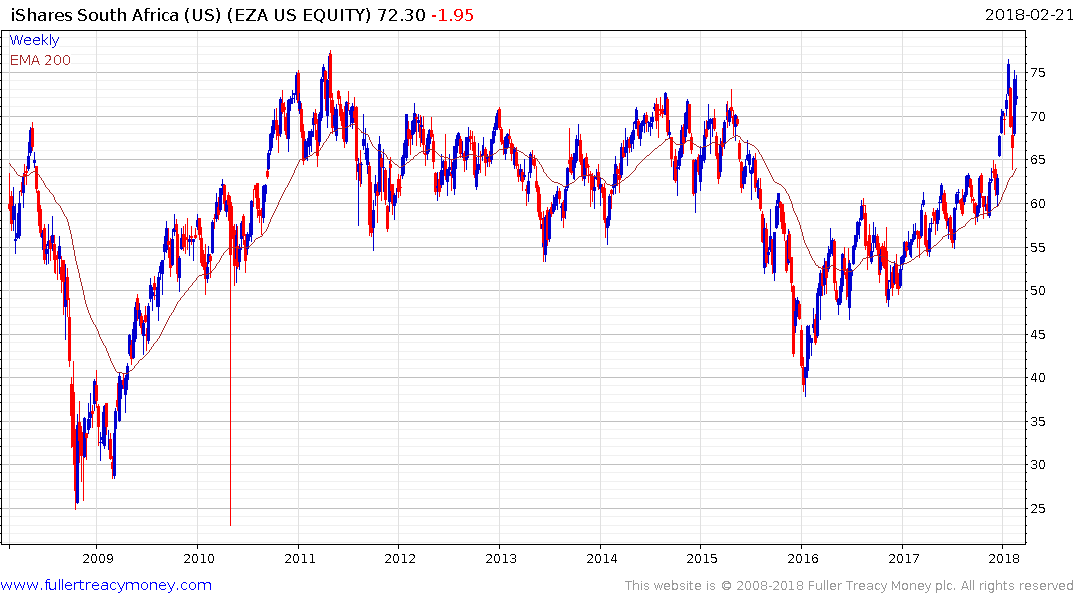 The iShares South Africa ETF bounced two weeks ago from the region of the trend mean and is back testing its highs near $75.
The clear outperformance of the Argentinean and South African markets in these charts helps to highlight how much governance has improved of late.
Back to top