Brazil's Bolsonaro: Only God will remove me from power
This article from the BBC may be of interest to subscribers. Here is a section:
But mounting pressure from several investigations and calls for his impeachment have led to the president's rhetoric becoming ever more belligerent.

The rallies he convened for independence day were seen as an attempt to demonstrate he can still draw huge crowds of supporters after recent polls had him trailing his left-wing rival Luiz Inácio Lula da Silva by nine percentage points.

While elections are not due to be held until October 2022, Mr Bolsonaro's approval ratings have also dropped to an all-time low.

A poll by the Atlas Institute suggested that 61% of Brazilians described his government's performance as bad or very bad, up from 23% when he first took office in January 2019.

While an attempt to impeach the president over his handling of the Covid crisis was blocked by the speaker of the lower house of Congress, Mr Bolsonaro is portraying himself as under attack from Congress and the Supreme Court.

Last week, he told evangelical leaders - who are among his staunchest backers - that "I have three alternatives for my future: being arrested, killed or victory".

And he again took up that theme in his speech on independence day, saying that "only God will oust me".
The accusations being levelled against Bolsonaro are primarily focused on his response to the pandemic, but are likely to gain traction because he has been playing fast and loose with rules and regulations.
The challenge with right wing political populism is that once firebrands gain power, by challenging the system, they don't like leaving when they lose elections.

Neither Bolsonaro or Trump did anything to heal divisions in society so those open sores remained active when they are kicked out. The question for Brazil is whether it will see a lurch to the populist left as a reaction to the tempestuous tenure of the populist right?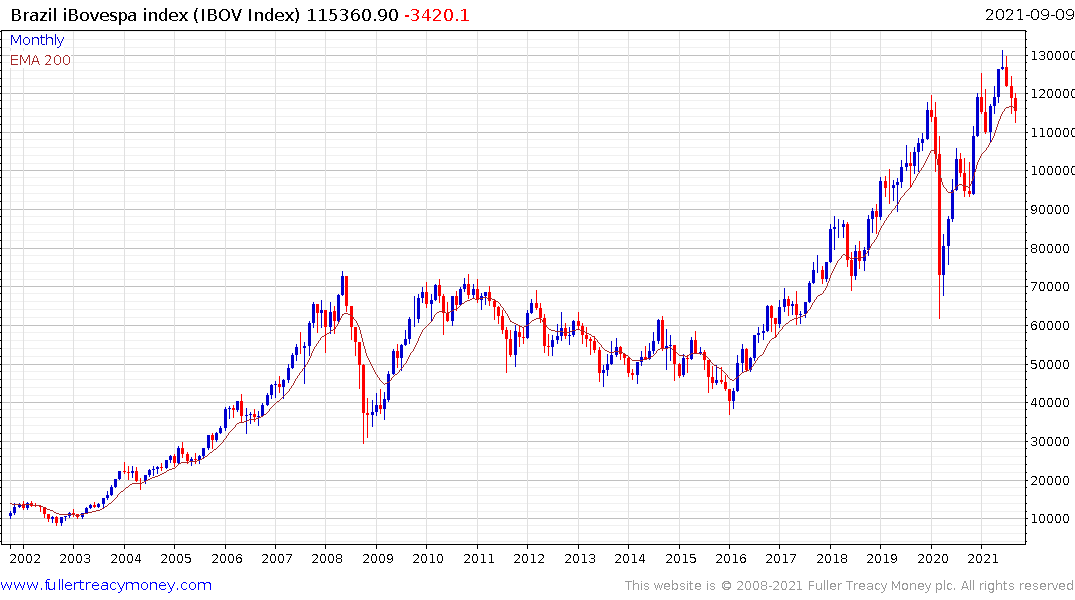 The iBovespa Index has lost momentum this year and broke below the trend mean last week. It needs to hold this week's low if the benefit of the doubt is to be given to potential for higher to lateral ranging.
Back to top