BJP promises a collateral-free credit & Rs 20k cr seed startup fund in its 2019 manifesto
This article from ETtech may be of interest to subscribers. Here is a section:
BJP has promised a new scheme to provide collateral-free credit of up to Rs 50 lakh for entrepreneurs in its manifesto for 2019 elections. It said that 50% of the loan amount will be guaranteed towards female entrepreneurs, while 25% will be for male entrepreneurs.

BJP has also promised to create a seed startup fund of Rs 20,000 crore to back early-stage companies. It's worth noting that Prime Minister Narendra Modi had earlier announced a credit guarantee fund with a corpus of Rs 2,000 crore to provide funding facilities to startups in the country, as part of the Startup India action plan in January 2016.

The BJP-led government had also announced a Rs 10,000-crore fund of funds managed by the Small Industries Development Bank of India (SIDBI) in 2016. However, according to the Startup India status report, less than 20% of the corpus has been allocated to alternative investment funds as of November 2018, with the total commitment standing at Rs 1,611 crore. The report also noted that around 170 startups have received funding from these investments funds.

In its manifesto, BJP has envisioned facilitating setting up of at least 50,000 new startups and 500 new incubators and accelerators by 2024. It has also promised to create 100 innovation zones in urban local bodies.
In every Indian election for the next twenty years there will be tens of millions of people voting for the first time. The one thing young voters need more than anything is support to help secure an income to support their family formation aspirations. Easy access to credit and entrepreneurship in a growth economy are the clearest routes to securing a stable future and they contribute to growth in the wider economy through the multiplier effect of job creation. In addition to these measure India needs infrastructure, particularly ports, roads and better railways.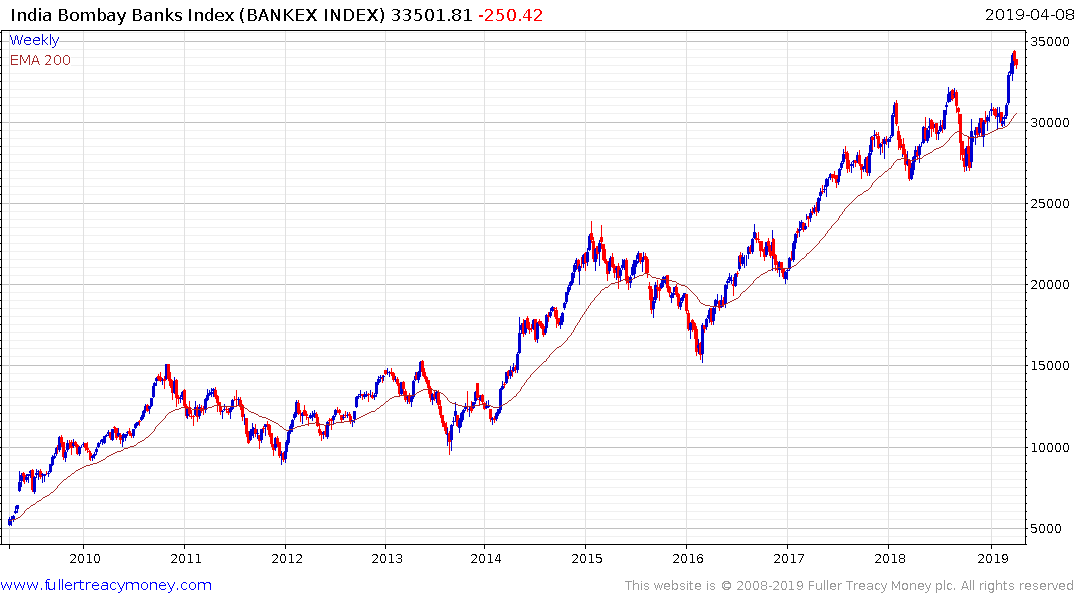 The Bombay Banks Index has been a lead indicator for the India market for at least the last decade and it continues to exhibit relative strength. However, some consolidation of the recent powerful gain is now underway as the short-term overbought condition is unwound.
If Narendra Modi can hold onto the BJP's absolute majority in the upcoming election it will likely be a catalyst for continued
Back to top