Bitcoin Surges Past $11,000 as Bubble Warnings Can't Cool Market
This article by Julie Verhage and Eric Lam for Bloomberg may be of interest to subscribers. Here is a section:
Bitcoin is on a tear in 2017, a 10-fold surge that took off even more after CME Chief Executive Officer Terrence Duffy announced in October that the company would offer futures trading by the end of the year. The move is considered key to Wall Street's broader embrace of the crypotcurrency, likely enabling increased speculation and -- perhaps some day -- products such as exchange-traded funds.

Still, bitcoin's jump has been met with caution in some circles, and outright dismissal in others. Vanguard Group Inc. founder John Bogle advised investors on Tuesday to avoid the virtual currency "like the plague," while JPMorgan Chase & Co. CEO Jamie Dimon has called it an asset bubble and a fraud.

Under U.S. law, exchanges like CME, which profit from increased trading volumes, can approve new futures contracts themselves. The process, which is used in most cases, is known as self-certification and involves sending a written confirmation to the CFTC that the contract complies with relevant rules. Often, agency officials will engage in a back-and-forth with a company.
Bitcoin has doubled since November 12th and the pace of the advance has definitely picked up since the introduction of futures and options became more likely in August.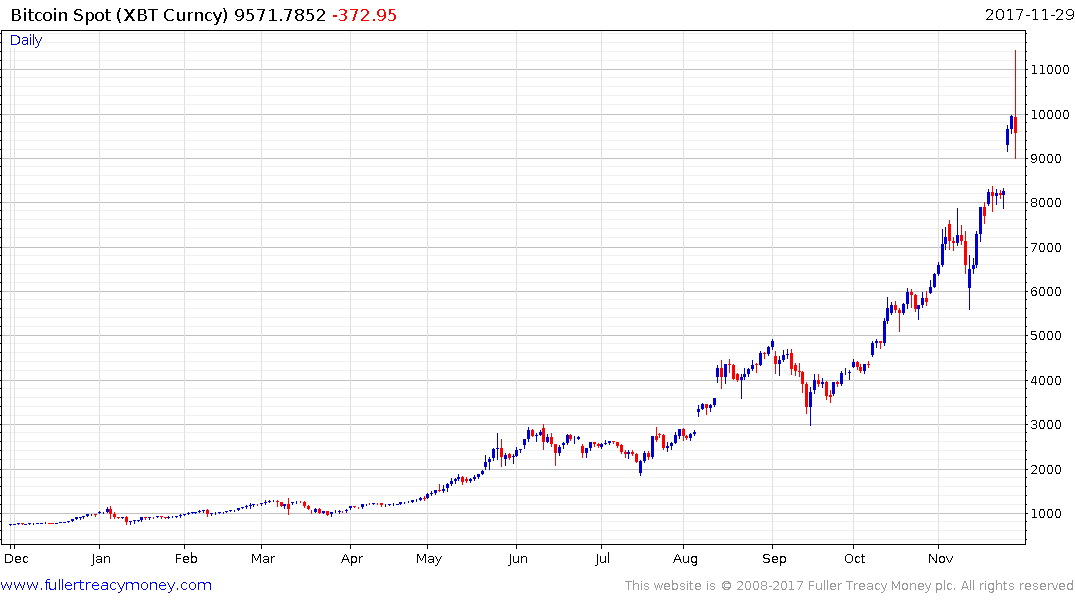 Right now, bitcoin and the other cryptocurrencies are still unleveraged markets but when that changes it will introduce both additional capital and the ability to hedge exposure through shorting which will introduce even more volatility.
If one were expecting a surge of new capital the logical course of action would be to buy in advance of that event which is exactly what has happened driving the price to a new "sugar high" over $11000.
If the trend's staircase step sequence of ranges one above another persists the price will need to find support in the region of $8000 on the next downward spike. Considering that every major new short-term peak has been followed by a sharp drawdown the fallback from today's intraday high suggests the next one might not be all that far away.
Back to top