Bitcoin Falls as Cancellation of Upgrade Prompts Misgivings
This article by Camila Russo for Bloomberg may be of interest to subscribers. Here is a section:
While bitcoin soared to a record $7,882 within minutes of news that it would avoid another split on Wednesday, the gains have evaporated. Bitcoin is now trading more than $1,000 below where it was after a faction of the community scrapped plans for a so-called hard fork. Bitcoin was down 8 percent to $6,575 at 2:19 p.m. in New York.

Some speculators are disappointed they won't get the additional coins that would have been created by a hard fork. While bitcoin splits are potentially disruptive, they've so far amounted to free money for holders of the cryptocurrency. Bitcoin Cash, the result of a hard fork in August, has climbed to about $900 from as low as $565 on the day the split was canceled, while bitcoin has slipped almost 10 percent after touching a record right after the news.
Bitcoin is still a largely unleveraged market so when exchanges eventually begin to offer futures and options that is likely to be a powerful catalyst for speculative interest. Right now, the cancelation of the latest fork means present holders will not receive an equal number of new coins so there is less urgency to buy.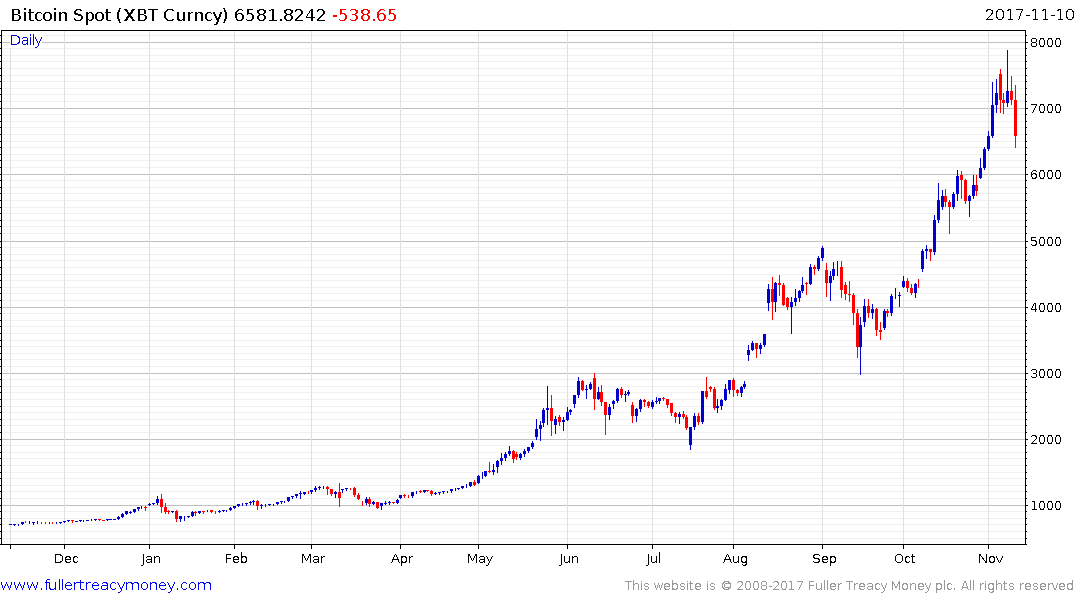 The price has lost uptrend consistency at the penultimate high at the peaks reached in June and early September. If the pattern is to continue bitcoin will need to rally soon. However, the more important consistency characteristic is that each successive range has found support above the last one, so $5000 is an important area of potential support.
Back to top