BHP Billiton cuts US shale oil rigs by 40% amid sliding price
Thanks to a subscriber for this article from The Guardian which may be of interest. Here is a section:
BHP said on Wednesday it would reduce the number of rigs from 26 to 16 by the end of the June in response to weaker oil prices. However, shale volumes were still forecast to grow by approximately 50 percent during the period.

"In petroleum, we have moved quickly in response to lower prices and will reduce the number of rigs we operate in our onshore US business by approximately 40% by the end of this financial year," chief executive Andrew Mackenzie said.

"The revised drilling programme will benefit from significant improvements in drilling and completions efficiency."

?Mackenzie said while the firm's drilling operations would focus on its Black Hawk field in Texas, "we will keep this activity under review and make further changes if we believe deferring development will create more value than near-term production".
Energy companies are aggressively cutting back on investments in additional supply as prices fall but production from existing wells continues to flow. The constant need for new drilling, associated with the swift peaking of unconventional wells, means that the supply response of related drillers is likely to be swifter than might have otherwise been the case. This may bring forward the point at which the market returns to balance but some evidence of short covering will be required before we can conclude that demand is returning to dominance.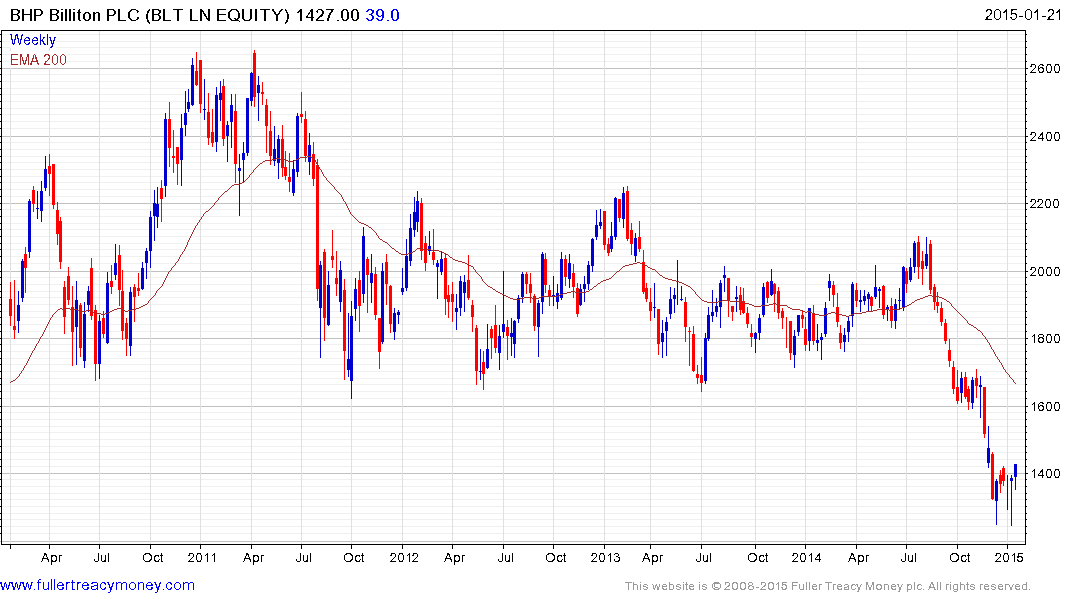 BHP Billiton (Est P/E 12.49, DY 5.68%) retested its December low last week and has rebounded to post its first higher high since August. Supported by its impressive yield and record of increasing dividends, investors may be willing to give it the benefit of the doubt as its demerger approaches and less profitable assets are disposed of.
Back to top